JENS MALMGREN
I create, that is my hobby.
Daniel "Papa Dee" Wahlgren also known from P3 Rytm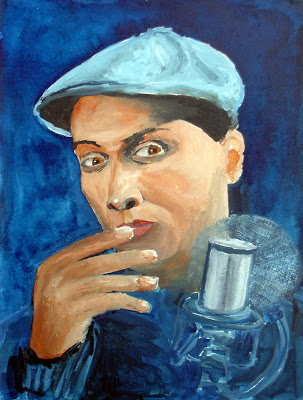 At Aquarelmere Hilde had made an aquarelle painting based on a photo of Daniel that I had found on the website of Sveriges Radio. Hilde is really good at painting in a transparent and fresh way. Her paintings have one or two layers and then it is done. When she paints an eye for example it looks like it is done with just a couple of brush strokes. Also when she paint shirts they have all kind of wrinkles and still it is just one or two layers of paint.

I asked Hilde last Thursday if she had a website or a blog. She told me that she might make one someday but right now she don't have any website for her paintings. Recently she is selling paintings so it could be interesting to have a website. I hope she will make a website and that she will publish her painting of this Daniel here. When that happens I will make a link to her site.

The eyes are really good on this painting. I like those eyes. The hand is less successful. That is a pity because the hand is sending out disturbance signals. The painting is made with oil paint on an MDF panel.

Daniel was a radio show host on the Swedish Radio. His program was called P3 Rytm. His radio show was running for ten years. This was during a period when I was listening a lot to Swedish radio. I listened to his show occasionally and he has a great voice to listen to.

There was also another show called P3 Dans and also that show was running for something like ten year. These days they are all gone. Sveriges Radio stopped them "to make room for new talent". The result is that I moved on to other forms of listening to music so I am not listening to Swedish radio anymore. I like to listen to www.livesets.us a lot. There you find Armin van Buuren, David Guetta, Bob Sinclair, Paul Oakenfold, Sander van Doorn etc.

I also listen to the Estonian "Power Hit Radio" through satellite Sirius 5 degrees east or on Internet. They have their jingles in English so I understand what they are aiming at. "The Best Dance Music in Estonia" with a deep voice. I think that it is funny. All the rest of what they are saying I don't understand anything. I suppose it is meant to be cool for the Estonians but it is really helpful for the international audience. The music I understand. It need to be consumed with a subwoofer to make the best out of it!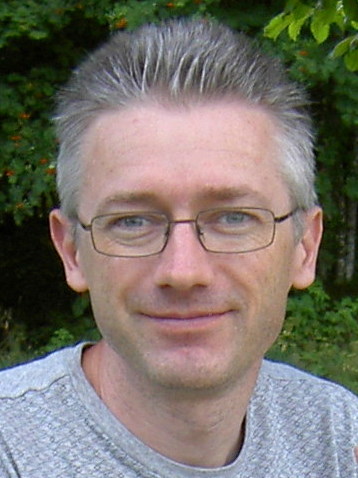 I was born 1967 in Stockholm, Sweden. I grew up in the small village Vågdalen in north Sweden. 1989 I moved to Umeå to study Computer Science at University of Umeå. 1995 I moved to the Netherlands where I live in Almere not far from Amsterdam.
Here on this site I let you see my creations.
I create, that is my hobby.
Copyright © 2015 - 2021, Jens Malmgren. Google Analytics is used on this site.