JENS MALMGREN
I create, that is my hobby.
Eva 19 January 2020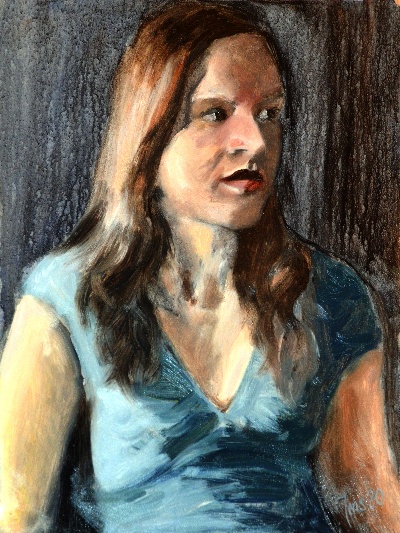 It is Sunday, 19 January 2020, and I am on my way to a live painting session at De Stoker in Amsterdam. Perhaps the model today is Eva. Last week she was sick, so it can be so that she still is sick and there are other plans.
Today I am using my new second-hand laptop, and I got the sim card sorted, so I got access to the Internet as well. The weather is nice. There is a shy sun with a thin layer of overcast. It is surprisingly warm for the year. I am on my favorite train but is leaving a little late for a couple of minutes.
Yesterday I went to a couple of second-hand shops. I had a look at books about hobbies and especially books about painting and drawing. You never know what you will find. Sometimes there can be real treasures. I looked at a thick book that claimed to tell you everything you need to know about painting and drawing. In the section about painting portraits, I wanted to see what they said about that. They defined it so that if you paint a portrait, you can do it in two ways.
Exactly, this is a tedious and boring method.
Uh, eh… Just do it.
What is it with the subject of portrait that people can write a whole book about it, and when it comes to the core of it all, then there is just an empty hole. They could have printed a page and literally make a hole in the page explaining how to draw portraits.
I also recognize some artists seem to be able to capture the soul of a person, but at the end of the day, a painting is just a two-dimensional canvas. There is no magic. There is paint, and that is all. That talk about capturing someone's character in a painting is overreacting on what you feel when looking at the painting. You can like it or hate it. That is fine, but it is just a painting.
So that invalidates the magic part. What is left is hard work. I did not buy that book. Obviously, if a painter had access to some kind of magic, then there would be no need for hard work. It would be enough to have pure luck, but even those successful artists that believe in magic are actually working hard on their skills.
The entire train trip, a lady next to me, spoke on the phone. I am so happy I was not on the other end of that phone call. Luckily her conversation was in a language I could not understand. It became a sound after a while. A Chinese couple had an argument. The girl wanted to remove an invisible pimple on the nose of her boyfriend. He did not want her to do that in public. At some point, she successfully pinched his nose. I am happy for the people around them that the deed did not produce anything. After that, she continued, and he got irritated at her.
I suppose they could see me tap on the keyboard of my laptop, thinking that I was doing something very boring and uninteresting.
Now I switched the train for the tram.
When I arrived at Admiral de Ruiter street, I took a detour via the canal and that street where I have seen people drive opposite to the drive direction. I took a couple of photos as well.
The artists today were Floor, Ron, Tom, Saskia, and me. The model was Eva. She got to wear a blue-greenish dress. Saskia wanted the model to wear a hat, but that caused too many shadows, so that plan was abandoned. Currently, we only got a colder light in the studio. Perhaps it is a true daylight saving lamp, but I experience the light as colder. I loved it, a few months ago when we had both cold and warm light, but I think that either the warm light is broken or Saskia doesn't like it anymore.
Eva is beautiful; she got a beautiful mouth. Her upper lip curve is a perfect cupid's bow. Sometimes it is easier to paint ugly people with wrinkles and crests. Then you can hold on to the landmarks of the face. I recall I have experienced artists that could only paint ugly people; I mention no names, though. When the model was/is beautiful, they have a hard time accepting their own result. I attended some sessions where another artist made a painting of the same quality as Mona Lisa by Leonardo Davinci and then just wiped out the whole thing at the end of the session. When you may paint the rosiest rose of the roses, like Eva, and you reproduce her as a flower - that - gives you the most ultimate disappointment, as an artist. I understand that. Either the tantrum of a disappointed artist or you are like me, "let's do better next week."
Talking of next week. Saskia takes next week's Sunday off. So there is no oil painting next week.
Eva had some news to tell as well. She stopped with the logopedic career and started working as a massagist. Sports massage and therapeutic massage. She also takes lessons in art. She is learning to draw portraits. All this, and she is modeling as well. I hope I can paint her another time this year.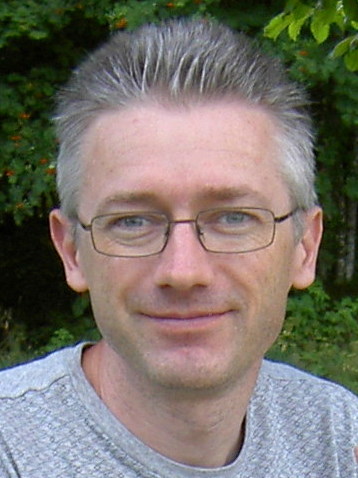 I was born 1967 in Stockholm, Sweden. I grew up in the small village Vågdalen in north Sweden. 1989 I moved to Umeå to study Computer Science at University of Umeå. 1995 I moved to the Netherlands where I live in Almere not far from Amsterdam.
Here on this site I let you see my creations.
I create, that is my hobby.
Copyright © 2015 - 2023, Jens Malmgren. Google Analytics is used on this site.