JENS MALMGREN
I create, that is my hobby.
Sunset at Leeghwaterplas, Oil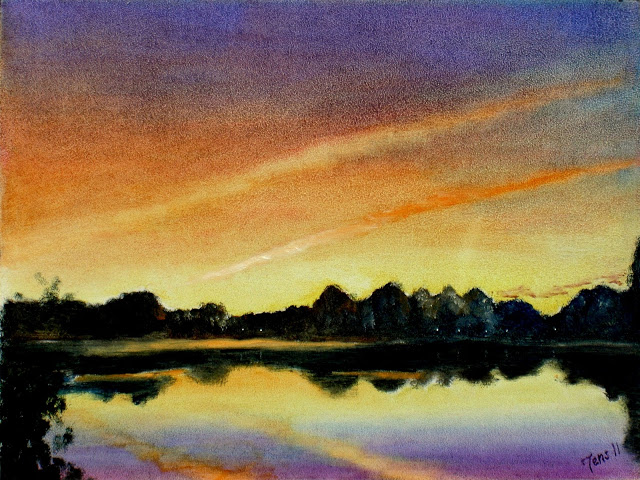 On the way home from work I biked into an absolutely stunning sunset over the Leeghwaterplas lake. There had been a couple of airplanes flying over leaving stripes in the sky that reflected the final orange and yellow rays of the sun. The lit up stripes reflected into the water that was lying calm in the lake.

I took my camera and shot the scenery. This was on Friday.

On Saturday evening 15th of October 2011 I started to paint the sunset with oil paint on a MDF panel. With great enthusiasm I mixed colors and painted the panel. After a while I had applied too thick layers of oil paint. I tried to smear it into an even surface but it got out of hand. After a while I decided to wipe off the paint and start over. To my surprise really nice shades of colors appeared when I wiped the panel. I started to experiment with painting and then smooth the colors with a cloth and like this I was carefully building up the transition from bright yellow at the horizon to the dark heaven right above.

With the water I used the same technique. When I finished the sky and the water then I painted the trees at the horizon and the reflection of the trees in the water. For the reflection in the water I used horizontal brush strokes and for the trees I dabbed with the brush to create a difference in the surfaces. The street lamps were already lit when I took the photo and they looked like tiny little sparkles and in the water they were reflected with fuzzy lines.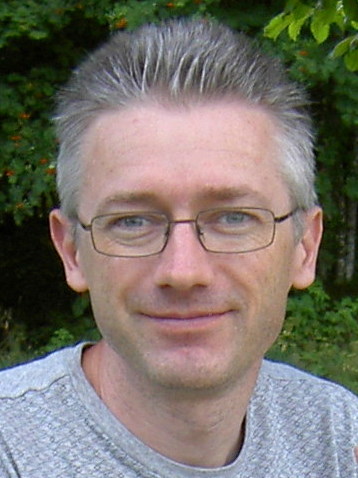 I was born 1967 in Stockholm, Sweden. I grew up in the small village Vågdalen in north Sweden. 1989 I moved to Umeå to study Computer Science at University of Umeå. 1995 I moved to the Netherlands where I live in Almere not far from Amsterdam.
Here on this site I let you see my creations.
I create, that is my hobby.
Copyright © 2015 - 2022, Jens Malmgren. Google Analytics is used on this site.