JENS MALMGREN
I create, that is my hobby.
Valeria II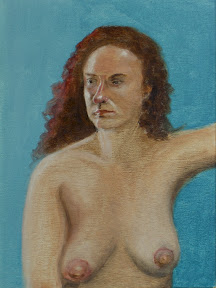 Normally a model comes three times to the gallery but for the last session Ana could not come. Her replacement became Valeria. I had painted Valeria the previous season when she had an open shirt. This time she was naked.  To succeed better with the portrait part I decided to make a composition concentrating on the face of Valeria. This was just a one three hour session so I had to use the time optimally. One trick to save time is to use one or two breaks to work on the background. You don't need a model to paint the background normally so while she is on a break I can continue to paint.

The pose was complicated. She sat on the floor with her arm leaning on a chair. It felt like turning the panel diagonally but that was not a good idea. Also another challenge was that since she was sitting so low I had to sit too because otherwise I would get a "looking down perspective" and I was not interested in that. I used to sit because you do that when you paint aquarelle but I have seen that when you are standing you move more freely around the work so you can take a distance to the painting and that is good for the quality. No I had to sit.

These are all little things that make no difference or it makes all difference.  When the session had come to an end I got the comment that the eyes maybe were too small. I think that is true. This painting is not looking like Valeria but for it is nice as it is for being my painting and a one three hour session. I have seen that the eyes are something that I should pay better attention to so this was a good lesion!

This was painted on hardwood plywood 30 by 40 cm on 1st of October 2011.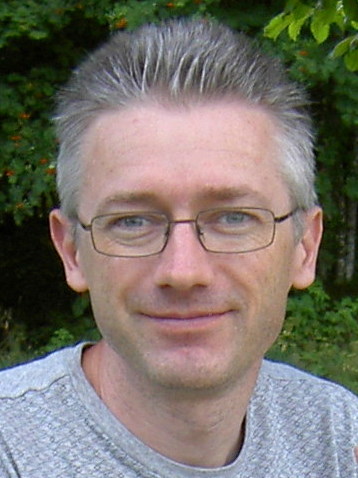 I was born 1967 in Stockholm, Sweden. I grew up in the small village Vågdalen in north Sweden. 1989 I moved to Umeå to study Computer Science at University of Umeå. 1995 I moved to the Netherlands where I live in Almere not far from Amsterdam.
Here on this site I let you see my creations.
I create, that is my hobby.
Copyright © 2015 - 2021, Jens Malmgren. Google Analytics is used on this site.