JENS MALMGREN
I create, that is my hobby.
Orange tulip at Keukenhof flowershow 2003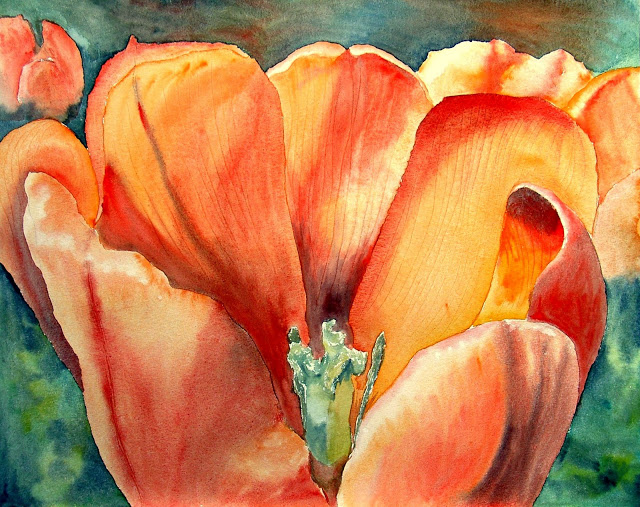 On Sunday May the 4th 2003 I made a close-up picture of a bright orange tulip at the annual Keukenhof flower show in front of the Prins William Alexander pavilion in the Netherlands.

Eight years later I decided to make a painting of this image. Precisely eight years,  four months, twenty-five days,  four hours,  forty-four minutes  and fifty-four seconds later on 29th of September 2011. It was a warm and crowded day at Keukenhof when some of the flowers were coming to an end but most flowers looked nice.

If you plan at trip to Europe then plan is in such way that you go to the tulips at Keukenhof in Holland and then you can also go to Sweden to the daffodils at Fagerås. Keukenhof is an enormous high end flower show with all accommodations you can expect, and the crowd too. That you cannot yet find at Fagerås. In Fagerås there is a man in his late eighties and he made his farm into an enormous daffodils flower show! His daughters is running the café in a barn were they are baking waffles and make coffee. Go there before it is too late! This is one of the most authentic flower shows in Europe. These flower shows are open in April – May so they could be combined with a bit of luck.

Last week when I painted the tuberous cranesbill I had no painting luck at all so this evening I was in a need for revenge on the flowers. At this point I got over my cold that I had last week. I was still coughing and sneezing but I was doing fine. This evening at Aquarelmere it was a theme evening about flowers on a big 500gr paper and this paper is big, it is 50 by 65cm (19.7 by 25.3 inch). Luckily the paper is not Arches so it does not smell funny when it is wet.

The main color for this flower is orange. I used loads and loads of Winsor and Newton Orange on this painting. Almost my entire tube went into this painting. I really had to have this working so I made no rush work of this painting. When the evening had come to an end I was not finished. Big parts of the painting were still white. There was not much to do about this. I understand now that you need approach flowers with patience. The painting mood needs to be in line with the subject otherwise it is not going to be any nice result.
When the evening had ended I biked home with my painting. Can you imagine how it is to bike with a huge painting? I held it as a shield so that the wind would press it against me. First I had the painting towards me but then I was thinking that maybe I would get paint on my jacket or the painting would get marks from the jacket so I turned the painting outwards. It was dark and I came there biking with my painting and everyone I met had comments on it. I understand that you don´t see many biking paintings on an average evening. When I came home I continued the painting until it was finished.

When I decided to paint this tulip I was thinking that I should remove some of the flower challenges. The tulip is showing a more solid structure so it is easier to express its form. Also it is less transparent so there are no places in the flower where you see really complex tones of shadows and see-through to other leaves. Finally it is not purple or pink. It seems purple and pink are a bit more difficult to paint. I use to say that red can be a shy color so that is why I used plenty of orange and red on this painting to compensate.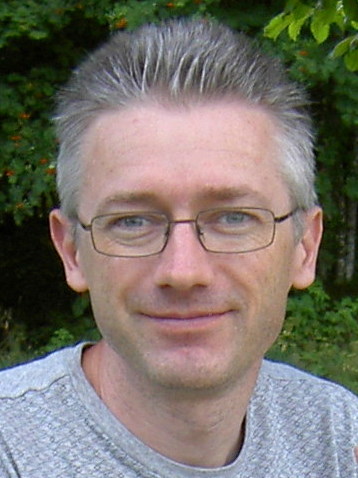 I was born 1967 in Stockholm, Sweden. I grew up in the small village Vågdalen in north Sweden. 1989 I moved to Umeå to study Computer Science at University of Umeå. 1995 I moved to the Netherlands where I live in Almere not far from Amsterdam.
Here on this site I let you see my creations.
I create, that is my hobby.
Copyright © 2015 - 2021, Jens Malmgren. Google Analytics is used on this site.