JENS MALMGREN
I create, that is my hobby.
Four Seasons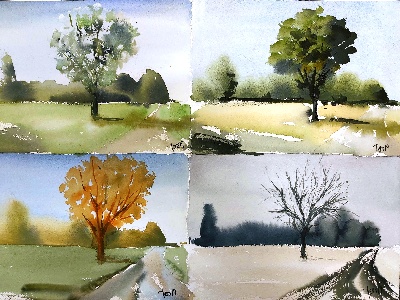 Tonight the theme at Aquarelmere was the four seasons. Because of this, I could not paint a portrait tonight.
I searched for a sample image and found this on Internet. I liked this because it had a nice perspective in the image. It was clearly four real photos and not some abstract representation of the four seasons. Surprisingly many of the peers at the club embarked on painting from memory or painting something that they could not see. For example making four seasons of one subject. For a subject like this, that becomes a great handicap because you need to emphasize the differences in the seasons and not just do the same motive four times with a "winter" color, a "spring" color, etc.
I recall that I painted this theme before. That previous time I made a painting that I invented myself. This was much better, I could gather inspiration from the sky in the pictures and how it looked like.
All four were painted at the same time. I made the sky first, and in the upper left I forgot to leave white in the tree. That was no big problem because I could borrow a little white from Hilde.
As a little joke I decided to sign all four seasons. This was fun.
And how is the house going? Hopefully we get the mortgage accepted from the bank tomorrow. Holding my thumbs.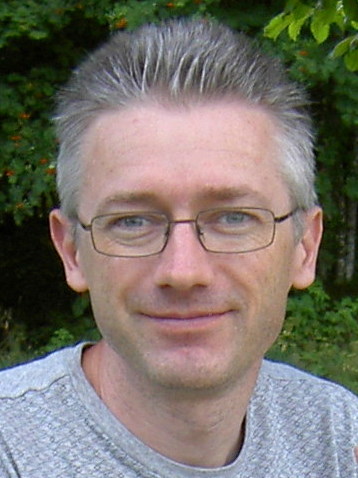 I was born 1967 in Stockholm, Sweden. I grew up in the small village Vågdalen in north Sweden. 1989 I moved to Umeå to study Computer Science at University of Umeå. 1995 I moved to the Netherlands where I live in Almere not far from Amsterdam.
Here on this site I let you see my creations.
I create, that is my hobby.
Copyright © 2015 - 2019, Jens Malmgren. Google Analytics is used on this site.