JENS MALMGREN
I create, that is my hobby.
The Angelina Jolie Project, Charcoal
Angelina Jolie is a complex person. That should surprise many because the most common idea about her is that she is "just" a beautiful actress. She is that too but she has many sides not so widely known. If you want to know more then read a Wikipedia article about her. I think she is a strong woman.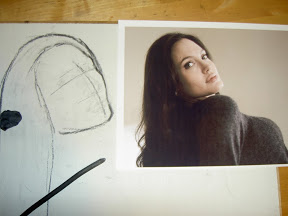 I had decided to make an oil painting of Angelina Jolie. Easy enough, you search the Internet for a photo and then you print it and then you start painting. So here is a photo of the beginning of the painting.This was 18th of October 2011. I can already now tell you that it never became an oil painting. I got so pleased with working with charcoal so it ended like that, a charcoal drawing of Angelina on a hardwood plywood panel.

On the first photo (to the left) you can see the print and the outline of Angelinas face. I divided her portrait with a couple of help lines. At least that is the idea. I am struggling with this still so take my words with a grain of salt. If you look carefully you will see that I had already made a drawing of Angelina that had been erased. It is not that easy to make a portrait.

I use help lines dividing the face vertically following the curve of the face. Then I have a couple of horizontal help lines. First it is the horizontal eyes help line. It is halfway between the top of the head and the chin. Then I place two help lines making up the dividers of one thirds. The first third is from the chin to the bottom of the nose. Then the middle third is from the bottom of the nose to a place somewhere above the eye brows. Then the last third is between that place above the eyebrows and the hair line that you sometimes cannot see because the model is having the hair hanging or is not having any hair – guess. The middle of the mouth is one third from the bottom of the nose to the chin.


On this photo (to the right) I progressed a lot. Already here you can see that the mouth is not in line with the eyes perspective wise. That is unfortunate. Did I see it while drawing? No. I noticed much later.

After this photo I worked on making the nose thinner and fix a number of issues I did see.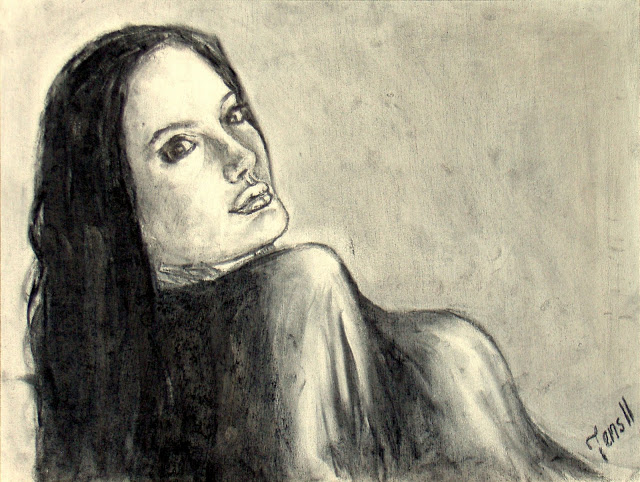 Here above is the end result. I made it a bit yellowish in the computer.
I took the drawing with me to De Stoker and showed my friends there. I was talking to a fellow painter when I without thinking explained that "I made this drawing from a photo". What an adorable thing to say it occurred to me. As if I had been painting Angelina live? Miracles can happen. If you are reading this Angelina and you want a portrait of yourself then please leave me a note and I will see what I can do.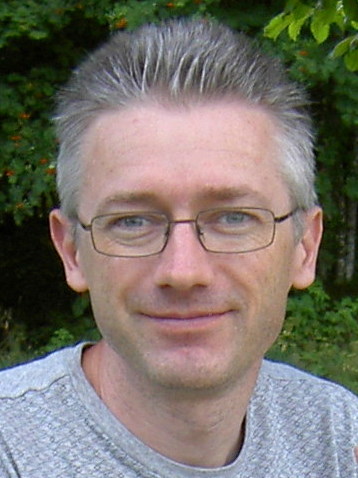 I was born 1967 in Stockholm, Sweden. I grew up in the small village Vågdalen in north Sweden. 1989 I moved to Umeå to study Computer Science at University of Umeå. 1995 I moved to the Netherlands where I live in Almere not far from Amsterdam.
Here on this site I let you see my creations.
I create, that is my hobby.
Copyright © 2015 - 2021, Jens Malmgren. Google Analytics is used on this site.