JENS MALMGREN
I create, that is my hobby.
Two Greta cartoons
I created two more cartoons! I made my previous cartoon about the elephants in the room on the second of December and I posted that to Twitter. There came no likes on that cartoon, and that is fine because I don't make art to get likes. At that time, I was frustrated about the silence in the climate debate among people. People should no be silent. They should talk to each other, that is much better.
Of course, what I would like to see is a quality discussion about the climate. Making my first cartoon made me feel less frustrated.
I showed that cartoon to someone, and we talked about the climate, and in that discussion, he said that Gretas speech at the UN was over the top emotional. I did not have any ready-made answers for him at that time, and this frustrated me. So that gave me the reason to make my second cartoon, and this time it was about Gretas speech at the UN.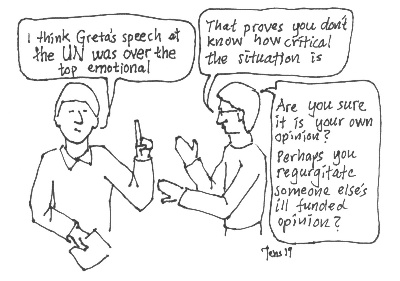 On 8 December, I drew this cartoon and it was done surprisingly fast. Also, this time I got no likes. With that cartoon, I figured out what my character should answer, and he delivered it right away. Not like me, who needs a couple of days to come up with an answer.
On 16 December, Greta became the Time Person of the Year. Ever since Greta became known a year ago, I think I was her follower number 300 or something; it has annoyed me how people are trying to be funny on behalf of Greta and is just failing every time.
Now since I found a way of unloading frustrations by making cartoons, it felt appropriate to take on this frustration.
This time I used a lot more time to get the cartoon right, I had to redraw it several times. I draw the cartoon on regular paper with a pencil. I can adjust things with an eraser. When things are good enough, I transfer the pencil drawing to a new paper by tracing them with a fine liner. For this, I put the two papers on a glass plate that I illuminate from the back.
After publishing this Funny on behalf of Greta cartoon to Twitter, I got three likes! That means I displayed my cartoon to 111 people.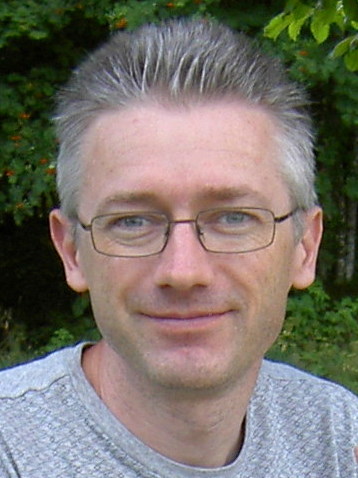 I was born 1967 in Stockholm, Sweden. I grew up in the small village Vågdalen in north Sweden. 1989 I moved to Umeå to study Computer Science at University of Umeå. 1995 I moved to the Netherlands where I live in Almere not far from Amsterdam.
Here on this site I let you see my creations.
I create, that is my hobby.
Copyright © 2015 - 2023, Jens Malmgren. Google Analytics is used on this site.