JENS MALMGREN
I create, that is my hobby.
Flower Portrait of Meconopsis Cambria on 12 December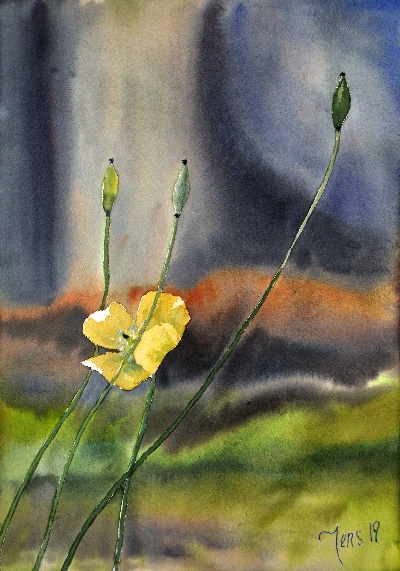 A few weeks ago, when I painted Eivor on 24 of November, on my way to the live painting session at de Stoker in Amsterdam, I discovered this flower in my garden. It is a Meconopsis Cambria. In Dutch, she is called "Schijnpapaver" and Dutch floras, are saying that it is normally flowering from April to July. Look, this is painted from a photo taken 24 of November 2019. Four months later than normal. Four. Okay, three months and 24 days.
A couple of months ago, I had an intense discussion with someone about the climate. He could not understand that there is a problem with the climate. Nothing, what-so-ever. Nothing about keeling curve, remaining emission budgets, nothing. It was all a hoax to him.
I asked him where he got his information from because I sure get my information for scientists, and they see there is a problem with the climate. He said he was looking out of the window.
He was not at my house on the 24th of November 2019, but if he had been looking out of my window that day, he would be able to see a flowering Meconopsis Cambria. He could see the gracious thin stems with yellow-green translucent flowers. Seed bulbs.
These little signs of climate crisis need to be seen. This is a climate activist of nature. She has a story to be told. Here she sends out her blooms, but there are no bees to suck the nectar. The garden is silent, there are no insects. Because there are no insects, there are no birds. We live on a dying planet. The people that allow themselves to see a Meconopsis Cambria in November they need to speak up and raise the alarm. That is what I am doing. To celebrate her, she got her own painting. She will be part of my series of climate activists.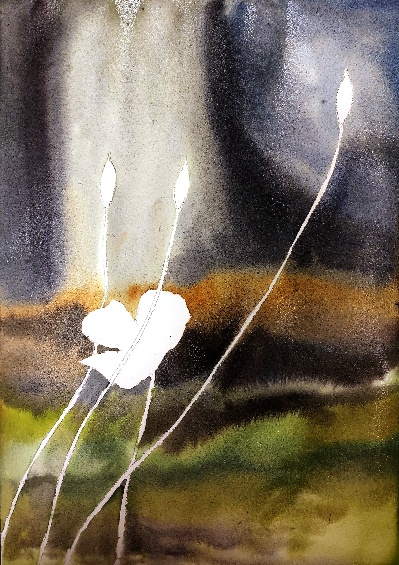 I painted this by making everything but the flower and stems wet. Here is the painting after I painted the background while it was still wet. Here you can see the pencil drawing lines. When the background was dry enough, I erased the pencil lines.
It is still possible to see how the colors have not finished the mixing. The greens and the blacks are finding their way over the paper under the surface tension of the water. If you compare the wet painting with the dry painting, you can also see that blacks are losing intensity during the drying. It is important to emphasize the blacks to compensate for this effect. You got one chance to paint wet in wet like this.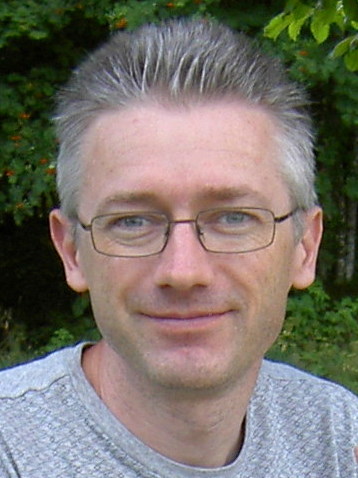 I was born 1967 in Stockholm, Sweden. I grew up in the small village Vågdalen in north Sweden. 1989 I moved to Umeå to study Computer Science at University of Umeå. 1995 I moved to the Netherlands where I live in Almere not far from Amsterdam.
Here on this site I let you see my creations.
I create, that is my hobby.
Copyright © 2015 - 2023, Jens Malmgren. Google Analytics is used on this site.