JENS MALMGREN
I create, that is my hobby.
View over the Storsjön lake in Jämtland, Sweden on 5 March 2020
Here is a short note from Thursday evening on 5 March. I write this on Sunday. This week the theme was landscape abroad. My spontaneous thought was that, well, I am Swedish, so The Netherlands is abroad for me. That would make me paint the same country two times in a row, and that would not be so exciting.
While on that track of thought, I decided to paint the landscape of my home country. I started thinking about Jämtland, where I grew up. I don't know if it was a coincidence, but I found drawings I had made about Jämtland. Are there so few artists making paintings about Jämtland that I come fairly high up in the search results with a drawing from ages ago?
I started to search for motives and found a typical view from a hill looking out over the Storsjön lake in Jämtland. I am not sure exactly where this is, but that does not matter. I made two versions of the painting. The first failed. Then I started over, and this is what it became.
The painting has been standing at home, and it has been "growing on me," and that is funny because it is the trees growing, obviously. I will bring it with me to work tomorrow to see how people react to it.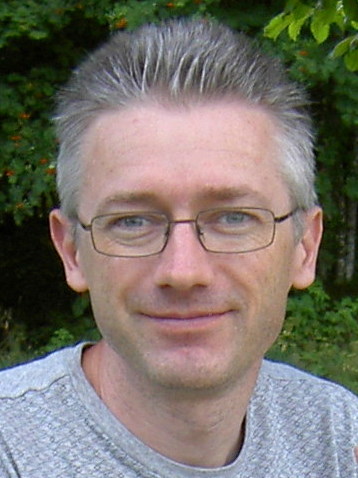 I was born 1967 in Stockholm, Sweden. I grew up in the small village Vågdalen in north Sweden. 1989 I moved to Umeå to study Computer Science at University of Umeå. 1995 I moved to the Netherlands where I live in Almere not far from Amsterdam.
Here on this site I let you see my creations.
I create, that is my hobby.
Copyright © 2015 - 2022, Jens Malmgren. Google Analytics is used on this site.