JENS MALMGREN
I create, that is my hobby.
Piet 9 December 2018
It is Sunday 9 December, and I am on my way to Amsterdam for a live painting session for the second time with Piet dressed as Neptune.
It has been an active week indeed. On Thursday I went to a club evening at Aquarelmere were the idea was that we would illustrate a poem and I illustrated a poem I found on hellopoetry.com, and I tried to get in contact with the lady who made the poem to tell her about my painting, but the form just gave error messages. Another time perhaps I will come back and try again.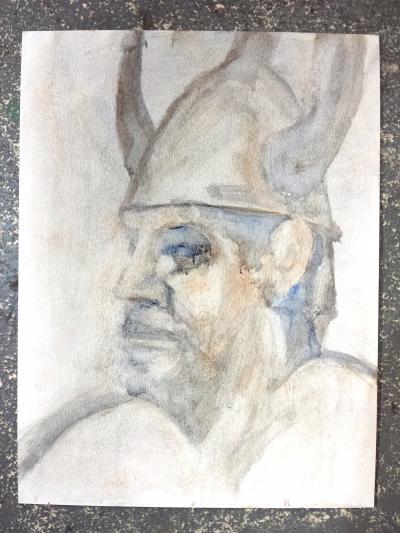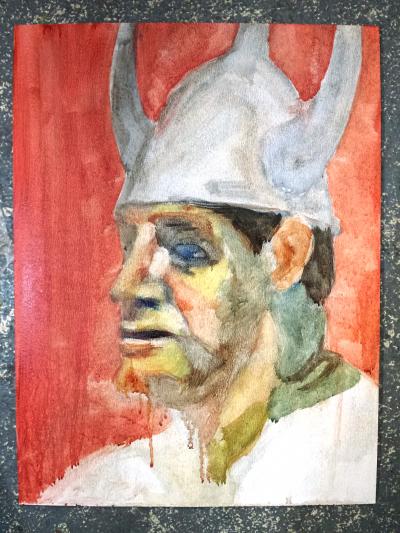 The exciting part of this is that it got me thinking about poems in general and what I have with poetry. You can sit still on a chair, or for that sake, behind the steering wheel, and nobody can see anything on your outside, but on the inside perhaps you are pondering about how to formulate a poem. It is a beautiful idea. You can think of poems under the shower or on the bike to work. The critical part is writing them down and find a place for that writing. My blog is also a nice place for this indeed, but I don't know if they would thrive there? Anyhow, now I am a member of…
Ouch! There is a large fart odor spreading in the train right now. Perhaps it is two large dogs next to me letting the gas out? Or it is a human?
It is not overcast today, but that said, from time to time there is heavy rainfall. Right now rays of the sun are decorating my keyboard, and I can see some blue patches of the sky here and there.
When I biked to the train today, I thought that I had not told about how I mounted a box on the bike this summer. Since I go by bike with my heavy painters' bag, it is dangerous to have the bag on a strap on the shoulder. Besides that, it is hard on my back. So I put a box on the bike, and it is lovely. Both my oil painting bag goes in the box as well as my aquarelle bag. This box is a substantial improvement for me. You cannot see it in the paintings, but it is part of the process of creating art.
Another thing is the aquarelle stand that I made last Thursday. I am curious how that works out. I figured that having the paper tilted could give you an earlier warning when applying too much moisture while painting and that is important because when doing that you lose control of the painting process and that can have severe consequences for the result. It is also better to reduce the parallax problem with having the paper flat on the table.
Now we arrive at the station in Amsterdam.
Today it was my final session for this year at de Stoker in Amsterdam. On 13 of January, it starts again.
Today I painted a portrait of Piet. I had forgotten that he works as a guide of Naturalis in Leiden. The museum is currently closed due to rebuilding, so Piet is temporary without a job. I am just curious if a guide at a museum of natural history can believe in God or is it natural for such guide to believe more in science? Just wondering.
I managed to create a portrait with a great likeliness. That is always satisfying in itself. I manage to do that more often, when I so wish, this year.
The artists today were Lydia, Saskia, Tom and me.
It was beautiful to paint today. Many times I am torn between different ambitions such as should I paint the full body or should I just paint a portrait? For Piet it became a portrait.
This week Monday (Indeed I count weeks from Monday until and including Sunday, it is what we do in Sweden, and it is European ISO standard to count weeks like that) we set a dot at the city hall. At that gathering they informed all attending that we would receive an email with further details and instructions. Well, that email arrived on Friday. Yesterday we looked at the content of the email and it turns out we need to give consent to that the city council can give out our address to future neighbors and indeed, they need to do the same. When all that is done we can get to know what our future Neighbors are and we can start talking to them. Like so we can learn what our future neighbors plans are etc. For some parts, we need to create the plans together with the neighbors so it is essential to get to talk to them.
One of the things we will need to deliver is a drawing as a file of our wishes and that file needs to be delivered in a format that can be opened with AutoCAD. It will be my task to figure out how to do that. I think I can use Fusion 360 for this but I am not entirely sure yet. We will also need to create a plan telling how we will clean our water, warm the house, plants in the garden, how different parts of the land are used.
Perhaps my time will be more and more consumed by this housing project. At some point I might need to stop paint so much as I do right now. Do I fear that? No I don't think so. Life is changing and I will need to change with it. There are never guarantees for anything of the future. The idea of being able to expand my physical creative space is very attractive. If that means I have to stop paint for a while then that is how it is.
Now we are almost in Almere.
It is raining again. Blegh.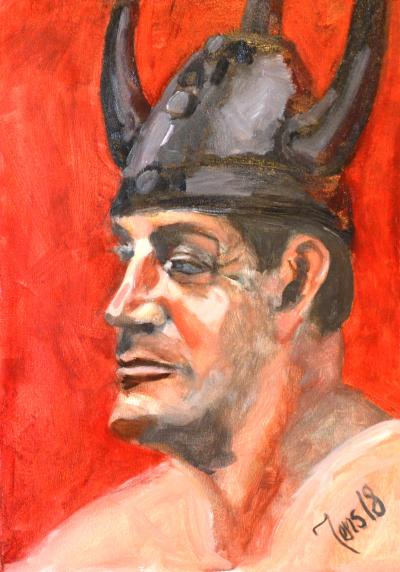 If I were to continue on this painting (but I am not) then I would look carefully at the distance between the eye and the ear. There is something wrong there, it is to short. For today this is the result.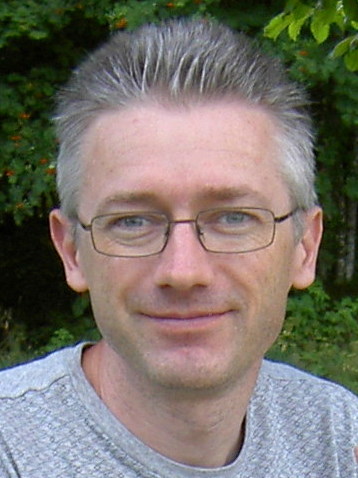 I was born 1967 in Stockholm, Sweden. I grew up in the small village Vågdalen in north Sweden. 1989 I moved to Umeå to study Computer Science at University of Umeå. 1995 I moved to the Netherlands where I live in Almere not far from Amsterdam.
Here on this site I let you see my creations.
I create, that is my hobby.
Copyright © 2015 - 2021, Jens Malmgren. Google Analytics is used on this site.