JENS MALMGREN
I create, that is my hobby.
Impressionism and beyond. A Wonderful Journey 28 January 2018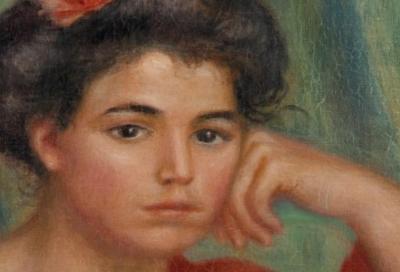 Today I am not sitting on a train to the live model painting session at studio de Stoker in Amsterdam because today I went to the Singer Museum in Laren together with my wife to the newly opened exhibition and after that, we took a walk at the heathland next to Laren. It was an overcast day but dry, at least until we returned from the heath.
As you know my favorite museum is the Singer Museum in Laren, founded by Anna Singer.
Anna was born 1878 in Hagerstown in Washington County, Maryland, United States. 1896 she is married to William Henry Singer Jr. 1901 the couple travels to Paris, France. William studies at Académie Julian. This art school was active from 1868 to 1968. A year later they leave Paris and moves to Laren in the Netherlands. At first, they stay at a hotel Hamdorf and 1911 they built a house that they called Villa de Wilde Zwanen: Villa the Wild Swans. In this villa, the couple received many art friends. They moved to Norway where they 1922 built a villa in Dalheim, Norway. The couple travels and meets a lot of artists, and they collected art from Dutch, French, and American artists. In 1943 William died. In 1953 Anna created the Singer memorial foundation. Anna builds a museum and a theater next to the villa. In 1956 Anna opened Singer in Laren. Anna died 1962.
The exhibition today came from art from the Van Vlissingen Art Foundation. It was very crowded actually. I took a panorama photo from inside Singer.

When you come to this museum a couple of times per year, and you get to see several exhibitions over time, there emerges a story of art history. You learn to recognize several characters in this story. It is a story with individuals and but also a history of the time. These artists that got to create the material presented by the museum were all eager to capture the essence of light and beautiful.
The first room had impressionists. I love this era. There were various names of art-"isms" in different rooms of Singer Laren and I loved them all except the cubism room. The floor plan is all different for each exhibition. The cubism was not even part of the main exhibition.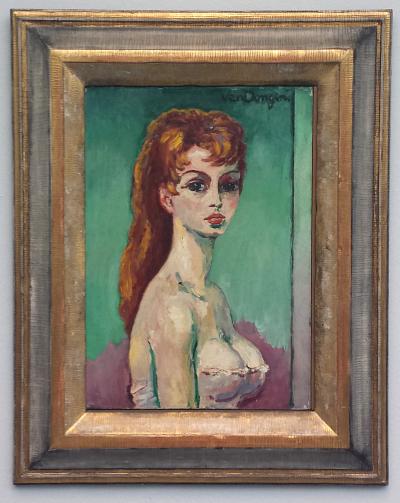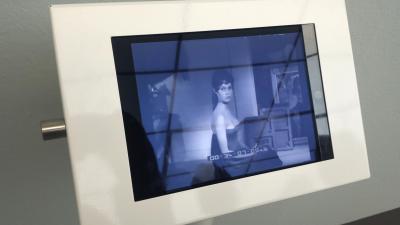 I made a few photos of the work that had special meaning to me. For example, the portrait of Brigitte Bardot by Kees van Dongen 1954 in the Expressionists room. He was 77 years old when he painted her when she was 20 years old. Right now, when I am given myself the challenge to focus on likeliness in my paintings, it is striking to see Kees paint this portrait of Brigitte. There was a little monitor with a black and white movie of when Kees was working on the painting of Brigitte. Brigitte got a tall neck, but it is not that tall as Kees pictures it. The bosoms of Brigitte are lifted slightly by her dress or bra, but Kees makes them repel gravity. And the eyes. They are big. Everybody knows that Kees paint big eyes, but these eyes are big. So, what is happening here? As I see it it is not the reality that Kees is depicturing, that is for sure. He is making a caricature of both himself and one of Brigitte. At the time of 77 he was probably well known for too big-eyed portraits, and if he had not painted two big eyes of Brigitte, then it had not been a Kees van Dongen painting. And the same for Brigitte. She had bosoms but not that big, and the neck was tall but not that tall. Kees exaggerates these features and makes a caricature. These days when I paint a painting, and it is not adhering to reality all my viewers are harsh to my skills. "But hey Jens, you are a noob, your art does not hang in a well-established museum, so you have to paint normal size eyes and normal size boobs." Thanks for your advice.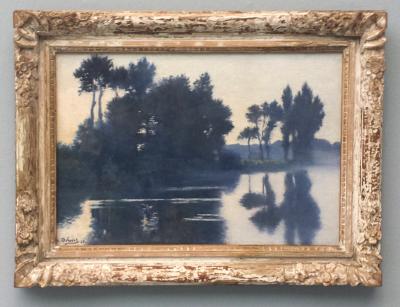 Alphonso Osbert painted "Night falling over Oise" 1888. This painting was in the symbolist's room. A fantastically simple painting that I could attempt to paint as well. I would make this a wind still summer evening in Sweden at my house Sunnerås near the little lake. I would make it with aquarelle technique because that way I would work very quickly, and it would work fine even when being outside. The only thing I would be worried about would be mosquitos. For that purpose, I would need to have my wife or daughter nearby because they are delicious, to mosquitos. I love it. Overall this exhibition inspired me to go out in nature and paint landscapes more often. These days we do not need to go out and sit outside and paint, we can take a photo and bring that home and paint from the photo. I know there are artists for whom that would be cursing, but it is just not practical at all times to be standing outside and paint. Perhaps I could do like some of the old masters did. When working with oil colors often they made a quick form-sketch at the location and then they made notes about the different colors of the painting. Some wrote the color names and some mixed the color and placed little splotches here and there on the sketch of the right color. Back in the studio, they based the painting on the colors that they noted and made art from that. This sounds like a plan. For the rest, I have no idea who Alphonso Osbert is.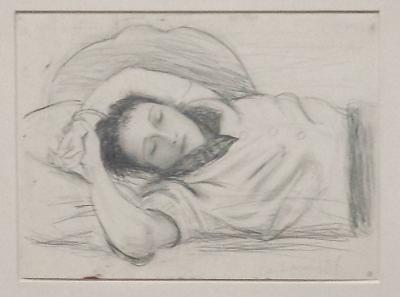 There was a pen drawing of Pablo Picasso! The one and only Pablo Picasso. And it was NOT cubist. It was a portrait of Dora Maar on 2 March 1937. I just got an unsharp photo of this. I was so delighted there was a non-cubist drawing of Picasso that I did not look carefully. Besides me, there was a mother and a daughter that disapproved this piece by Pablo. They concluded that an arm was wrong. "It cannot be short like that." And that is fantastic for me. I just loved that comment but there comes a voice in me saying: "Hey Jens, in this drawing of Pablo Picasso the arm is too short, you would try to do it better would you not?" Yes, I would.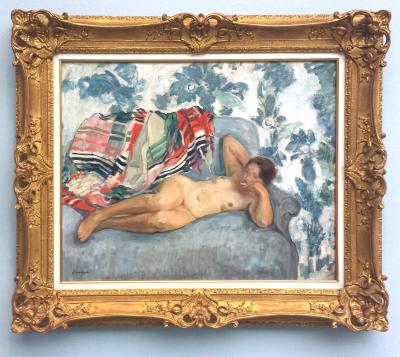 Henri Lebasque painted "Naked on a sofa" around 1930. This piece was in the post-impressionists room. I don't know much about Henri, but it was a beautiful painting. I had been proud of myself if I had painted it. He lived from 1865 until 1937, so he was 65 years old when painting this painting, and he died at the age of 71. Lebasque learned the significance of a color theory which stressed the use of complementary colors in shading. I can embrace that.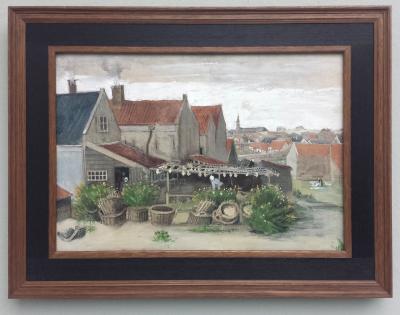 There was an aquarelle-gauche-pen-etc thing of Vincent van Gogh of a Fish drying barn in Scheveningen from July 1882. I liked this because there was absolutely nothing wrong with the perspective in this painting. It was totally correct! Indeed, before making this piece, Vincent studied a book about perspective drawing. His uncle commissioned this particular work, but the uncle thought that Vincent had chosen a rather ugly and unattractive subject, so he did not give Vincent the agreed payment but 20 guilders instead of 30 for a series of six drawings. That uncle should now know Vincent is the number one pride of the Netherlands. To bad with that ear story because that was not pretty. As always when a museum is displaying an image from Vincent there are often quotes from letters that Vincent wrote to Leo. That Mr. Vincent should have been a blogger instead!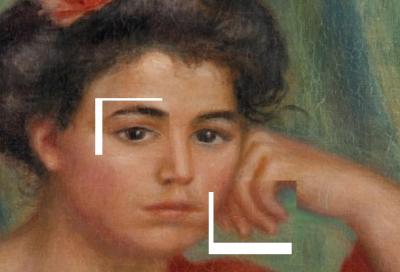 The painting by Auguste Renoir from 1907 named "Jeune fille à la rose" depicting an unnamed neighbor girl in Cagnes-sur-Mer. What is going on with her right eye? (The eye to the left in the painting). Her face looks wide, don't you think? Can you see that her right eye is drifting away? Ok, it is fine with eyes drifting off, but the relationship between her ring finger knuckles sizes are weird. It looks like the first and the second have the same size, and then third bone on her ring finger is about four times longer than the first two. Normally each bone has the relation in size equal to the golden ratio. This painting became the signature painting of the entire exhibition! There is no problem with that. I admire this painting. Auguste Renoir is one of the gods on the painter's heaven, and it teaches us that there is more to painting than just painting correct. You rather have to paint art than paint correct paintings, and if you strive for absolute correctness these days, you would rather take a photo instead of making the effort of painting. How many times do you think I have been painting drifting eyes and out of proportion knuckles and it has been "too wrong". For me it is. Do we measure art in the museum along another scale than art from amateur artists? Or is it we refuse to see things as they are?
Perhaps I am too harsh, playing the role of the jealous amateur noob artist? Anyhow it was a beautiful exhibition.
After viewing all the paintings, we ate lunch in the restaurant of the Museum.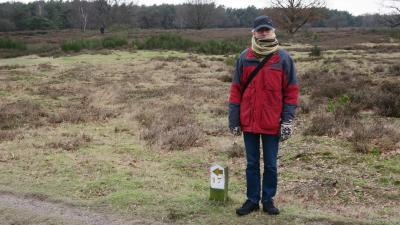 Then we went for a walk at the Gooise and Bussemer Heith. It is the heathland between Hilversum and Laren. Before the invention of chemical fertilizers, it was common to keep sheep on heaths like this place. You can also see paintings of flocks of sheep on paintings by William Henry Singer. He loved these images. The sheep was held on the heath to grass during the day, and in the evenings, they were brought to the stable. In the stable, they kept digesting, and before the next morning, they were ready for the next days round of meals. The stables where cleaned and the manure from the sheep was spread on the farmlands. When the chemical fertilizers came on the market in around 1913 the need for sheep farming purely for manure became less critical.
It is good to see that the Netherlands has been able to keep this heath open for recreation. It is good to see especially now when changes to the agriculture systems (poisons used) started to wipe out 90% of all insect life over the entire world in just a couple of years.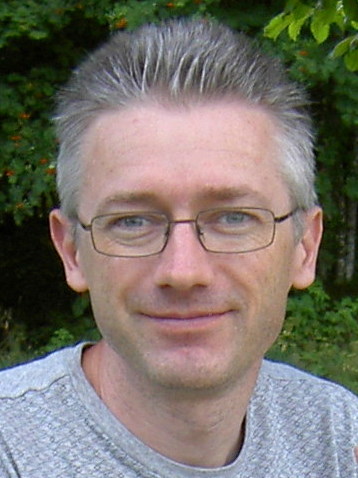 I was born 1967 in Stockholm, Sweden. I grew up in the small village Vågdalen in north Sweden. 1989 I moved to Umeå to study Computer Science at University of Umeå. 1995 I moved to the Netherlands where I live in Almere not far from Amsterdam.
Here on this site I let you see my creations.
I create, that is my hobby.
Copyright © 2015 - 2021, Jens Malmgren. Google Analytics is used on this site.