JENS MALMGREN
I create, that is my hobby.
Sunnerås 13 May 2018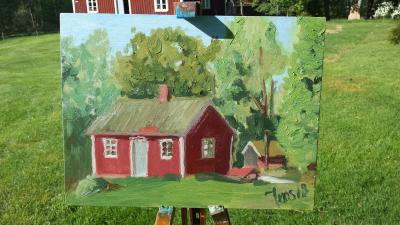 I made an oil painting of the workshop house at my farm Sunnerås!
Usually, I am so busy with all sorts of things when I am at the holiday house and painting is not the activity receiving sufficient prioritization. This time it was different. My wife and I had planned to stay one week longer than we usually do and during that extra week, we had arranged that we could work from the cottage remotely.
It takes 12 hours to drive here from The Netherlands all the way up through Germany, Denmark and into Sweden. The day after the drive we are a bit dull. It was fantastic weather in Sweden. 28 degrees Celsius and sunny. The workshop house looked so lovely in the sun so that it begged for being painted.
For this trip, I brought with me panels prepared for oil paint and my oil painting things. I thought that it would be nice to continue on the impressionistic route. It had been pleasant to paint something with fluffy clouds, but the sky was only blue without any clouds at all.
It was more difficult than I had anticipated. The different shades of green invite for mixing a long time. It is surprisingly difficult to capture the perspective of a house. The distance from the windows to the ground had to be shorter, but that is something I can see afterward, while I was busy I did not see that. At least not something I fixed while painting.
So that is what it is. I hope I will make time for more landscape paintings this summer because it was so sweet to have the flow at the end of the De Stoker season.
While I am here in Sweden, I take a lot of photos. I will blog about that separately.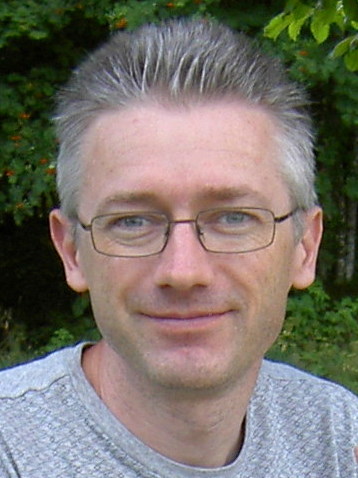 I was born 1967 in Stockholm, Sweden. I grew up in the small village Vågdalen in north Sweden. 1989 I moved to Umeå to study Computer Science at University of Umeå. 1995 I moved to the Netherlands where I live in Almere not far from Amsterdam.
Here on this site I let you see my creations.
I create, that is my hobby.
Copyright © 2015 - 2023, Jens Malmgren. Google Analytics is used on this site.