JENS MALMGREN
I create, that is my hobby.
Alyssa 28 December 2018
Here is Alyssa sitting on the floor in the house that she and Jesse are building in the USA. This image represents the pivotal moment when she tells her YouTube audience she is pregnant.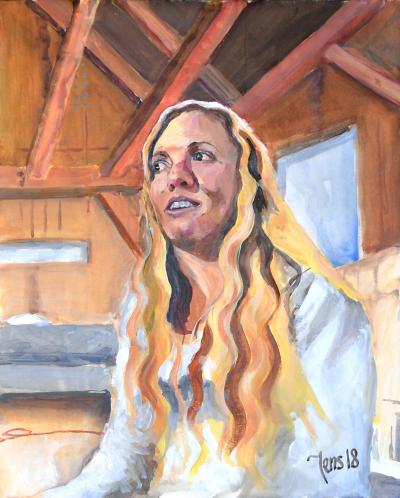 The curls on the top of her head were lit up. It looked so lovely. So I decided to paint Alyssa precisely like so. The angles were a bit difficult to capture, so I modified them to my liking. I painted this with acrylic. That is true. I have not been painting acrylic for a long time, and here I am, working in acrylic again. This painting is made on a canvas pad 40.6 times 50.8 cm.
Following Alyssa and Jesse in their building adventure has been fascinating. My wife and I also decided to build a new house for ourselves this year. No, my wife is not pregnant. Our daughter is 20, my son is 25, and no more kids are in the planning. But we are thinking of extending our creative spaces. To do that, we are thinking of moving to a self-development project. That is so exciting. We will hire people to build the house but is it still interesting to see how Alyssa and Jesse are making a home from scratch with their hands.
We are also interested in a garden, and I want a space to paint, do woodwork in, etc. Fulfilling dreams that are all it is. Well, a little portion of living is closer to nature. We will not quit any jobs and live off-grid. We do not strive for a total "pureness" in our dreams, but there is a slight modification to our situation. Living a bit further away from the city center and a little more space around us.
On January 12 there will be a new years party in the group of people that wants to build in the same area. We will be there to meet the future neighbors.
This painting is the final painting for this year, most probably. It has been an excellent year for my art. I have blogged a lot. In the last couple of days, I will try making something with my 3D printer. I have an idea for a stamp printed with a flexible filament. With that stamp, I will try to make business cards. It will be interesting.
On 2019 May 10 Alyssa gave my painting a like on Instagram. Wohoo!!!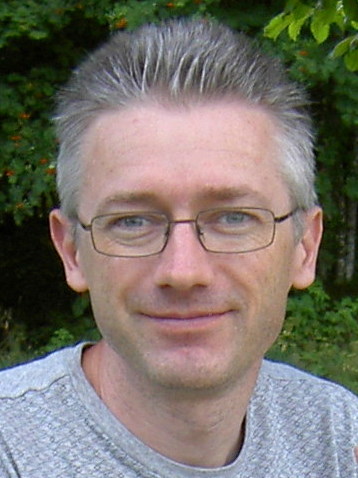 I was born 1967 in Stockholm, Sweden. I grew up in the small village Vågdalen in north Sweden. 1989 I moved to Umeå to study Computer Science at University of Umeå. 1995 I moved to the Netherlands where I live in Almere not far from Amsterdam.
Here on this site I let you see my creations.
I create, that is my hobby.
Copyright © 2015 - 2023, Jens Malmgren. Google Analytics is used on this site.