JENS MALMGREN
I create, that is my hobby.
Fionnuala 19 April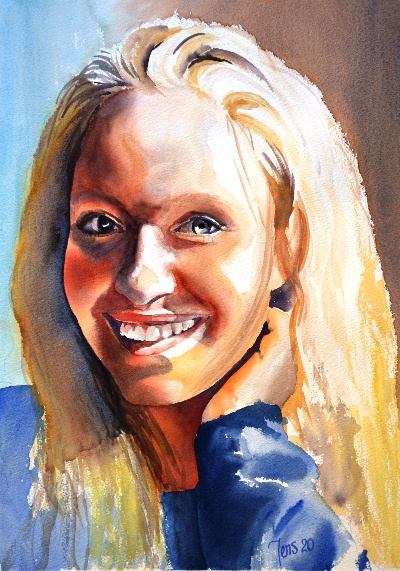 Here is a portrait of Fionnuala. She is a climate activist currently studying Medical History and Ethics at the University of Saskatchewan in Canada. She is part of my series of portraits of climate activists.
If you read blogs of me, you will know that I use to say that I am not good at painting smiling people. However, Fionnuala taught me that when something is difficult, the challenge is just bigger. When answering with a little more effort to that, the challenge can be overcome.
Before I talk more about the portrait of Fionnuala, I would like to bring you some bad news. The idea was that I would paint material for a book with essays of climate activists. Fionnuala is one of these activists. I was happy with this assignment. Grace contacted me this week and told me that the publisher is hesitant about publishing the pictures. As usual, it is a question of business considerations. The publisher is looking at the book market and concludes there is less profit of the Corona crisis and all sorts of uncertainties going on in the world. With less profit, there is less space over on the pages, so there is less room for the portraits. There is a chance the pictures will not be published at all.
When I heard this, I was thinking that I am not painting portraits for the book only. I am doing this because I like painting portraits, and I am doing it for the climate. My series of portraits of climate activists is my series. That I could combine my work with the essays initiative of Grace was just a massive bonus. If one part of this is not playing out as we first had hoped, then that is a pity, but it does not deprive me of my own motivation. So I am still here and still painting for myself and because I admire the work of these activists.
The work for a better future climate will need to take various alternative routes. The message will need to get out, and it will need to be spread in all sorts of ways. Why is this? Well, the companies that destroy the planet have the money they collected. They are using this money to spread misinformation and to cover up their deeds so that they can continue with business as usual. They own the media in many parts of the world. The future generations, the young of today, cannot even vote and do not have these heaps of money. What they can do is to sit down in front of their parliament with a homemade sign, and organize zoom meetings or painting portraits and writing essays. I think we are at the beginning of an organic grass-root culture that will care about the future of this planet. The power of this movement will be enormous. There will be music and dance and all sorts of expressions to bring out the message that we need to quit the emissions of carbon.
I really do not believe that the current politicians will work for a better climate. Not wholeheartedly, anyway. Many of our current politicians are broken. If we want to see a better environment, the current politicians will need to be replaced. For that to happen, we need to vote for better politicians, and that voting occurs at the ballot by you and me, old enough to vote. At the poll, every one of us that do vote will need to make a choice. This choice will be more important for every year. We need to show up at the poll and believe that it is worthwhile to vote, and we need to vote for people that do want to work for a better climate for future generations. That moment when you are standing there, you will think about Fionnuala's smile and message:
"I will be the victim of your negligence. Climate action now!"
When I painted this yesterday evening, I discovered a new little trick to improve the likeliness. I put the painting a couple of meters away to look at it from a distance, but not only that, the place where I placed it further away was not brightly lit. It was so much easier to see that shadows were missing or needed adjustment. As if the bright light makes the dynamic range more full and you lose sight of the difference in that range. In dimmer light, the dynamic range is narrower, and especially faint shades are vanishing. I went back and forth, putting the painting away and evaluated the result from a distance. Then I decided what to change and then fetched it, did the change, and then repeated this for a good while.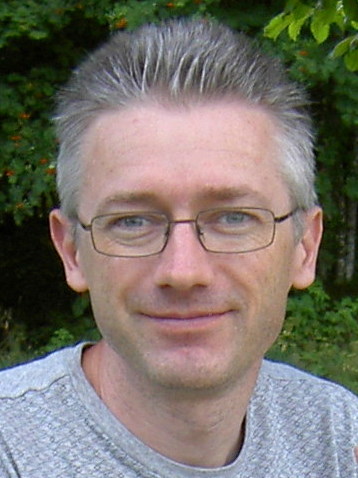 I was born 1967 in Stockholm, Sweden. I grew up in the small village Vågdalen in north Sweden. 1989 I moved to Umeå to study Computer Science at University of Umeå. 1995 I moved to the Netherlands where I live in Almere not far from Amsterdam.
Here on this site I let you see my creations.
I create, that is my hobby.
Copyright © 2015 - 2022, Jens Malmgren. Google Analytics is used on this site.