JENS MALMGREN
I create, that is my hobby.
Portrait of Patsy on 11 April 2020
I painted Patsy Islam-Parssons!
She is from Sydney in Australia, and a climate activist, and this portrait is part of my series of climate activists. Patsy is doing Environmental Studies and French at the University of Sydney. It is very encouraging that young climate activists are studying the field at the Uni. Of course, what we all would like to see, what would encourage us even more, is that political leaders listen to science already today and immediately develop policies that halt all greenhouse gas emissions.
Right now, we don't see that, especially not in Australia. What we do see is a generation of young, ambitious climate activists that will bring with them the knowledge and ambition to change the world. They will grow into political leaders and business consultants and you-name-it. These young people will develop these policies that we so much need for a sustainable future.
It will take time to take over the world, but eventually, that will happen. The current leaders will be pushed away. Here in the eyes of Patsy, you can see the determination to change the world to something better. What that will be, I don't know. How it will be done, it is too early to say. That it will happen; there is no doubt about it.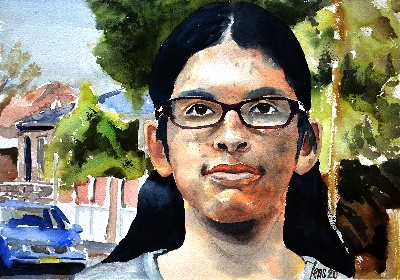 I think I mentioned before in my blogs that I prefer to paint the climate activists whey they are not smiling so much. It is more challenging to paint people smiling for me, so if I can avoid a smile here and there, then that is easier to paint.
It is good to find a balance in smiling and seriousness in the portrait of an activist. You see, it is the portrait of an activist, not a holiday selfy. In the photo of her that I used as a reference, she held up a sign saying #SAVE CONGO RAINFOREST, but I opted for not including that in the portrait. Sometimes her right eye is a bit "unruly," but in this particular reference photo, it was steady. That is good because she is looking at you. She can see you. If you spend a carbon budget for no particular reason, then you will know that these eyes are seeing you and your deeds.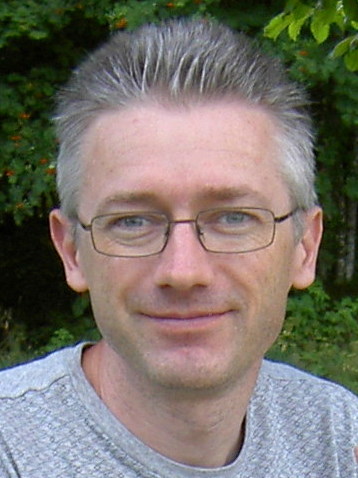 I was born 1967 in Stockholm, Sweden. I grew up in the small village Vågdalen in north Sweden. 1989 I moved to Umeå to study Computer Science at University of Umeå. 1995 I moved to the Netherlands where I live in Almere not far from Amsterdam.
Here on this site I let you see my creations.
I create, that is my hobby.
Copyright © 2015 - 2022, Jens Malmgren. Google Analytics is used on this site.