JENS MALMGREN
I create, that is my hobby.
Thunder paintings of Marta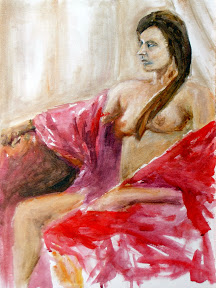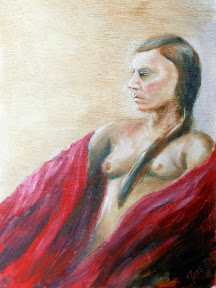 On September 11th 2011 I had decided to sketch with thinned oil paint. In that way I would avoid the graphite pencil. Pencil can get messy together with oil so I was looking for alternatives. When using thinned paint method the sketching work was difficult. I could not get the hang of it and it was frustrating. This gave me an annoying start to the painting session. I hoped that when I had been painting for a while it would be clearer but I did not find the right momentum. Marta was sitting in a sofa with a red purple kimono around her shoulders. At this occasion I used Phtalo blue and it was infecting the entire palette. The blue around the mouth is a rest of this. Bleh.

Maroesja celebrated her 66th birthday with cake; a really delicious cake!

The next painting session of Marta was on 15th of September 2011. I tried to make the composition so that the viewer was closer this time. At this occasion a heavy thunder came in over Amsterdam and a while after that there was Ave Maria on the stereo. At this occasion I had put my ambition about avoiding graphite pencil on hold so I was happily scratching with the sketch with my pencil. During this session I tried to get a good momentum early on in the painting. It was the last time we had model Marta so I had to deliver. Her face had almost the same nuance as the background but the light on her silhouette made her face appear from the background. This was a nice effect.

I was not able to paint the face of Marta in such way that it is a recognizable portrait but that does not matter. This is a study in a long journey of learning how to paint so I can live with this. My own art academy study so to speak. Many of the painters at the gallery have been to various art schools. Some speak well of these schools but there are also former art students who are less pleased with the outcome of their studies and what was provided at their school. It sounds like luxury to be able to go to an art school and learn loads of cool things that I need much longer time to figure out. On the other hand I am on my own art schooling journey where I can do what please me while they many times had to do what pleased their teachers.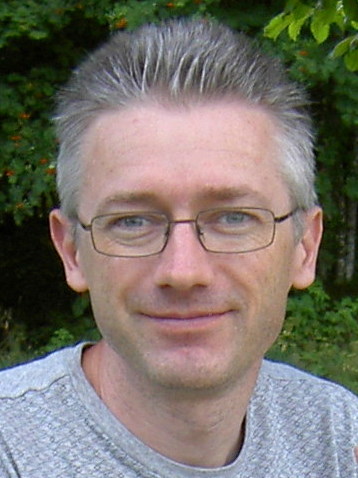 I was born 1967 in Stockholm, Sweden. I grew up in the small village Vågdalen in north Sweden. 1989 I moved to Umeå to study Computer Science at University of Umeå. 1995 I moved to the Netherlands where I live in Almere not far from Amsterdam.
Here on this site I let you see my creations.
I create, that is my hobby.
Copyright © 2015 - 2020, Jens Malmgren. Google Analytics is used on this site.