JENS MALMGREN
I create, that is my hobby.
Portrait of Nina on 3rd of November 2019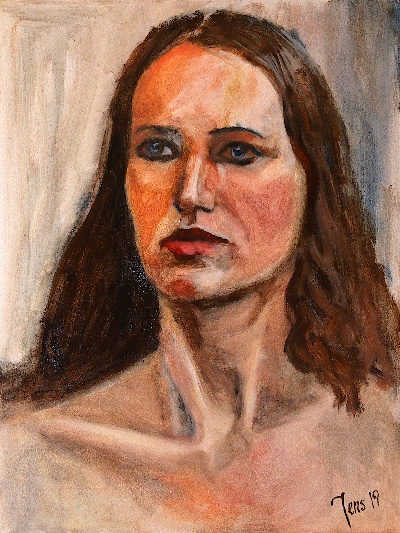 It is Sunday morning on the 3rd of November 2019. Today I will go to a live model painting at de Stoker for the first time this season 2019 - 2020.
Over the years, I have blogged much on my way to and from Amsterdam. I liked doing so. In the process, I collected my thoughts and analyzed my paintings and what I do about my paintings.
There have been frustrations, as well. My physical external blue-tooth keyboard stopped working this spring. I tried to open it and remove dirt, and it looks like it is going to work. Another thing is that there are keyboard commands I don't know about. To fix that I searched to find keyboard commands for Word on Android and here is a long list:
https://www.itworld.com/article/2947343/microsoft-word-for-android-keyboard-shortcuts.html
Now it is just a question about learning them.
The reason for starting to blog already in the morning was that I wanted to know how well it would work. I came across a couple of strange things already.
The spellchecking was stuck on Swedish for the first part of the document. The function key for activating spellchecking F7 is not working. I tried to install Google documents, but they cannot work with an external keyboard, so that is no-go.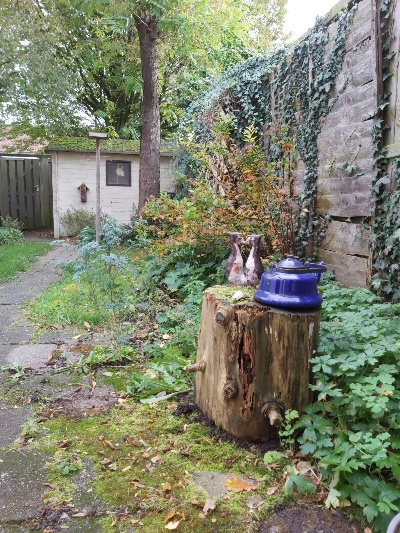 With my previous phone, I could only type on my external keyboard using the Samsung keyboard. Now my external keyboard is also working together with Grammarly. So far, I have not seen any jibberish issue with Grammarly.
If I switch to the Samsung keyboard, then I get jibberish at the end of the document but also when typing in the middle of the document. It is as if words and letters are gobbled randomly. Very annoying.
Grammarly does not know to reproduce the F7 key. After some tinkering, I could get the Gboard keyboard to work with my external blue-tooth keyboard. There is no jibberish when typing at the end of the document.
I tried to take a photo and included it directly into the document. That worked!
So, all in all, it is working somewhat. The missing F7 key is an issue. For the rest, it is promising.
I made it on to my favorite train, so I thought; The intercity train to Amsterdam. It has a tray in front of every seat, and it was not so full, so I could have a seat. It is nice weather today. It was excellent in the morning. It would start to rain in the afternoon but I did not know that. The birds are singing, it is not so windy, and there is a shy sun shining though a slightly overcast sky.
The previous painting I made at de Stoker was https://www.malmgren.nl/post/2019-04-28-Helen
Helen on April 28. At that time, we had just been to the energy advisors in Rotterdam harbor. It is called "WoonWijzerWinkel." They showed different systems, and we got help on what system to install in the house. Since then we started the process of getting the building permit. That is where we are right now. The first period of the building permit is eight weeks. We submitted the building permit on 24 of August. On 18 October, we got a list of additional documents to submit. We did that on 22 of October. From that moment, there are six weeks until the permit has to be given. I think that it will be 5 December. After that we need to get a notary to formalize the purchase, and that also takes some time. All in all it means we are probably missing the end of the year by just a little bit. That means we will have to pay extra for the ground. We will see.
After this sentence, I saw we were on the train to Amsterdam Zuid and not Amsterdam Central, as I had anticipated. I had to get out quickly. From there, I took bus 15 and got off at Willem Shouten street, where I walked to the studio.
The artists today were Lydia, Jose, Albert, Floor, Chef, Irene, Ron, Saskia, and me.
It was the first time for Jose and Albert.
The model was Nina, and she is Irene's daughter. It took some time for me to understand this fully. When the model called Irene "Mom" then I had it figured out. Haha.
It is so lovely to see mother and daughter do things together. That is nice. Bas and Luke used to come and paint together, but they are not such frequent visitors anymore. Bas had come painting last week when I was not there.
The model is a gorgeous girl and I managed to get likeliness in the painting. For that, I have to thank the few moments I set apart reviewing what I was painting. When reviewing I took a step back. That way the model and the painting got similar size from that view angle. I could still reach the painting with the brush. That is why they are so long ofcourse! Perhaps this with reviewing is a little sub-theme for the coming season. It is so frustrating to take a few steps from the painting when there is no time left to fix anything and realize that the mouth is too low etc.
Another thing I did today was to start using white at a late stage. That is an old idea by now, but I think it has some bearing still. There is a point in doing it.
On the way home, it had started raining. I went via Amsterdam Central Station. Tram 13. I could get on a very full train stopping at every station. I had a seat; I fell in sleep. I woke up at the right place and got off on time. I stood at the station and gazed out in the darkness and listened to the traffic and the rain falling from the sky. If I were to bike home, I would become very wet. It decided to take the bus.
That's is it, the beginning of the 2019 – 2020 season!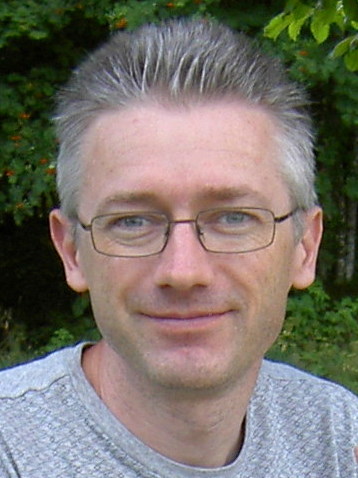 I was born 1967 in Stockholm, Sweden. I grew up in the small village Vågdalen in north Sweden. 1989 I moved to Umeå to study Computer Science at University of Umeå. 1995 I moved to the Netherlands where I live in Almere not far from Amsterdam.
Here on this site I let you see my creations.
I create, that is my hobby.
Copyright © 2015 - 2023, Jens Malmgren. Google Analytics is used on this site.