JENS MALMGREN
I create, that is my hobby.
Alice 20 December 2018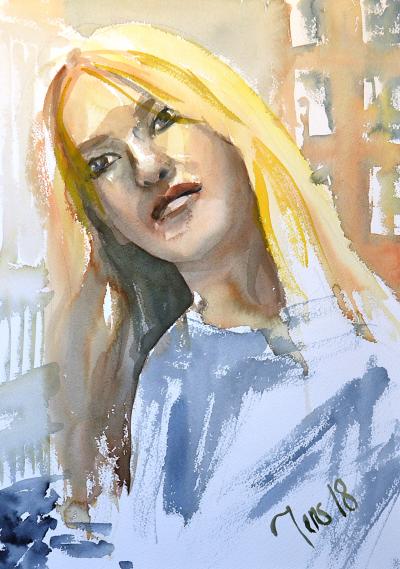 Tonight it was the last aquarelle club evening of this year. The theme of this evening was winter landscape, and I did almost nothing of this. I wanted to paint a model and painted a Swedish painter and top model named Alice. I just used her as an inspiration, but I did not capture her likeliness. On her Instagram, she had a photo of her in Venice where she had her head tilted, and that looked interesting, so I decided to paint that.
I am not satisfied with this painting, but since it is the final painting of the year at Aquarelmere it forms a mark on its own, so I devote a blog about it.
All the paintings I talk about on the blog I take photos of with my camera. This time I had the light falling on the paper while taking the picture. On the photo, the lower part became more blueish and the upper much warmer. That is not how it is in reality. I however like that in this case. On the photo on Instagram, she had a black shirt, and here I give her shirt some texture with a dry brush technique.
I don't know if there will be more paintings this year. In that case, it will be on my own, and I have such a pace now in my art that I could very well pick up the brushes and paint something on my own. We will see.
How is it going with the house, Jens? We placed the dot on 3 December, and after that, we have not heard anything from the municipality. They have barely answered questions. So I have researched the Internet to find future neighbors and I found them. They are all to be found in a private WhatsApp group, and we have been added to that group.
The group is still loosely formed, as it seems. There are no formal leader of the group and no finalized rules and regulations for the building of the road between the houses. That will still need to be created. It looks like there have been attempts to do this that have been stalled, but the exact story behind this is unclear and frankly not so interesting for us. I was afraid we would not get in contact with the future neighbors before the holiday, so I am pleased we found them on time. I think the talk between future neighbors will go on over the holidays but I am not sure about that.
We also got a DXF file sent to us so we can try drawing in it. That is possible with Fusion 360, so that was easy. Patience is a virtue.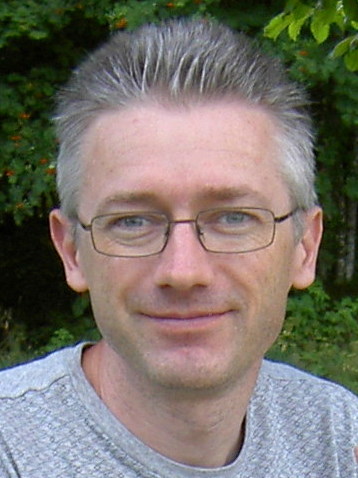 I was born 1967 in Stockholm, Sweden. I grew up in the small village Vågdalen in north Sweden. 1989 I moved to Umeå to study Computer Science at University of Umeå. 1995 I moved to the Netherlands where I live in Almere not far from Amsterdam.
Here on this site I let you see my creations.
I create, that is my hobby.
Copyright © 2015 - 2023, Jens Malmgren. Google Analytics is used on this site.