JENS MALMGREN
I create, that is my hobby.
Katie, Katie and Katie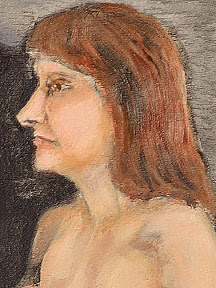 During a couple of Sundays in March and April the model Katie came to the studio and gallery de Stoker in Amsterdam for model sessions. She came on 18 March, 1 April and finally on 8 April. She was standing in front of a big mirror looking into the mirror. I made two paintings of Katie: one painting of her entire body and one with her portrait. I used cobra water-soluble oil paint and I paint on hardwood multiplex panels.

The first painting was much work because I had to paint Katie three times. Firstly herself obviously, secondly her shadow on the wall and finally the image of her in the mirror.

Katie held a piece of cloth in her hand and she was standing. This was challenging but she made it! The cloth was a little bit here and a little bit there during the session but actually that is something you have to live with as an artist. It is not possible to get the model to hold a piece of cloth exactly the same between all the breaks. As it often happens with my paintings I am not completely satisfied with the result of the first painting but it is what it is. It has a nice atmosphere to it and I think that is what I need to appreciate.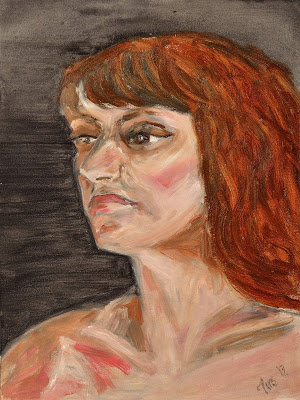 Sometimes it happens that some painters cannot come to all sessions so suddenly an opportunity opened for another spot in the studio to paint from. I decided to finish my work on the full picture and make a portrait from that another spot.

In general my strategy has been to measure more and longer before I start painting. It is much easier to fix a likeliness issue with just a charcoal drawing. On the other hand you want to have some time left to paint as well so it is not good to draw half of the time. I decided on that it should be possible to set out the drawing of a portrait in one hour. Then there is plenty of time left to paint the portrait. That was how I did with the portrait of Katie on the third and final session.

It is also important to have the paint organized well on the palette. I have settled on basically using only five colors on the palette for the face and the hair of the portrait. I use Pyrrole Red, Prime Yellow and Zinc White for the light skin color. For darker skin I can replace Prime Yellow with Yellow Ochre but that depends on the model. Then for shadows I mix Burnt Sienna and Cobalt Blue. By getting used to one palette and not changing all the time I have been able to learn how to handle the paint. Incidentally it happens that I add a color but the basic palette stays the same.

When I mixed skin color I also make sure I have gradual transition of light skin color all the way to the shadow tones. It is great to have the exact shade to choose from. I make a little pool of skin color by mixing a lot of white and a little bit of yellow and red. Two decimeters away I have brown and blue next to each other. When I mix these I can create gray and blue of all kinds. With circular movements I drag the shadow paint towards the skin color and the skin color towards the shadow and mix these so that I get a seamless transition from light skin to dark shadow.

Sometimes I need to get a more intense light and then I use also Titanium white.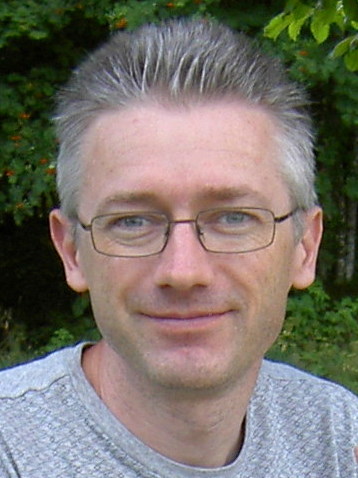 I was born 1967 in Stockholm, Sweden. I grew up in the small village Vågdalen in north Sweden. 1989 I moved to Umeå to study Computer Science at University of Umeå. 1995 I moved to the Netherlands where I live in Almere not far from Amsterdam.
Here on this site I let you see my creations.
I create, that is my hobby.
Copyright © 2015 - 2019, Jens Malmgren. Google Analytics is used on this site.