JENS MALMGREN
I create, that is my hobby.
Carrots and Onions
This is a regular still life with carrots and onions. This period when I made these aquarelles I was experimenting with painting quicker to see what this would do to my paintings. "This exercise is about pushing me out of the comfort zone".
Most aquarelles I paint with the painting in front of me on a table while sitting. The carrot still life aquarelles are painted while I was standing. Standing and painting makes the painting more free and the style is quicker. When sitting and painting the style becomes more illustrative and detailed.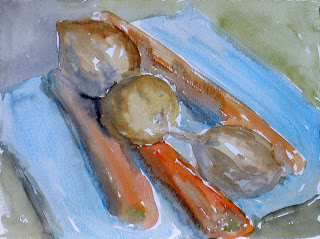 On this still life the carrots are lying towards the viewer, the least exciting composition. Another issue is contrast. There is a dark spot between two onions but for the rest is this a shallow experience.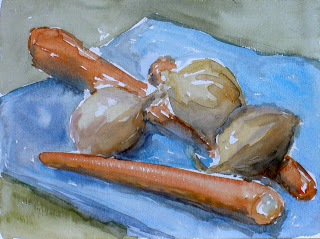 Here the composition is much better. The carrots are playing a bit of hide and seek behind the onions. Is it really three carrots? The contrast is better in this painting. There are several places with both light and dark spots.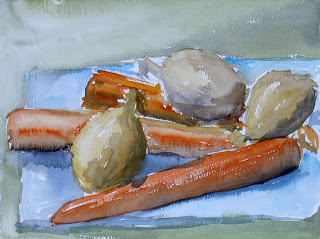 This still life is having a nice distribution of light and dark. I like the composition. The middle onion is a bit vague but all in all this is my favorite of these three aquarelles.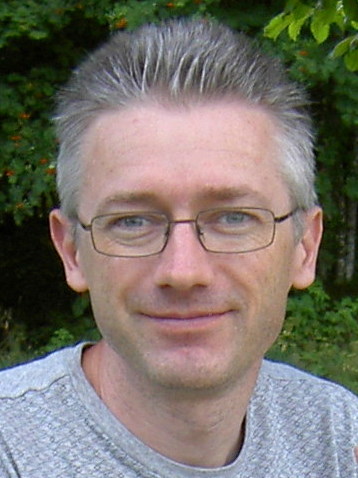 I was born 1967 in Stockholm, Sweden. I grew up in the small village Vågdalen in north Sweden. 1989 I moved to Umeå to study Computer Science at University of Umeå. 1995 I moved to the Netherlands where I live in Almere not far from Amsterdam.
Here on this site I let you see my creations.
I create, that is my hobby.
Copyright © 2015 - 2023, Jens Malmgren. Google Analytics is used on this site.