JENS MALMGREN
I create, that is my hobby.
Pear and Apples

Here is painting of a plate with a pear and apples. This painting is the second painting of these fruits. The first painting of these fruits was painted with oil. That was the first time I painted with oil color since my teenage 1982. What happened?
In the spring I had been a couple of times to the gallery de Stoker gallery painting nude models. The other artists at de Stoker used acrylic and oil. They were really good. In the gallery it even smells professionally. That is of turpentine. I don't mind that. There is a discussion among the artists of using less aggressive things so they are working on this matter.
If I am going to paint with oil then I need to practice very much. To be able to do that without being forced to only sit in my own studio I will need to use another kind of oil that does not smell so much or even better, it must not smell anything at all. I would like to paint in my own living room for example.
At Aquarelmere I have a friend that used to be an oil painter. She developed an allergic reaction to oil and much more. She gets really sick when painting with oil. I cannot have that either.


I went to my local art supply shop and explained the matter. They told me they had something new for me. It is oil paint but the oil is embedded in a water soil-able emulsion. There are several brands of these and it is a question of taste what you like the most. So what I like is a brand available in the shop I go to. So I bought a try out package of Cobra water mixable oil paint.
When I search for established artists comments about water soil-able oil paint it turns out that there is a "war" going on out there. There are the old school turpentinists and the new aquarellists. Yes, that is what the water soil-able oil paint artists are called sometimes by the fundamentalist turpentinists. Oh well, I have no need for other peoples thoughts on this matter. If I like Cobra for what it is then I am fine with that. Remember, I originate from the aquarelle pool so I am fine with this new medium.
Made the oil painting 15th of September 2010.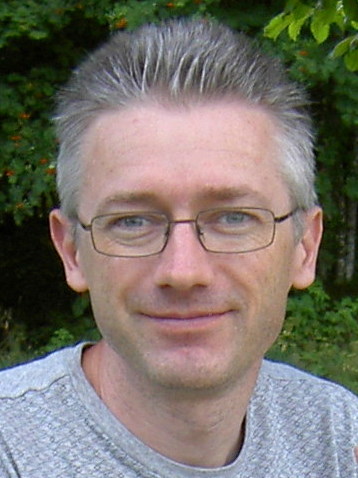 I was born 1967 in Stockholm, Sweden. I grew up in the small village Vågdalen in north Sweden. 1989 I moved to Umeå to study Computer Science at University of Umeå. 1995 I moved to the Netherlands where I live in Almere not far from Amsterdam.
Here on this site I let you see my creations.
I create, that is my hobby.
Copyright © 2015 - 2021, Jens Malmgren. Google Analytics is used on this site.