JENS MALMGREN
I create, that is my hobby.
Trying to paint a portrait of Dianna Cowern, part 2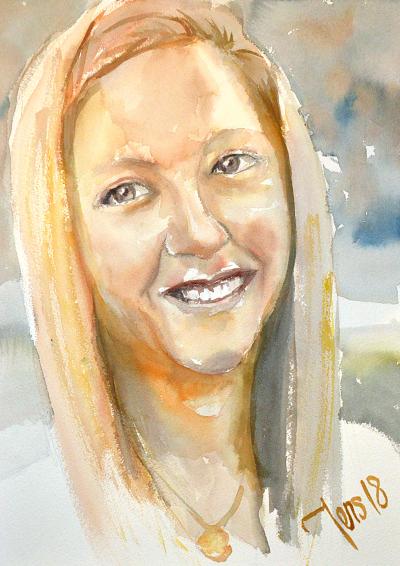 It is Thursday 15 of February, and I went to the Aquarelmere club evening. The theme for tonight was progressive development. So that for example, you got the seeds of a tree, then you have the young tree, and then you paint a grown-up tree. But what did I do? I did nothing of that since I already the previous week had started on a portrait of Dianna Cowern I decided to finish this painting.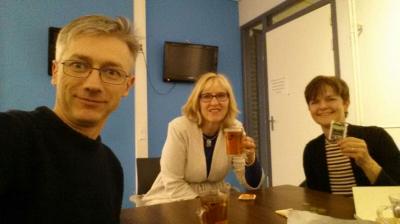 This evening we were only three aquarellists: Rita, Hilde and me and Dianna were with us this evening of course. Rita and Hilde gave a lot of useful comments on how I could improve the portrait Dianna.
This painting did not become a super fantastic painting of Dianna, that is clear. On the other hand, it is a painting taking part of my series where I am improving my understanding of likeliness, and as such, it is a good painting. I am thinking about something Frank talked about at de Stoker; he said: "Some paintings needs to take time." Thus some time, quality needs to take time. This painting I measured and again and again and that took a lot of time.
The previous painting of Dianna I had more pace while painting with a fresher aquarelle-look as result. This painting is more "exact" but dull perhaps. Combining the two styles into one style would be nice.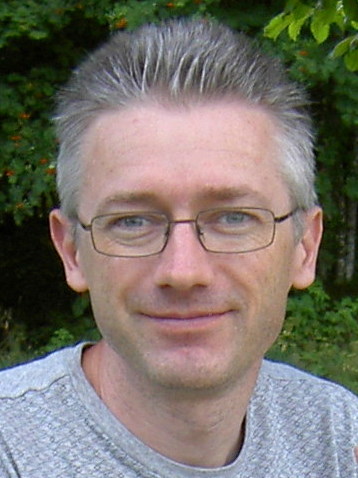 I was born 1967 in Stockholm, Sweden. I grew up in the small village Vågdalen in north Sweden. 1989 I moved to Umeå to study Computer Science at University of Umeå. 1995 I moved to the Netherlands where I live in Almere not far from Amsterdam.
Here on this site I let you see my creations.
I create, that is my hobby.
Copyright © 2015 - 2023, Jens Malmgren. Google Analytics is used on this site.