JENS MALMGREN
I create, that is my hobby.
Scarlet Pimpernel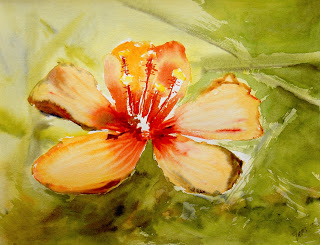 At Aquarelmere we had the theme "painting big!" So for this occasion we had acquired 5oo grams paper of the size 50 by 65 cm (20 by 26 inch). When I heard that we were about to have this theme I was immediately thinking of blowing up something really small. I wandered over my mind of memories of really small things that made an impression on me and then this came up in my mind; a little orange flower that I found on 17 of August 2005 during a hike through the Veluwe in the Netherlands.

The flower is an Anagallis arvensis also called Scarlet pimpernel. I had been in the landscape of the Veluwe for a couple of days and in itself this is an absolutely wonderful experience but you don't see an extravaganza of colorful flowers in August. This is mainly a landscape of meager woodland and sand drifts so you are looking at beige and various variations of green. Then you are standing there hungering for color and suddenly this little miniature plant shines towards you completely on its own. It is just a couple of millimeters across.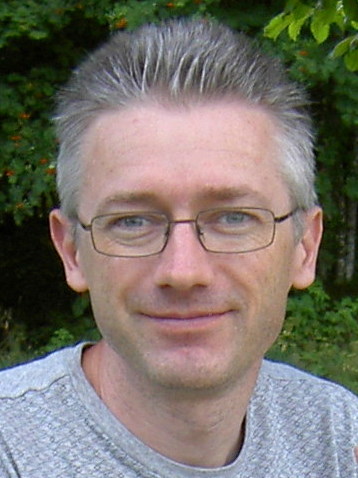 I was born 1967 in Stockholm, Sweden. I grew up in the small village Vågdalen in north Sweden. 1989 I moved to Umeå to study Computer Science at University of Umeå. 1995 I moved to the Netherlands where I live in Almere not far from Amsterdam.
Here on this site I let you see my creations.
I create, that is my hobby.
Copyright © 2015 - 2021, Jens Malmgren. Google Analytics is used on this site.