JENS MALMGREN
I create, that is my hobby.
Onions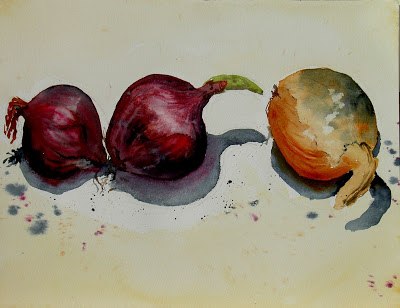 On this painting I have reached certain self-confidence in the aquarelle painting. Many times red can be shy color in aquarelles but not here, here the red is deep and dark but still transparent. The shiny surface of the onion is doing exactly that, it shines. The light is focused on these three onions, to the sides there is a subtle tone transitioning into a soft yellow to even more trying to represent the effect of direct spotlight. Directly under the onions there is a hard contrasted shadow from the light directly above the onions.
Although this is a very sharp and clear painting there is dirt in the painting. You see little stains of and drips representing dirt and dust. I think that painting in acrylic has played a role when I painted this. In acrylic the contrast is much easier to achieve compared to aquarelle, especially as a beginner. Here I have taken my experiences of acrylic back to aquarelle and I am actively being provocative to my own aquarelle style trying to get more contrast into the painting. And I see that it is possible.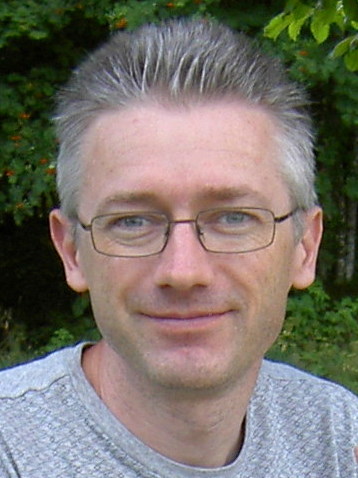 I was born 1967 in Stockholm, Sweden. I grew up in the small village Vågdalen in north Sweden. 1989 I moved to Umeå to study Computer Science at University of Umeå. 1995 I moved to the Netherlands where I live in Almere not far from Amsterdam.
Here on this site I let you see my creations.
I create, that is my hobby.
Copyright © 2015 - 2021, Jens Malmgren. Google Analytics is used on this site.