JENS MALMGREN
I create, that is my hobby.
Model Laila Standing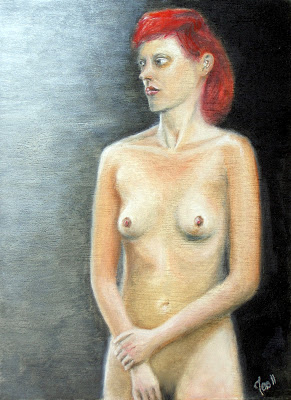 I made the painting of Laila at three occasions: 8, 16 and 23 October 2011 at gallery De Stoker. This is the first time I pursue the project throughout three sessions like this. During the first two sessions I had worked out everything except the hands. The last session I painted the hands.

The reasons for not painting a model all three sessions before is that sometimes the models could not come all three sessions. It happened a few times that I decided to paint a portrait during one of the three sessions. This is unique. I feel that this painting is thoroughly finished. With aquarelle I could never do anything like this. With oil it can be done. It is possible to continue work with the art for weeks if you would like to.

It is really brave to do modeling standing for nine hours, with breaks but anyway. It is hard work for the model. Laila was really cool about this. On the third session Laila had been standing for a while when she suddenly excused herself because she had been to the hairdresser! I was busy with the hands so I did not mind.

Overall I think I captured the proportions of Laila quite well. I don't  think I have painted her face so that you can recognize her but that does not matter. Maybe her arms are a bit thin but I am not sure about that.

I could see the silhouette of Laila illuminated so I wanted the background to display light coming from that side. This is something I used several times already but I cannot get enough of it.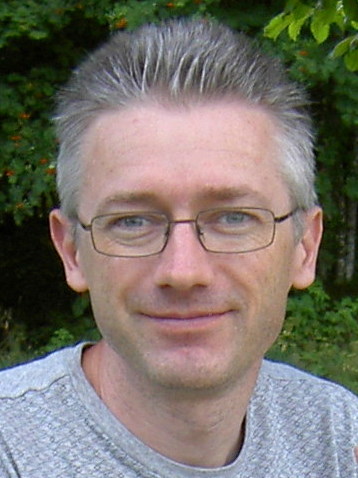 I was born 1967 in Stockholm, Sweden. I grew up in the small village Vågdalen in north Sweden. 1989 I moved to Umeå to study Computer Science at University of Umeå. 1995 I moved to the Netherlands where I live in Almere not far from Amsterdam.
Here on this site I let you see my creations.
I create, that is my hobby.
Copyright © 2015 - 2021, Jens Malmgren. Google Analytics is used on this site.