JENS MALMGREN
I create, that is my hobby.
Daffodils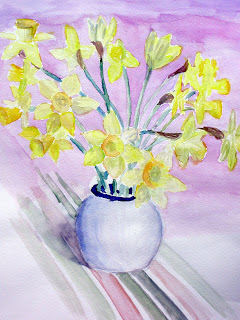 Between 1988 and 1996 I have virtually no paintings or drawings preserved. I was busy with other things. I moved around a lot. 1995 I moved to the Netherlands. I learned Dutch. And 1996 I attended a course in aquarelle painting held by Gisela van der Peijl. This painting is probably made during that course.

This was wonderful, for the first time I was educated about art. Every word Gisela said (in Dutch) I tried to understand. I attended two courses by Gisela. Then it was over again for some time.

I tried to find a web page about Gisela and I think this could be the Gisela who taught me how to paint: Gisela van der Peil. But I am not sure.

The painting shows daffodils in a porcelain vase. This is not a spectacularly good painting but I am pleased with the shining feeling of the vase.

Long time after the courses I could replay the phrases of Gisela in my head and year upon years after it could sometimes happen that I got a "Gisela Aha Erlebnis". One of these phrases where "Paint from Light to Dark".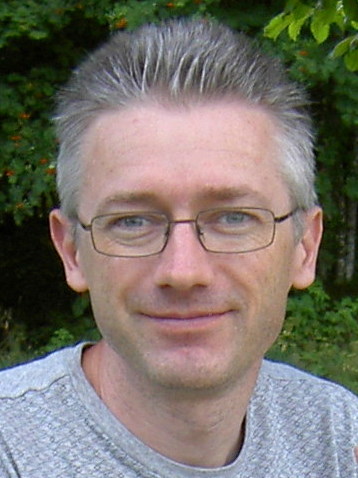 I was born 1967 in Stockholm, Sweden. I grew up in the small village Vågdalen in north Sweden. 1989 I moved to Umeå to study Computer Science at University of Umeå. 1995 I moved to the Netherlands where I live in Almere not far from Amsterdam.
Here on this site I let you see my creations.
I create, that is my hobby.
Copyright © 2015 - 2021, Jens Malmgren. Google Analytics is used on this site.