JENS MALMGREN
I create, that is my hobby.
City at night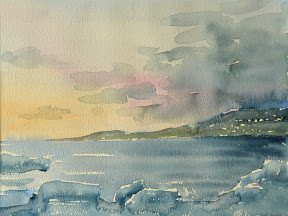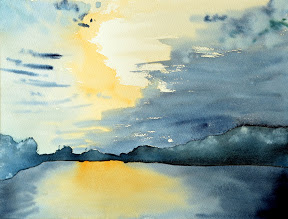 On 26 January we had a theme evening "city at night". I had understood it as night views in general so I had been searching for everything except city views. So I had a couple of nice photos of lakes in sunset with me to the theme evening.

This was an evening when things worked out very well. I made no spectacular progress in my painting skills but I had a good time together with my painting friends. So I started to paint several paintings at the same time. While one painting had to dry I worked on the next and so on.

I made two paintings with a lake and a skyline at the horizon. Then I walked around and found a pile of photos that someone had brought. On one photo with a couple of cars parked I thought that this was a nice exercise. The photo was not "attractive" as such. It could be any row of parked cars anywhere at night.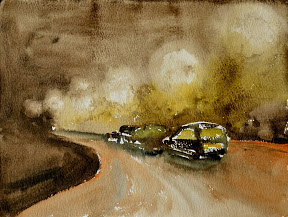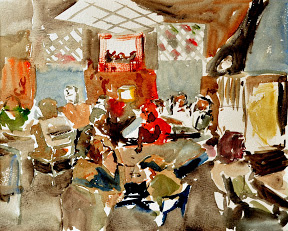 Not all motives can be spectacular. Sometimes it is the dull ordinary view that you have at hand, especially if you are making outdoor paintings in the neighborhood. Not all people live on Rocky Mountains or at the Niagara Fall; they live in a little regular city in Holland, like I do. It is also a question of perception. The place where I live is not exotic to me but to others it can be very special. This place is 5 meters below sea level, which might be exotic. The people reading this blog are coming from all places of the world. Maybe Holland is a really exotic place? With the motive from the parked cars I would produce at least one painting that fit to the theme of the evening so that was good too.

As a final test I had a photo of people in a café Belgium. This would be the theme of the subsequent evening next week but I had some spare time so I started painting this. It was a really difficult motive. My production this evening was received well by the others at Aquarelmere.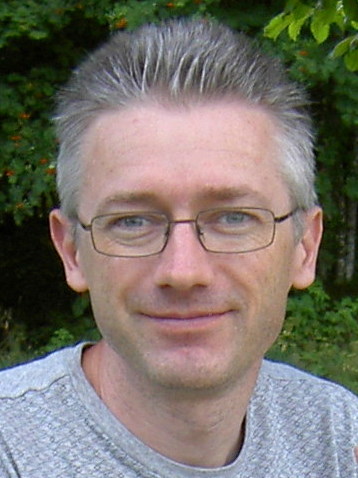 I was born 1967 in Stockholm, Sweden. I grew up in the small village Vågdalen in north Sweden. 1989 I moved to Umeå to study Computer Science at University of Umeå. 1995 I moved to the Netherlands where I live in Almere not far from Amsterdam.
Here on this site I let you see my creations.
I create, that is my hobby.
Copyright © 2015 - 2023, Jens Malmgren. Google Analytics is used on this site.