JENS MALMGREN
I create, that is my hobby.
Gillian 1 March 2018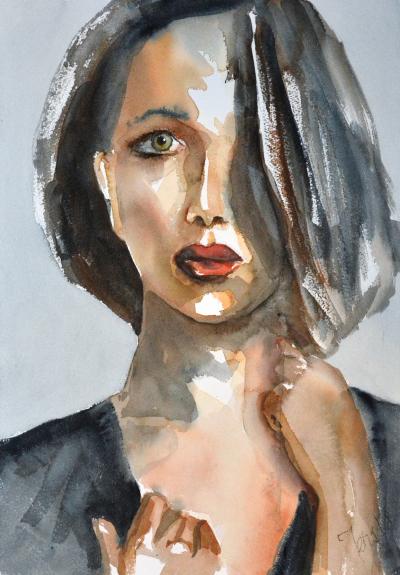 It is Thursday 1 March 2018 and tonight I went to a club evening of Aquarelmere. It was icing cold tonight. I biked from home, and usually, I bike against the wind to Aquarelmere but this time I had the wind with me.
There was a "free theme evening" tonight such as that we decide ourselves what we want to paint. Other evenings we paint according to a theme.
I decided to paint a portrait I found that I have painted before. It was not possible to find the previous painting tonight, so I need to continue to search for that another time.
The artists tonight were Hilde, Inga, Ina, Petra, Hetty and me.
My painting got a touch of Gillian Anderson, but I was not the photo of Gillian. At the end of the evening, I decided to give the Gillian extra shadow. Then put the painting away and went cleaning my brushes in a separate room. After a couple of moments, I heard "Jens; your girl is crying!!" When I came back, I could indeed see that the shadow had dripped, and it looked like she was crying.
One interesting comment from the others was that her eyes were looking insecure while the mouth had a secure look. I am not sure. I think her nose is to narrow. Another time I will paint a better painting of this lady, and I where is the previous painting?
---
(On March 11 2018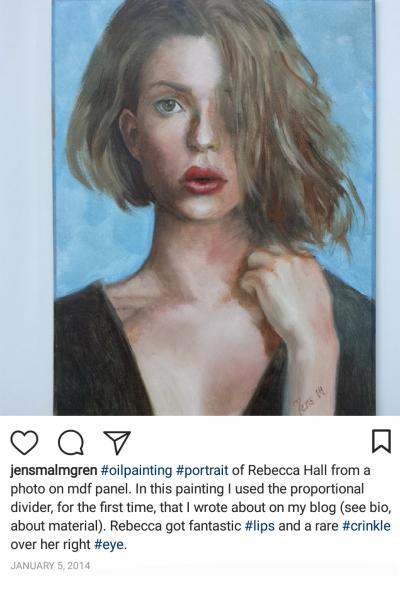 ) If found the previous painting! On Instagram I posted a photo of the painting on 5 January 2015. The girl is Rebecca Hall. I never blogged about this painting so the notes I have are those of Instagram. The previous painting was a really good one and it was made with oil and I worked on it much longer so it is perhaps not correct to compare the two paintings.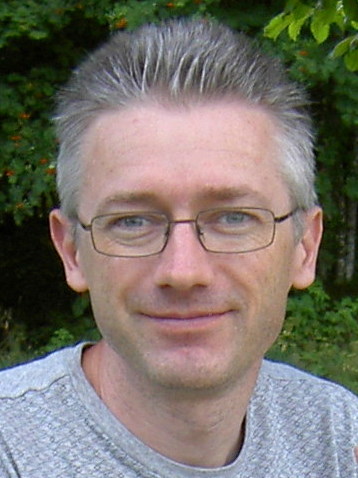 I was born 1967 in Stockholm, Sweden. I grew up in the small village Vågdalen in north Sweden. 1989 I moved to Umeå to study Computer Science at University of Umeå. 1995 I moved to the Netherlands where I live in Almere not far from Amsterdam.
Here on this site I let you see my creations.
I create, that is my hobby.
Copyright © 2015 - 2023, Jens Malmgren. Google Analytics is used on this site.