JENS MALMGREN
I create, that is my hobby.
Izabella 21 May 2016
Today it is Saturday 21 May. It is time for an extra-long life model session at the Studio de Stoker in Amsterdam. This is the reason I am sitting on the train so early. It is half past eight in the morning. The session starts at ten and continues to five in the afternoon.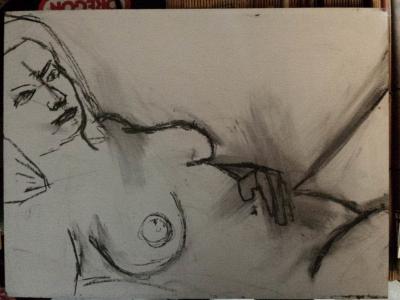 The model today is Izabella. It is going to be great fun to paint her today.
What are my ambitions for today? I think avoiding using white is not on the agenda today. That is more an item for a landscape painting. However, I can continue on the avoid-the-blending-program. Then there is the discover-the-green-and-purple theme and a touch of accentuate-the-light-versus-dark-contrast project and while I am on it I should not forget to accentuate-the-warm-versus –cold-contrast goals.
But first I should try to draw the model properly.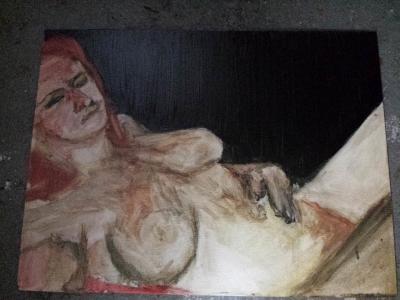 The weather is a bit cloudy this morning but I think it is not going to rain. I brought my extra sweater although they said it is going to be warm today. This morning it was nice with the sweater. Perhaps in the afternoon I will put it in the bag.
Now I am on the way back and I really tired. But it was great. I painted with a lot of painter's happiness.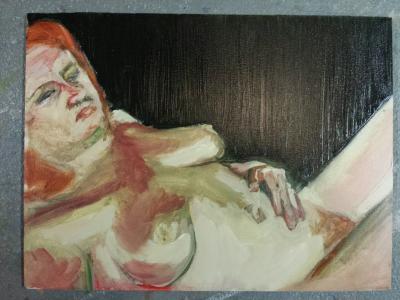 The painters today were Jori, Anna, Saskia and me. The model was Izabella. The hand was my initial issue. There came a big black splotch where her hand was supposed to be while I was drawing Izabella. I had two options to paint her. One when she was more or less looking straight into my eyes and one from the side. Both spots were equally good really.
Although I had promised not to do the avoid-the-white-paint exercise, I gave it a try anyway. It looks horribly striped but the colors in the paint they are supposed to become more vibrant, that is true. I thought I could as well try it until I got fed up by it, a little bit like I did last time when I painted Fernando.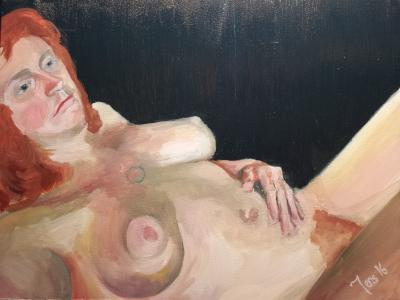 During this painting session I used the nylon fiber aquarelle brushes again. They are good for longer painting sessions because they keep their shape throughout while the pig's hair brushes start to curl. The annoying thing with these brushes is that they hold the paint too much so that it is more difficult to apply the paint to the board. So to compensate for this I have to brush more firmly. Oh well, it is not perfect but it works.
After some time, I started using white as well. It is easier to make skin color when using white. The paint gets slimier with white added.
Izabella has made some YouTube movies and she got a Soundcloud page as well so there were plenty of things to talk about in the break. I played some of my house music tunes for her and listened to her songs so that was great. She is planning on releasing an EP this year 2016. Keep an eye open for that.
Izabella got a green tattoo in the form of a circle between her breasts. On her belly she got a red brown purple triangle. Actually I am not totally sure about the color of the triangle. Normally I don't paint the tattoos but this time it was simple enough to do and Izabella really liked her tattoos and regarded them as part of her personality. First I had not painted the circle she was not satisfied with the painting. When I had painted it she was happy about the painting. That was funny actually to take part of how this "transformation" changed her perception of my art and I suppose me as an artist.
When the painting session was over there was a vernissage going on in the gallery on the ground floor. Luckily it was not a lively vernissage so it combined well painting downstairs in the studio. I mingled a little with the people upstairs and then I went on my journey home.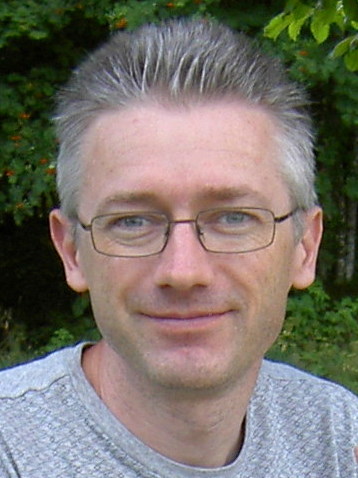 I was born 1967 in Stockholm, Sweden. I grew up in the small village Vågdalen in north Sweden. 1989 I moved to Umeå to study Computer Science at University of Umeå. 1995 I moved to the Netherlands where I live in Almere not far from Amsterdam.
Here on this site I let you see my creations.
I create, that is my hobby.
Copyright © 2015 - 2023, Jens Malmgren. Google Analytics is used on this site.