JENS MALMGREN
I create, that is my hobby.
Inez 17 April 2016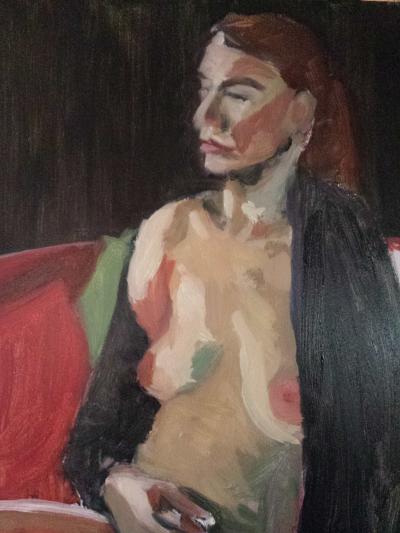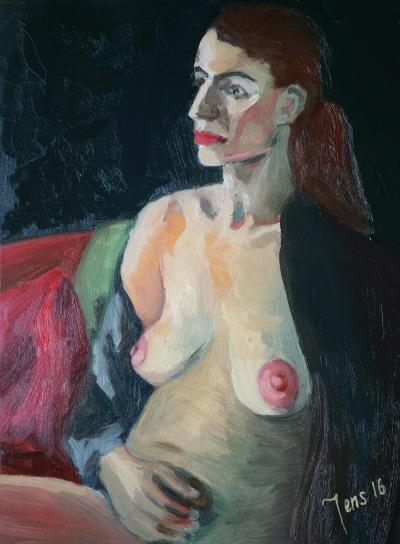 It is Sunday 17 April 2016 and I am on my way to a life drawing session in Amsterdam, hurrah!
In my new book that I am reading right now, Painting Portraits by Suzanne Brooker, the writer talked about how the palette layout and especially the (lack of) available space on the palette can influence how you go about when mixing colors. The book talks about that using a glass plate as a palette is ideal because it can be cleaned properly. I went checking what I had in my glass plate heap and I found a plate that fits in my wet panel box! So now I switched a panel for a glass plate in the box. The greatest fear with this is that I smack my bag into something so that the plate breaks inside the box and destroys thing. The solution for that is to face the panels away from the glass plate. That would work.
The book elaborated about tone value, hue and contrast. It further enhances on the ideas I have been playing with since the beginning of this year. I need to read it carefully because it is really abstract.
The model of today was Inez! I painted her before. She got relatives in Sweden and she knows Swedish so we can speak that with each other. She only came one time so I had to finish the piece in today's session.
Inez told me that she is doing a lot of mime theatre and that she is doing fine.
The artists today were Jochem, Lotte, Tom, Saskia and me.
The glass plate worked really well as palette. It is a matte glass and larger than my other palette. With this palette I could elaborate on my mixing more than I could usually do. That was great. On one side of her head she had her hair a bit shaved but I had her view from the other side. At first her dress covered one of her breasts but that was freed sometime mid-session. I did not object to this.
In this painting I made the background really dark colder green. Then her hair could be warmer brown and her face also warm contrasted nicely. Her gown on the right side of the painting also got a little warm touch to contrast with the background. Then I used green for her shadow tones. This made the warm parts of her to appear warmer and that was also a commend I got from Lotte. I mixed the background with palette knife. That way I could make a big heap of a homogenous color.
I could have spent much more time to paint the hand but this was a one session painting so it had to be a little simplified. I could easily have painted another three hours with Inez in front of me.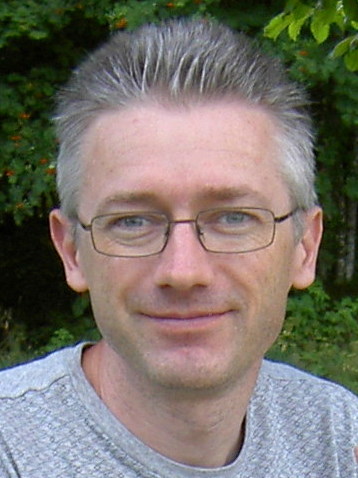 I was born 1967 in Stockholm, Sweden. I grew up in the small village Vågdalen in north Sweden. 1989 I moved to Umeå to study Computer Science at University of Umeå. 1995 I moved to the Netherlands where I live in Almere not far from Amsterdam.
Here on this site I let you see my creations.
I create, that is my hobby.
Copyright © 2015 - 2023, Jens Malmgren. Google Analytics is used on this site.