JENS MALMGREN
I create, that is my hobby.
Korrö Folk Music Festival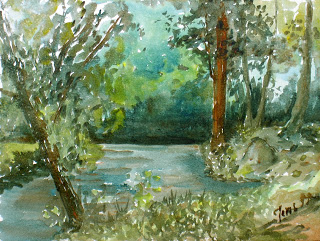 I made this painting yesterday at Korrö Folk Music Festival in Sweden (www.korrofestivalen.se) between 16:00 and 17:05. It was rainy so I rigged a parasol I found as shield against the rain. As a chair I found a small ladder normally used to enter a wood stove heated bathtub at the shore of the river passing through Korrö. Korrö is normally like an open air museum and tourist shop (www.korro.se). Here is a hostel and you can rent canoes etc. During the annual festival the entire place transforms into a culture melting pot. There are concerts and courses in dance and music. When I painted this I had a concert behind me with the band Kung Ottokar.

Initially I had painted the water dark and the forest light. Then I discovered that the horizon was almost centered. A horizon at the center is not a good thing for the composition so I had to do something about this. To solve this I painted the forest darker over the water. As I was busy with painting the new horizon a rain shower burst out of the sky and to my surprise the water reflected more of the sky and became lighter and displayed what I had been painting.

The horizon got better but it should have been a nudge lower even but I leave it at this. It is what it is.

This is an acrylic painting painted with aquarelle technique. The humidity in the air helped keep the paint flowing so that it would mix better. Some of the drips in the air were brought in under the parasol so the paintings got interesting extra stains. I had decided that from now on I will always sign the paintings directly after I finished the painting so that I don't need to figure out afterwards from what year the painting was made. So I did. The indication of the year flowed out a bit so I look like two mushrooms. After this I ate fish and chips from a food tent. Then I went to concerts by Erik Pekkari, Pelle Björnlert and Johan Hedin. I had to walk around with the painting in the open because it would not dry so quick in all the humidity. Not until halfway through the concert the painting was dry.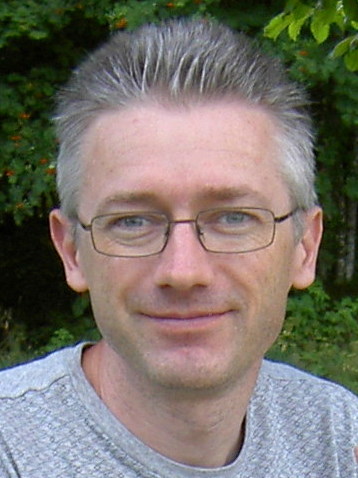 I was born 1967 in Stockholm, Sweden. I grew up in the small village Vågdalen in north Sweden. 1989 I moved to Umeå to study Computer Science at University of Umeå. 1995 I moved to the Netherlands where I live in Almere not far from Amsterdam.
Here on this site I let you see my creations.
I create, that is my hobby.
Copyright © 2015 - 2021, Jens Malmgren. Google Analytics is used on this site.