JENS MALMGREN
I create, that is my hobby.
Old garden, 18 May 2019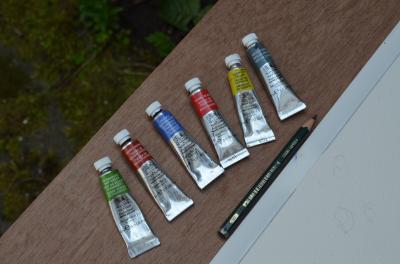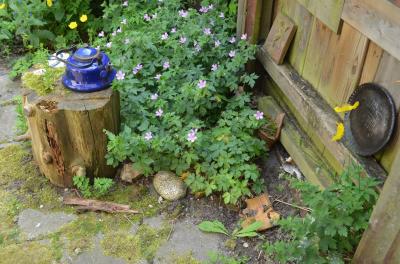 Today's day is Saturday 18 of May and today I painted an aquarelle in my old garden, of the garden! I decided to use six colors for the painting. It turned out to be challenging to create the purple of the Marsh Cranesbill (Geranium Palustre), so because of this, I added a tube of Violet. Later I found out I had not selected Yellow Cadmium Lemon but simply Yellow Cadmium and it was more orange. When mixing greens, it is difficult to have a touch of red, so I switched to the Yellow Lemon version later. The blue of the teapot did not come out well either, so I added a little Cadmium Blue as well.
I had tucked myself into a corner of the garden to paint a little part. I wanted to paint with a lot of mess. That was my goal for this painting.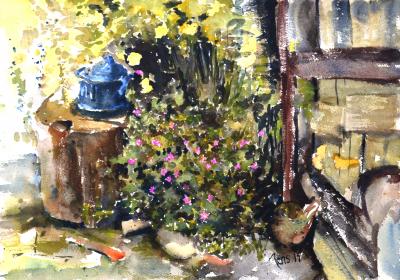 For painting aquarelle outdoor I got a little foldable table, but I could not find it. Instead, I took two cradles and a multiplex plate as a tabletop. It worked well enough.
Yesterday I went to the van Gogh museum together with my wife and a friend. The exhibition was David Hockney and van Gogh. It was nice. He used panels that he placed next to each other to make big paintings. He also used iPad to paint and a 3D program. Although old he is modern.
For the painting today, I am inspired by Charles Reid. I recently bought a book with flowers and landscapes by Charles Reid. A few weeks ago, I painted still life from the book during an aquarelle club, Thursday evening. That still life went well, so I thought I funnel the inspiration from Charles Reid and David Hockney and go out and paint today. It was lovely weather today.
And how is the house going? The company building the house need to finish their drawings. When that is done, we can submit permits. So, we are waiting for that. The road association is in a bit of unrest right now. I keep myself outside this as much as I can. I am sure it will calm down, and people will find their roles at some point. I think there will be a meeting next week where we come together and elect more people to join the board of the association. The meeting is planned on a Thursday evening, so I think I will miss the aquarelle club that evening.
I am happy with this painting. Lovely. It feels like I will go out paint a couple of times this summer.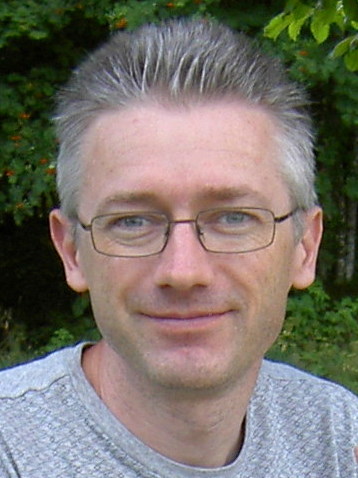 I was born 1967 in Stockholm, Sweden. I grew up in the small village Vågdalen in north Sweden. 1989 I moved to Umeå to study Computer Science at University of Umeå. 1995 I moved to the Netherlands where I live in Almere not far from Amsterdam.
Here on this site I let you see my creations.
I create, that is my hobby.
Copyright © 2015 - 2023, Jens Malmgren. Google Analytics is used on this site.