JENS MALMGREN
I create, that is my hobby.
Colorful parasol at the Beach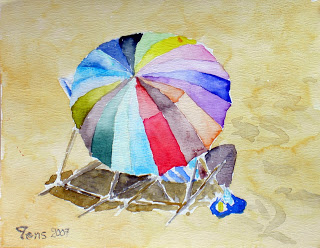 This little painting is the first painting I made at Aquarelmere. It shows two people behind a colorful parasol on the beach.

I just attended a couple of courses in the community center 1996 to 1998. Then I stopped going there for some reason. I don't remember the reason. The result was that my painting declined and eventually stopped. Again for the second time in my life it was computers and work that took over. The groups attending the aquarelle courses continued.

Gisela stopped in the community center but the group continued with another teacher. Then at some point that teacher also stopped and then that group at that point decided that they would start something without a teacher and this would at some point become Aquarelmere.

So in Aquarelmere everybody is both teacher and student. This was a fresh idea that I liked a lot. They kept the tradition of reviewing each other's work at the end of the evening. Then they created program of subjects to paint on an evening and also "free evenings". Also at Aquarelmere people are motivated to find out extra information about a subject and then hold a presentation about this. So it has become a tradition that I hold an evening presentation about "Perspective drawing".

So 2007 I joined Aquarelmere. This parasol painting was a subject Jaap had come up with.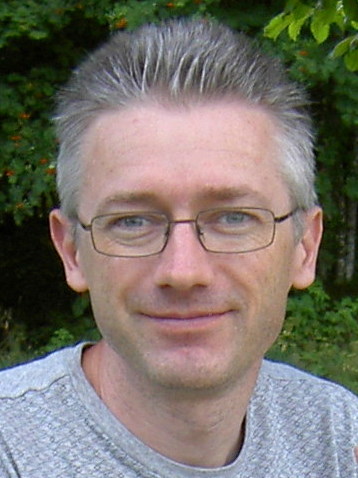 I was born 1967 in Stockholm, Sweden. I grew up in the small village Vågdalen in north Sweden. 1989 I moved to Umeå to study Computer Science at University of Umeå. 1995 I moved to the Netherlands where I live in Almere not far from Amsterdam.
Here on this site I let you see my creations.
I create, that is my hobby.
Copyright © 2015 - 2021, Jens Malmgren. Google Analytics is used on this site.