JENS MALMGREN
I create, that is my hobby.
Restoring the barrier tape
Saturday 4 of April, we went to the plot restoring the barrier tape.
| | |
| --- | --- |
| | Here are the front loader and digger machine that Knipscheer Infrastructuur BV is using to build the road. Here they are parked on the plot of our neighbors, Mrs. PMT. At this spot, she planned to plant flowers and herbs, etc. |
| | This is the barrier tape between Mrs. PMT and ours. |
| | They placed sand on the barrier tape to make it easier to drive over it. |
| | I do understand that it is laughable to use bamboo sticks for the barrier tape but let it be clear. I am the owner of this land. This should not be needed. |
| | A bit further into our plot. Here we are going to grow things. Our future garden has been used as a parking lot. |
| | Here is the barrier tape between Mr. DvD and our plot. Also, here they applied to make it easier to drive over the tape. What do you say René Knipscheer? Are you a proud owner of this company? |
| | Here is the trespassing point between our plot and Mr. DvD from the other side. In the distance, you can see the digger and the frontloader from Knipscheer BV. |
| | While we were working on restoring the barrier tape, Knipsheer came and picked up the digger. |
| | Bye-bye Knipscheer Infrastructuur BV. I waved at you, but you probably did not see that. |
| | Knipscheer Infrastructuur BV let the frontloader be parked on top of Mrs. PMT's future garden. With this machine, they had planned to drive around on my neighbor, Mr. DvDs plot. He got angry too. |
| | We got the barrier tape restored. Our hearts were sad. This was not how we had anticipated being new owners of a piece of land. Knipscheer Infrastructuur BV has hurt our feelings deeply. |
| | Above us was a giant bird flying. After we had finished restoring the barrier tape, we took a walk along the road. |
| | These tracks are on the plot of our next two neighbors. |
| | On Monday, they would come and distribute the last gravel with the help of the front loader. In that process, they drove over my neighbor Mr. DvDs plot. |
| | Here are the plots of other neighbors. |
Knipscheer finished the dirt road leaving us deeply shocked at discovering the damage to our future gardens. The week after, some neighbors still don't know that their plots have been damaged. I submitted my formal complaint, and we will see how that will be handled.
At home, I worked on the final questions we got from the building company about where we want to have pipes going through the concrete of the ground floor. When the last little details are solved, we will get the planning of the building activities.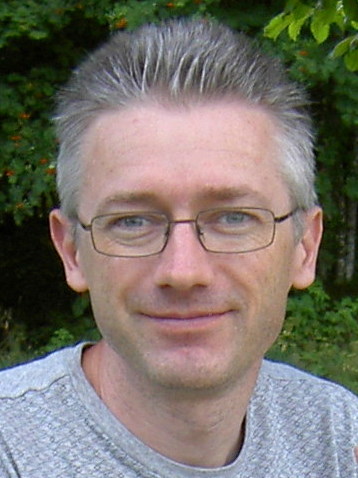 I was born 1967 in Stockholm, Sweden. I grew up in the small village Vågdalen in north Sweden. 1989 I moved to Umeå to study Computer Science at University of Umeå. 1995 I moved to the Netherlands where I live in Almere not far from Amsterdam.
Here on this site I let you see my creations.
I create, that is my hobby.
Copyright © 2015 - 2021, Jens Malmgren. Google Analytics is used on this site.