JENS MALMGREN
I create, that is my hobby.
Samantha 3 December 2017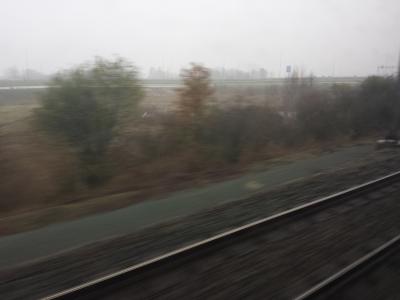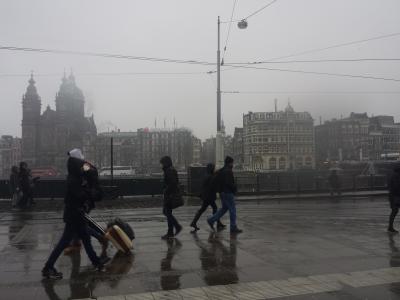 It is Sunday 3 December 2017 and I am on my way to Amsterdam and I am sitting in a silence coupe with loud Chinese children. Today it is misty but it is not freezing so that is good.
Today is it a new model. I think her name was Samantha and perhaps she will be dressed, I am not sure.
It is a really gray weather. Last night I printed my first prototype of the coaster. This morning I looked at the result and in some places the design was too tight. I am good at press fit. Tonight I will change the design and then I will start the printer again this evening.
I also uploaded blogs. Currently, I am uploading March 2017. It is not good that I have a backlog blog that grows quicker than I am writing new blogs. There is a new service Grammarly that I am testing. It taught me that I am sitting on a train and not in a train.

In Sweden, we sit in trains, not on trains. That is fine, you can have it as if we all sit on the train but we are inside the train. It is perfect that languages are inconsistent and illogical. That makes it totally impossible to make text workers unemployed. Since I am in the text working business it is okay with me.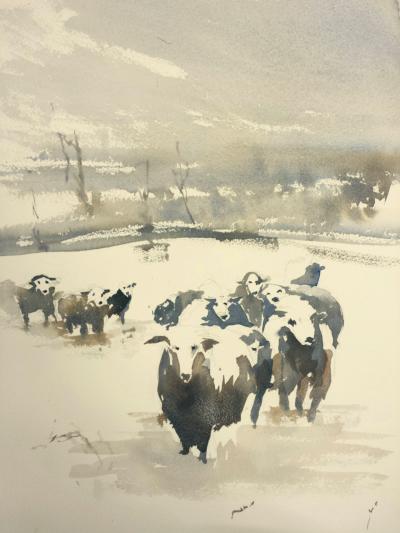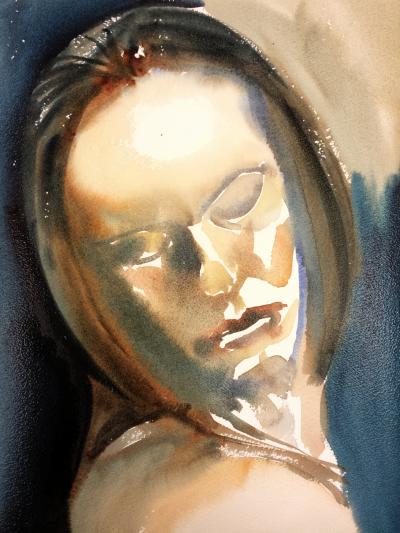 At the aquarelle club on Thursday I painted two paintings. One of a winter landscape and one portrait of Arianna. She has a pretty face too and she is also Italian!
How would a logotype look like that should inform illiterate Chinese people sitting on a train that the coupe is not intended for crying Chinese kids? Just wondering. Some kind of pictogram.
The likeliness is going better but it is really difficult. The book I bought talked about said I should work from the glabella and downwards. It said measure but not how. Dumb. It is just a question of doing and doing and not giving up. Chances are I will do a portrait again unless the model has an exquisite body of course.
In Amsterdam, it rained.
Last Friday I went to the Van Gogh museum together with friends. There was a painting of Jan Sluiters of a lady with a red background. It was impressive. They had paintings of the Salon in Paris and they had remade a wall like back in the days. That was nice. If I were to have an exposition I would also have red walls and jam-packed with paintings.
Now I am on my way back to Almere. I managed to get ON the intercity train and I am sitting in a silent coupe again but this time it IS silent, that is in itself very special.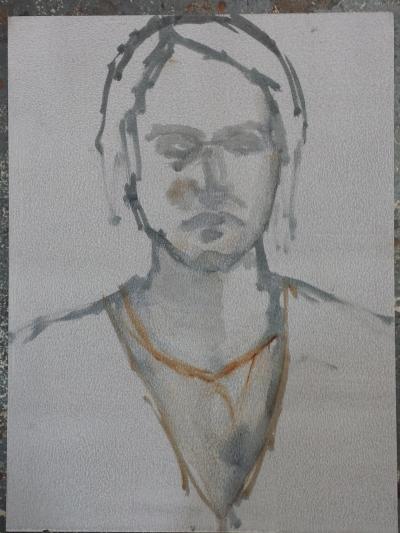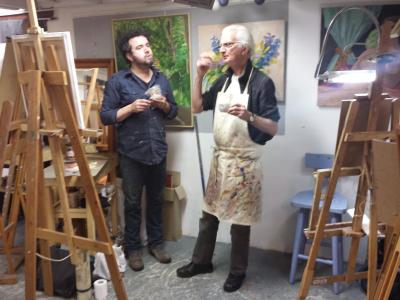 The model was Samantha. She had a green dress with birds on and a necklace with a moonstone. She got a pretty face.
The artists today were Frank, Luuk, Bas, Tom, Saskia and me. Also, Sam the son of Saskia were there but not painting. He looked at movies on his mobile phone until the batteries run out and then he continued looking on his mother's phone.
I managed to paint the entire portrait of Samantha! Best of all, Frank and Bas said that you could recognize Samantha in the portrait.
I am feeling happy that it went so well painting this portrait. There you see you can make better portraits when you know it is called glabella. Just kidding.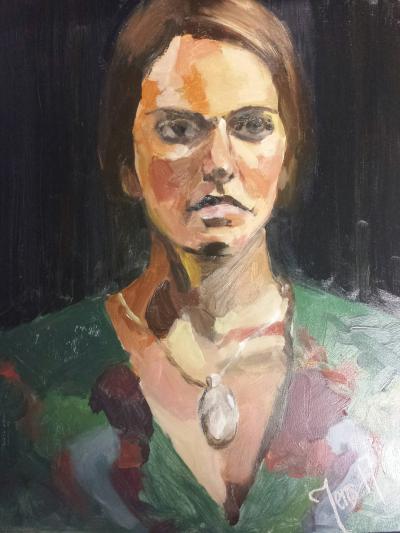 While I write this the likes from Instagram is coming one by one. I don't have many followers but the few I have they post me likes and that feels encouraging. It is good I don't paint only nudes because then they would not give me so many likes. There are many who cannot press the like button when it is nude. There is a barrier there.
Now the train passed Almere Port. It goes really quick. The train has a speed of 130 km/h.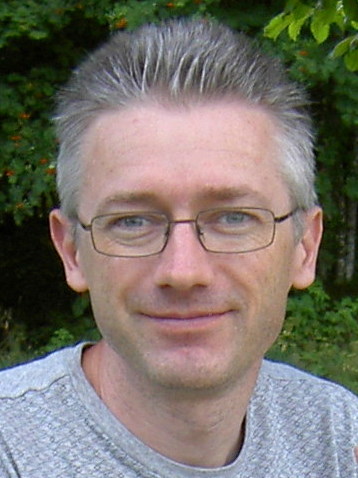 I was born 1967 in Stockholm, Sweden. I grew up in the small village Vågdalen in north Sweden. 1989 I moved to Umeå to study Computer Science at University of Umeå. 1995 I moved to the Netherlands where I live in Almere not far from Amsterdam.
Here on this site I let you see my creations.
I create, that is my hobby.
Copyright © 2015 - 2022, Jens Malmgren. Google Analytics is used on this site.