JENS MALMGREN
I create, that is my hobby.
Aleksandra 14 February 2016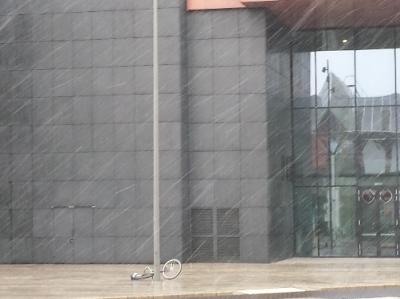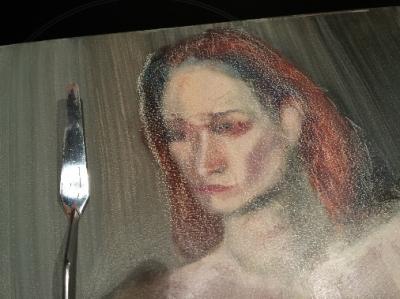 It is Sunday 14 February 2016 and I am on my way to the life painting session at de Stoker in Amsterdam. It is snowing! It is train track maintenance today so I am writing this in the bus replacing the train.
At the end of the previous session painting Aleksandra I took a photo of the painting. Later I saw that photo on my mobile and it was like it was another painting. The face proportions where not right at all! I had this revelation work on me for a couple of days and then I took the decision to scrape off the painting.
The first person talking about this was Frank Top actually. There are obviously several ways to start over on a painting. With the previous model I really started over from scratch and that was an interesting experiment. Scraping off the paint is another way of starting over. The advantage of scraping off is that the original painting is still there but just fainter. It still contributes to the end result. The cavities have paint of the previous painting and since I am not painting an entire different subject the scraped of layer works like a draft.
It was only the face and body I scraped off. The background I left like it was.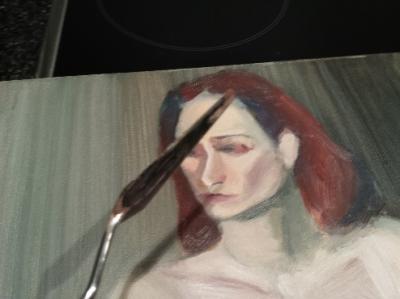 12.03 Now I left the bus and stepped on the train to Amsterdam. It is not so easy to write on blog posts in the bus. Off course I have my keyboard but things are shaking and the keyboard and the phone is gliding back and forth. Train is better!
This second time I will get back to my ideas on colors and contrast. Again and again. I will try to use much more colors. And the proportions need to be correct. It is tough, I know. So there will be more purple and green on my palette and I will try to keep it.
Now the time is 12:16 and normally I arrive at the studio at this time. Oh well, I will not be too late anyway. I am hungry. That is no problem because I brought with me sandwiches with cheese and smoked chicken.
Now it is 17:10 and I am on my way back to Almere. It was difficult today. I feel I did a good effort but it felt hard.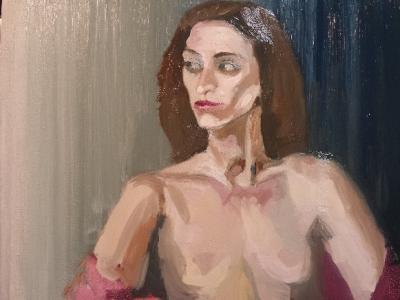 The artists today were Dick, Renske, Luc, Bas, Saskia and Jochem. There was very much humming today, and plop sounds as well. At some point I started to listen to "A State of Trance #750". Somehow the music player app in my phone is consuming a lot of battery so I could not play music for a full three hours and also blog about the session afterwards. A compromise was to have the headset on without music. Oh well. Next time I will consider to say something about it.
Now how was my color project going? Well, I was actually really busy with shapes in the face and more relaxed on the colors. It worked really good painting on the scraped surface. It was not until the end of the session that I shifted my focus to colors rather than shapes.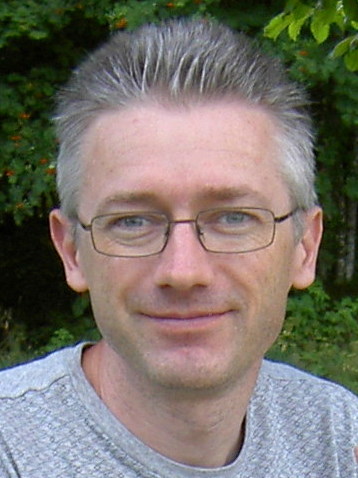 I was born 1967 in Stockholm, Sweden. I grew up in the small village Vågdalen in north Sweden. 1989 I moved to Umeå to study Computer Science at University of Umeå. 1995 I moved to the Netherlands where I live in Almere not far from Amsterdam.
Here on this site I let you see my creations.
I create, that is my hobby.
Copyright © 2015 - 2023, Jens Malmgren. Google Analytics is used on this site.