JENS MALMGREN
I create, that is my hobby.
Big Daylily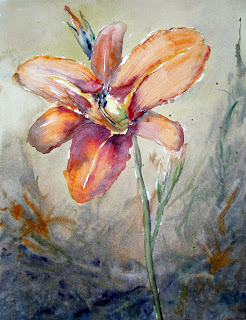 Yesterday we had a club evening at Aquarelmere and I was late. Also I had extra cargo because I was asked to make a group photo so I had with me a tripod and my camera. In addition to that I had my normal aquarelle things and a daylily flower (Hemerocallis) from my garden. Last but not least I had a giant paper because the theme was "paint big" 50 by 65 cm (20 by 26 inch).

It was reasonably nice weather so I biked with all my stuff. After a while I realized I had forgotten my big goat hair paint brush. If you are painting big and you don't have big brush it is tedious to say the least. I went back home to get it.

After just a few meters the wind caught me and my paper and bag and stuff and I headed almost straight on a pole and I fell with the bike. I have not had a bike accident for 3 years or so and I bike a lot so this was not a good start for a painting evening. At home I took a fresh lily because the first lily had crashed too.

In really bad mood I came 30 minutes late to the clubhouse and there I could start painting finally. I painted and the result was not bad at all. My leg hurts and I had a scratch on my hand but the camera and all stuff was in perfect condition so it turned out to be a good evening.

The comments I got on the painting was that it was nice, that it looks like the flower is illuminated. One of my club colleagues commented that it maybe had a dark tone to it that you might not expect from a summer flower aquarelle. I did not tell about the bike accident.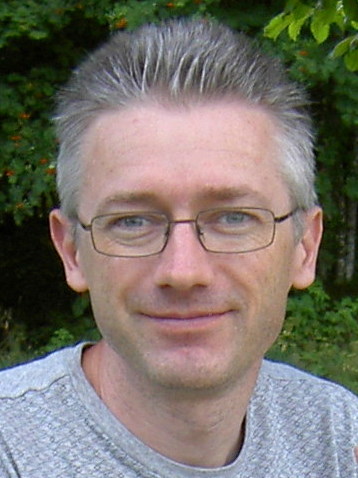 I was born 1967 in Stockholm, Sweden. I grew up in the small village Vågdalen in north Sweden. 1989 I moved to Umeå to study Computer Science at University of Umeå. 1995 I moved to the Netherlands where I live in Almere not far from Amsterdam.
Here on this site I let you see my creations.
I create, that is my hobby.
Copyright © 2015 - 2023, Jens Malmgren. Google Analytics is used on this site.