JENS MALMGREN
I create, that is my hobby.
Morning View Finished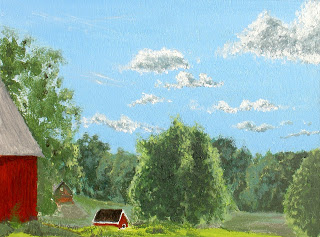 This painting is showing the view that I can see from my bedroom window at Sunnerås. Numerous times I have been reflecting over that I like that view, especially when the sun shines. In the morning the sun comes from another direction but to make it simple for myself I painted this in the afternoon with lovely cumulus clouds.
I started on this painting yesterday when it had been nice weather for four days in a row. This morning I woke up with a reddish tan that hurt a bit. Especially my right arm had a bit of tan ache.
I started with this painting on aquarelle paper but already when creating the sky I decided to do the painting on a hardwood plywood panel instead. So I started over again.
My list of priorities for this painting was cumulus clouds and atmospheric perspective. To start with I had things under good control, started with the sky. To make room for the sky I had to put the horizon low in the painting. Then I painted the forest, partly overlapping the sky. On top of that I painted the birch trees in the middle of the painting. This was yesterday.
Today I started to paint at the same time in the afternoon. Today I thought that the sky I painted yesterday was terrible. So I had to cover it with an opaque layer with a new sky. By doing this the order that I figured out so well the day before was disturbed. I had sky on top of the forest. Then a fly landed on my painting and started to promenade all over.
The good thing with the new sky was that I used titanium white to mix with the blue and this made the blue more opaque. Yesterday I used mixing zinc white and that had a tendency to fill pores between the grains of the plywood panel. When the pores are horizontal it works nice on a sky motive but on this panel they where vertical so this was less appealing. Anyway, zinc white solved this issue.
With a retake on the sky I could take a better look at how cumulus clouds actually look. Especially trying to paint clouds from "live models" was something I had been yearning for a long time. These clouds did not transform too quick so I could do a couple of trials on my panel.
The red color? Yes that is exactly the correct red color! I did not take anything for granted but walked over to the stable and compared to the real wall and I am satisfied with the result.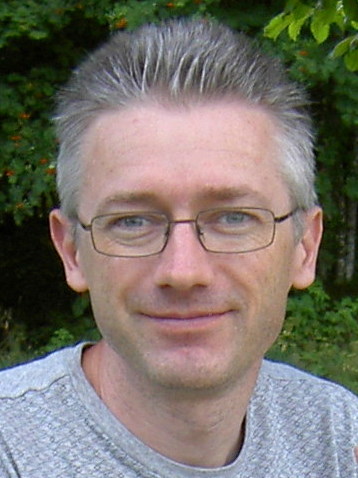 I was born 1967 in Stockholm, Sweden. I grew up in the small village Vågdalen in north Sweden. 1989 I moved to Umeå to study Computer Science at University of Umeå. 1995 I moved to the Netherlands where I live in Almere not far from Amsterdam.
Here on this site I let you see my creations.
I create, that is my hobby.
Copyright © 2015 - 2018, Jens Malmgren. Google Analytics is used on this site.