JENS MALMGREN
I create, that is my hobby.
Ceramic Cows, Swan, Hearts and Honeysuckle reliefs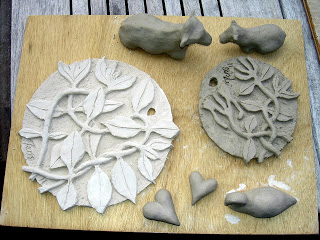 The preparations for the ceramic bisque stove is in full swing. Today I made another honeysuckle relief and this time I made it considerably thicker, that is the Grey plate on the photo. I used the balls technique again to avoid cracks. Also this time I made the plate smaller and more on free hand so to speak. I went over to a honeysuckle plant to see how it is made and collected a bit more inspiration for the flower.

The white plate was the relief I made yesterday. If you look carefully you see that the ceramic items are lying on a panel that I was painting gesso on last Sunday. These panels are really handy for all sorts of things. Once I used a panel as a cheese plateau for a friend of my also painting. That way she could eat the cheese and then paint on the panel.

Here at Sunnerås we have cows. They are curious animals. If you are a bit discrete you can get near to them without disturbing them. They enjoyed the sun today lying and chewing. I took a bit of clay and made two cow sculptures. It is nice to have models for your sculptures; they get more realistic that way. I also made two hearts and a swan.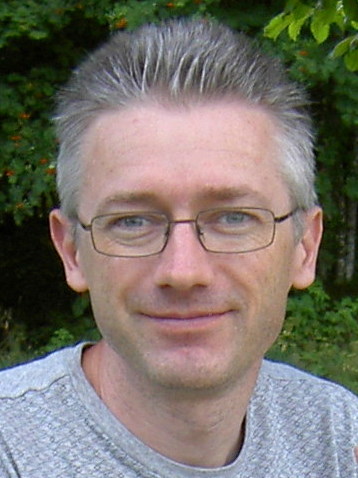 I was born 1967 in Stockholm, Sweden. I grew up in the small village Vågdalen in north Sweden. 1989 I moved to Umeå to study Computer Science at University of Umeå. 1995 I moved to the Netherlands where I live in Almere not far from Amsterdam.
Here on this site I let you see my creations.
I create, that is my hobby.
Copyright © 2015 - 2023, Jens Malmgren. Google Analytics is used on this site.