JENS MALMGREN
I create, that is my hobby.
Ready for selling the old house
Finished the preparations for selling the old house.
Monday 11 April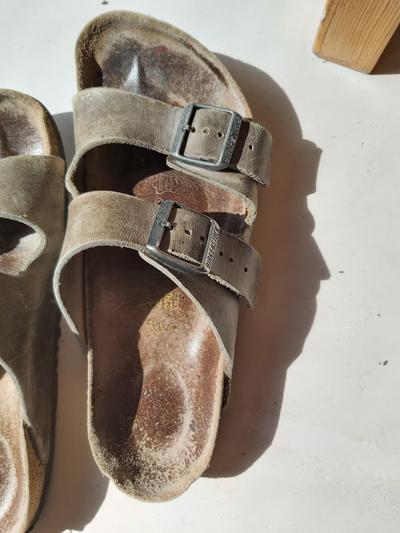 We got big windows toward the south in our new house. The temperature can increase by 2 degrees on a sunny day. I sat in the sun and enjoyed the rays of light, thinking of the money that the solar panels produced. It is so good, when the sun shines we earn money and when it is raining we save money because one cubic meter of water is about 85 euro cents. When I sat there contemplating the debit and credit, I noticed the shadow from my slippers. It looked like the face of a portly man with a hat.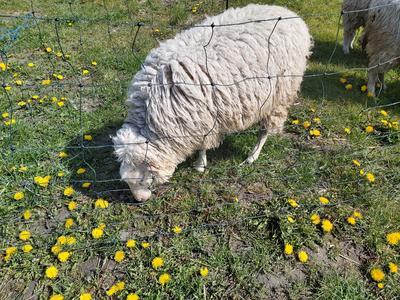 Our sheep enjoyed the sun. Specifically the abundant dandelions we got this time of the year.
Tuesday 12 April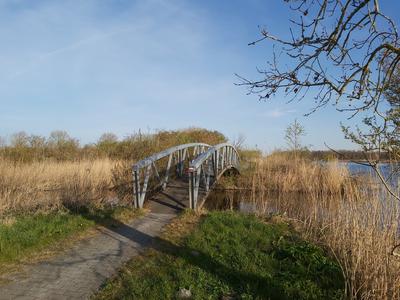 DS had his first day at work today. He will work at the supermarket that opened near our new house. It is excellent he got something meaningful to do.
Today I went to work by bike. It was the first time I biked to work. It was lovely weather for a bike ride. One possible route to work is via a park. It has four small bridges; actually, it is five, but it is called the four bridges route. It was so beautiful, and I only met one person.
Today we had an easter lunch at work. There were more people than usual.
After work, I biked to our old house and recorded a walkthrough video.
You can see how well we cleaned. The bathroom is dated, but the overall impression is fresher than I had thought for the rest. I decided to do no editing whatsoever on this movie.
When I was finished recording the film, DW texted me and asked me if I had forgotten about the evening road association meeting. Oh yes, I had forgotten about the meeting. It was much more enjoyable biking at a slower pace; now, I had to bike faster. I think I had the wind with me in the morning, and now I had the wind against me on the way back.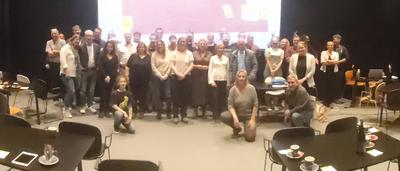 At the end of the meeting, someone suggested a group photo. I took a photo, but it became of horrible quality, but it is the one I got, so it is what it is. Since most of these people don't want to be published on the Internet, it is okay that they look like blobs here. Had I brought my camera, then it would have been much better. These are all my future neighbors. I do think the other person's photo got better. Hope so.
After the meeting, I had an alcohol-free beer in the bar.
Wednesday 13 April
On this day, I worked from the office. I took the car. There were plenty of leftovers from the easter lunch, so I brought home a box for our lunch.
The real estate agent had sent us a to-do list of things to do. I had to scan documents and send them. For that, I configured our scanner to work in our new house. It took some time to get right because it is an old scanner.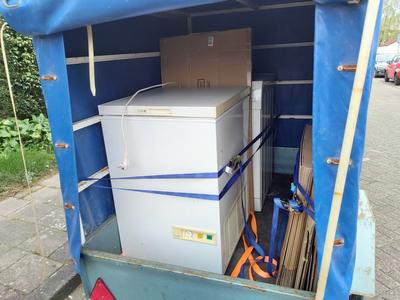 Late in the afternoon, we went to our old house to pick up the washing machine and the freezer. It is so great to add more things to the new house. With the freezer, we can have ice cream in the new house. With a washing machine, we can have clean clothing. It is possible to run the machine while working from home, over the day. Making good use of solar power.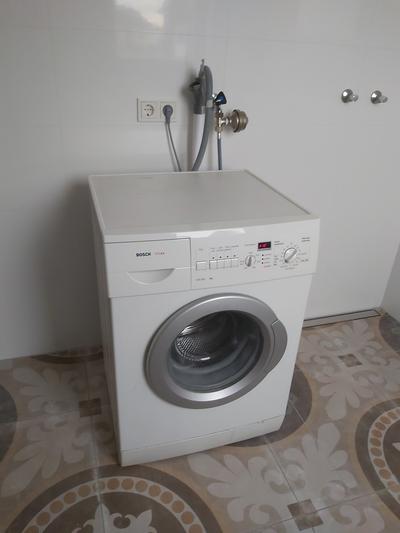 So here is the washing machine in the new house. Are we living in the house now? Well, not officially. I wonder when DW will be convinced that we live in the new house.
We drove with the small trailer and went to the new supermarket that opened in the neighborhood of our new house. It is a 20-minute walk from the new house. Not bad at all.
Thursday 14 April
A full day of work from the new house. I could concentrate; the commute from the breakfast table to the office was 30 seconds. I had precisely the temperature in the room as I wished to have it. I do love my work-from-home days. After the work, I went out to the flower garden and picked weeds.
Our real estate agent got the final paperwork today. We agreed that the old house will be announced for sale on Tuesday next week. Then on Friday next week, the first house tour will be held at the new house. I am curious how this will go.
Friday 15 April
Today we had a work-from-home day. Well, this is the Friday before the Easter weekend, and you know I am not in the most extraordinary capacity to recall those traditions. I am also very quick in turning off my interest when a story is totally wrong according to my knowledge of the world as we know it. Having a child, for example, without sex, is not working in my way of thinking. Two thousand years ago, they had not come up with IVF.
So eastern celebration is about a dude lying dead for three days and then waking up and being alive again. So, he was not completely dead in the first place, is my thinking. Perhaps he had a coma? They did not know so much about different medical conditions back in the day. I find it a little over the top to claim that he was dead for three days. No, he was not. So what do we do about it? We stuff eggs and other food in our faces once per year to celebrate a dude who came back from a coma about two thousand years ago.
Modern eastern festivity explanations are that we are celebrating the revelation of a fantasy figure's salvific plan for all of humankind. Huh? Have you ever heard about the latest IPCC report predicting the complete destruction of the entire humanity unless we get a grip on how to deal with global warming? I see no salvific plan from here. Nothing to be celebrated by a fantasy figure anyway. I wish he had stayed in his coma.
Today, people are stuffing calories in their faces, so I got the message from my employer in the afternoon that I could go home early and stuff calories into my face.
We did not do that; instead, we went to three different second-hand shops in a row to look for random things.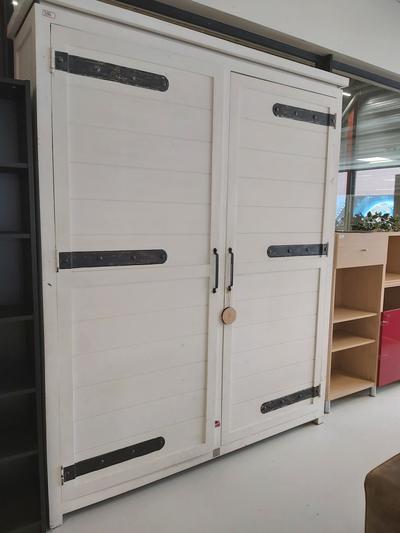 I found a cupboard that we did not want to buy, but it had fabulously squeaking doors. Here is the first recording, slowly closing the door.
Here I am opening the door a little faster.
I miss the door's slam when it is closed, but that could be added by layering the sound of a slam on top of the squeaking door. The recording could do with a bit of reverb and an evil laugh.
We did not buy this cupboard. It was too rough a design. We are looking for something a little more refined design. But it was white, but that did not bring us over. The sound was epic, though.
Saturday 16 April
The plan for today is to go to the old house. We bring with us the large trailer and a ladder. I will cut the acacia tree branches in the old garden for the last time. Then we put the branches on the trailer and bring them to the new house. Acacia is a rigid type of wood, so we will keep the branches this time to see if we can do things with it. Now we got the space for keeping a pile of acacia tree branches. Last time, we kept only two branches and used them as the sign and water gauge poles.
The sign was made on 26 April 2020. That was two years ago. Then later that same year, on 23 December 2020, I made a letterbox and mounted that to the pole of the sign. Both poles are doing fine so far. The letterbox is leaking water when it is windy, but it is doing what it should for the rest.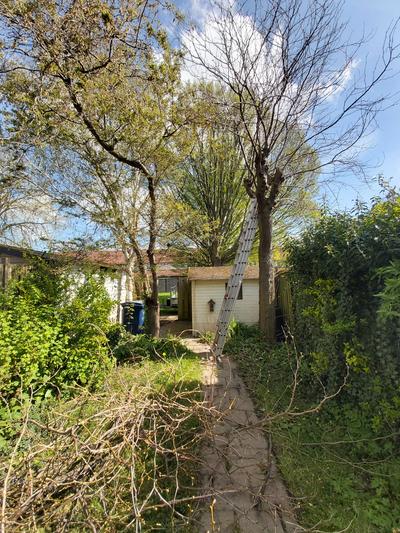 We will pick up some things we need at our new house and clean up some more things in preparation for the house tours held by the real estate agent.
Again, it was lovely weather, so it was a pleasant task to do. I climbed up the acacia tree for the last time. I am sure it will not survive; the new owners will not leave the trees. I think that they will remove the trees and make the garden tiled. That is what all neighbors do except us. We have grass, trees, and shrubs in the garden, which is not how it is supposed to be. The acacia got nails; I got stung a couple of times. It is a tree with an attitude, you can say.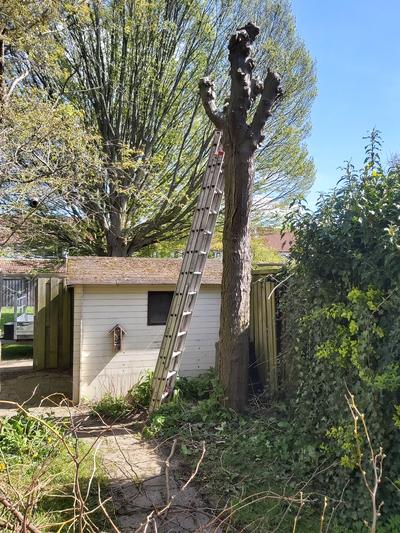 The branches cut, job done. Well, kind of, now it was time to clean up the branches. The acacia will now start to grow new branches, which will be fine unless the new owners cut down the tree.
We had brought with us the large trailer. I filled it with things we had standing in the garden, like a stack of tiles I could get from a neighbor. The welding machine was heavy, but DW and I managed to get it on the trailer. I got to borrow this welding machine from an uncle-in-law on 16 May 2020. He was very precise in that I could not get it, just borrow it. He told me he would sell his house and move to an apartment about a year later. Then I asked him if this was a good moment that I brought back the welding machine. He then explained he would not have any space for such stuff and that I could get it. Which was nice. Now I will rebuild the stick welder to run on 380 volts. I think it will work better on full power.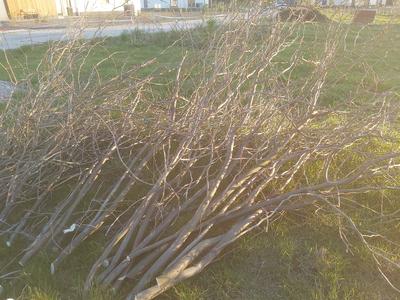 We brought things to our new farm, but not all branches could be transported in one loading. We unloaded the things and went back for a final load of things and branches. The new house looks just nicer and nicer like so. If it had been so tidy when we lived there, we would perhaps stay longer in the old house.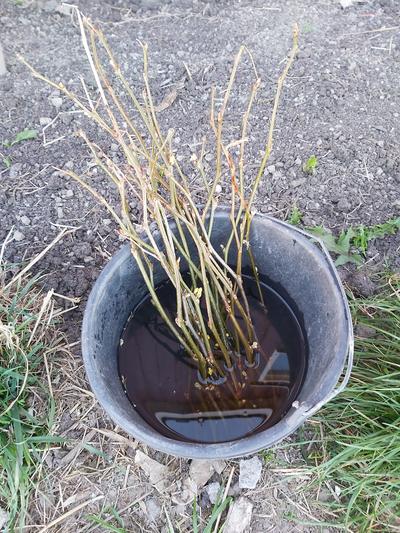 It is not feeling comfortable with all the stuff we got. That is an issue that we have to deal with. We are moving things to the new house, and for example, the workshop is got heaps of stuff. It is not that easy to use it as a workshop anymore.
I cut a couple of branches from the acacia and placed them in a bucket of water. Some trees react very well, and the branches start to produce roots. Others just start rotting. It is not clear to me which one is which. It would be nice to have a couple of acacia trees in the new garden if it works.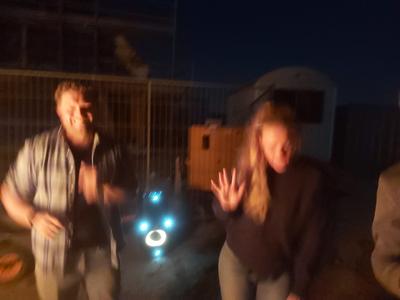 Then we went to a party in the new village. It went on long into the night, and I had too many drinks.
Sunday 18 April
The party was fun, but the day after was unproductive, which was not good. I could have been plastering the hobby room or anything; instead, I was lying in bed sleeping.
In the afternoon I had a walk in the garden with my camera. I took a bunch of flower portrait photos.
| | |
| --- | --- |
| | Belle de Boskoop appel blossom, also called Goudrenet. We got these trees last year on 27 February 2020. |
| | Peartree blossom. We got those trees on 20 August 2020, and I hope we get pears this year. That would be nice. |
| | Bea. |
| | Dandelion with a bumblebee. |
| | |
| | Bonte dovenetel, Lamium purpureum. Purple dead nettle. |
| | Sorbus aucuparia, Rowan/Mountain-ash. In Dutch Leisterbes. |
| | Allium that we bought on 13 October 2021. We bought three sorts. |
| | This is yellow salsify. We got the seeds of these on 9 May 2021. First I thought it was Tragopogon porrifolius but while talking to DW she said her mom only had the yellow sort. Perhaps I can get the purple somewhere else. |
This concludes this week. The preparations for selling the house are finished.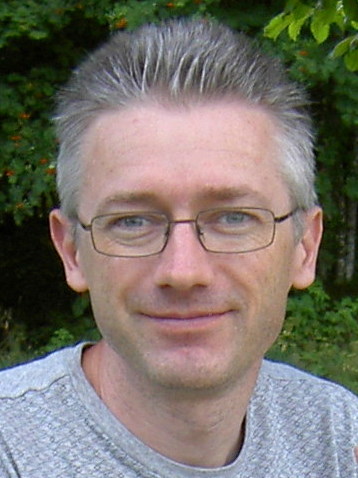 I was born 1967 in Stockholm, Sweden. I grew up in the small village Vågdalen in north Sweden. 1989 I moved to Umeå to study Computer Science at University of Umeå. 1995 I moved to the Netherlands where I live in Almere not far from Amsterdam.
Here on this site I let you see my creations.
I create, that is my hobby.
Copyright © 2015 - 2023, Jens Malmgren. Google Analytics is used on this site.