JENS MALMGREN
I create, that is my hobby.
House tours
The real estate agent holds house tours in the old house. I was back on plastering and worked on sowing beds.
Monday 18 April
Honestly, it did not feel like Monday was the beginning of this week. It felt more like an extension to the previous week because we had a compulsory holiday on Monday. We had this holiday because that fantasy figure was lying in a coma for 3 days until he woke up, some two thousand years ago.
The pumpkin seeds started to sprout! I sowed 5 seeds on 9 April, and two are already showing up.
I plastered the hobby room on the first floor in the new house. Yay, I am back at the plaster bucket! I have missed climbing up and down on ladders to press gypsum cream on the wall. At first, I had a feeling like, "What am I doing here?" but that faded away, and I picked up my plaster skills where I left them.
I started putting a top finish on the window head and the jambs; there are five windows. The head is the top part of the window frame, and the jambs are the sides of the frame. There is no need to put anything at the bottom because it is covered by window sills. Sometimes the window sill is called a stool because you can sit on it, silly.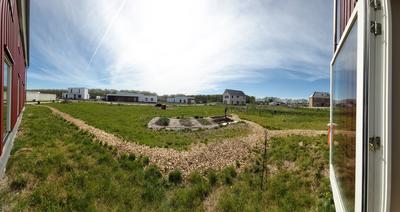 I took a panorama photo of the new garden during the lunch break. I recalled I had taken a similar panorama on 22 January 2021. That is more than a year ago. A lot has happened:
The mini dyke has been built.
More apple trees.
The exterior of the house is finished.
The vegetable garden has started.
We got a path made with wood chips.
Tuesday 19 April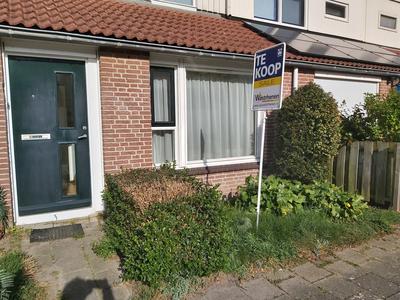 This was a regular day working from the office. During the day, the house was published on real estate websites. The agent went to our house and put up a sign in the garden. After work, I went to the old house to pick up the post and check that all was good. When I was at the old house, I thought it would be nice if I greased window mechanisms so that the windows were opening more smoothly. I did not have those things with me, so that had to be tomorrow.
Wednesday 20 April
Today it was half a day of working from the office. After work, I went to the old house again, and I had the grease with me to grease the window mechanisms. Opening the windows became so smooth it was almost embarrassing. Again, I had the feeling I should have done this much earlier. We had squeaky and difficult to open windows for many years. Well, the new owner can enjoy smooth window mechanisms.
Then I went to the new house and continued plastering the hobby room. When will the plastering of this room be finished? At the end of the working day, I took down the scaffold because the owner wanted to use it tomorrow.
Thursday 21 April
Today it was a work from new home day. I could concentrate on my work really well, and I like that. It is excellent with social interaction, but my brain needs to figure out how things should work at the core of my work. I am not working with my mouth.
The bigger aluminum scaffold that we lent from our neighbors had to be returned this morning. Not for long, though, because they needed it over the day, and in the evening, it would come back again. For them, it is good we got the scaffold because they are currently a little short of space, and for us, it is good because I am plastering the hobby room. Now they had to have it during a short and intense day. They came in the morning and loaded the trailer with the scaffold. I was a little embarrassed that it was slightly dusty with plaster powder, but they were okay with plaster dust.
In the afternoon, they came back. We unloaded the trailer and took the scaffold back into our house again.
Friday 22 April
Another regular work from the new home day. The mint plant has grown so much that we can start harvesting from it for making mint tea. That is so easy and delicious as well. Just cut branches put them in a cup, and pour hot water.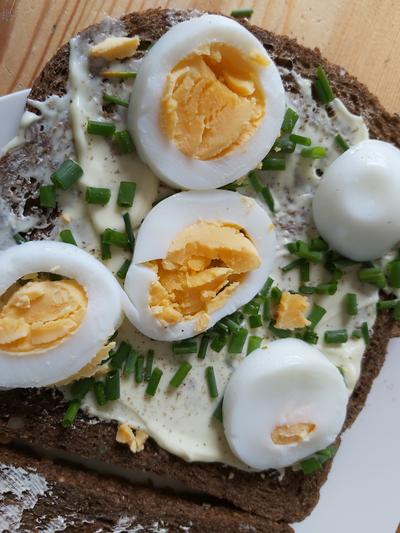 Our chive is also looking marvelous. I cut a bunch and shred it over a sandwich for lunch. There is mayonnaise, freshly ground pepper, egg, and shive snippets. Delicious.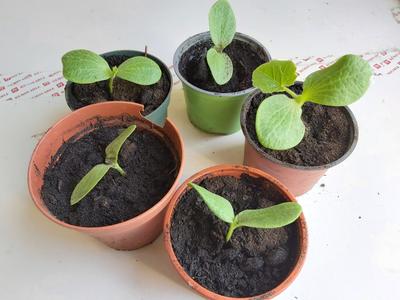 After work, I decided to repot the five pumpkin plants that I sowed on 9 April. I want them to be a little stronger before I let them endure the fight with the snails in our garden.
We also went to the old house to pick up mail and make the last finishing touches to the house. Empty garbage bins, collect things that had blown into the garden, empty the last things from the fridge, etc. We have done our bit now; the house and the real estate agent are now on her own.
Saturday 23 April
Today people are coming to our old house to get a house tour. It is the real estate agent doing this for us. We liked that arrangement; it had felt strange to let people in the house and try to sell it. As I said, I work with my brain, not my mouth.
We took a walk in the morning in our new neighborhood and came to talk to neighbors. They had shrubs to offer plus a Monstera Deliciosa, and they got five bell pepper plants in return. We had a look at their newly casted foundation for their house. It looks good. We had a company creating the foundation for us, but they do it themselves.
After our morning walk, I cut DWs hair. She wanted to have it shorter. A couple of months ago, I cut it as well, and it went well, so I got a new chance to practice hairdressing, and it went okay this time too. She wanted to go out and work on repotting her seedlings, and it was windy and annoying with longer hair. Now with shorter hair, it went okay.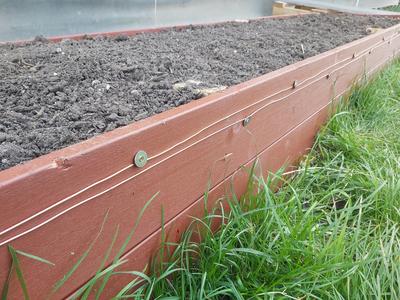 I started on my firewall for the snails project. First, I stripped electric copper wire from its insulation. Then I screwed it onto the planting bed for the salad. I had to make two layers of wire.
Next up, I contemplated using a battery, and how should that be made weatherproof? Then I figured that I could let the system run forever without bothering about batteries running out if I had a transformer. The only problem with that was how I should get a cable to the location.
I looked for cables, but I did not have suitable candidates with only two vires. I had plenty of UTP cable lying. I decided on using a UTP cable. If I want to put up a salad camera, I can do that one day. Then I can also power the firewall. This was such a great idea! The only issue was that I had to crawl under the house to run the cable from the utility cupboard. But I just did that. It was also good to look at the status below the house. I found that rodents were coming into the house via the ventilation openings. When I came out from below the house, a little sandy and perhaps with a couple of spider rags in my hair, I plugged all ventilation openings. No more rodents for now.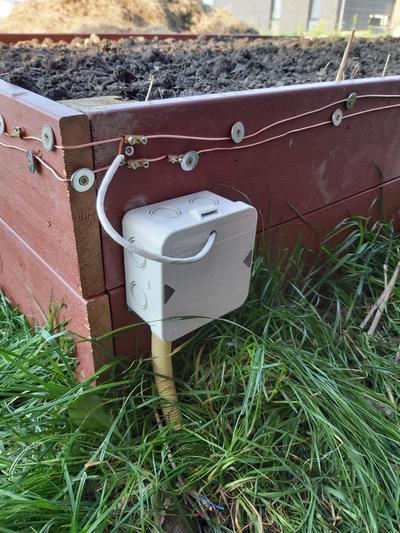 I thought that if I come so far to do things properly, I could as well run the cable in the ground through a pipe, but where would the pipe end? I found a box in the litter left by the electrician. It looked professional to have it mounted to the side of the raised bed.
That box is big enough for a Raspberry pie. I got one that I have not had a look at. Perhaps I could hook up a camera to it and make a salad webcam or something similar.
I connected the cables and turned on the transformer – 3V 1A. At the salad bed, I measured 0.1 V AC. It surprised me I lost so much. I will have to look into that another day. I could also use a standard POE (Power Over Ethernet), but I have that lying in the old house, so that is for another day.
The transformer was from a field recorder of Roland R09. I never used the transformer because it gave the recorder a buzzing sound.
Then it was already late and time for making supper. I made a pumpkin soup.
Sunday 24 April
The first task this morning was to move the sheep. We had the sheep on an area on the south side of the pond for two weeks, and that area was sufficiently grazed. At the same time, we had them between the northern neighbors, and it looked like they had not discovered that place. That stayed. The part that we removed on the south part of the pond could be reused on the north side of our plot to the southwest neighbors.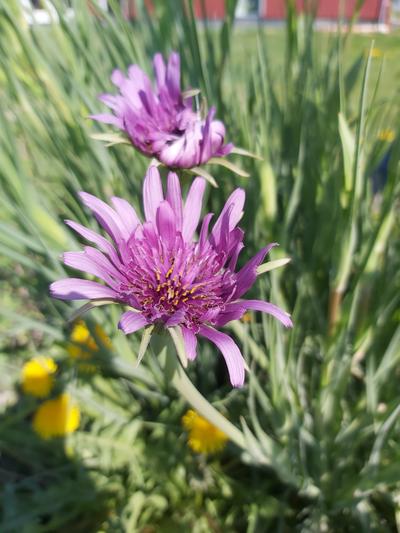 This is Tragopogon porrifolius! I so much hoped it was going to be the purple kind. My wife said it would be the yellow kind, but that prophecy did not hold up. Yellow is a nice color, but so much is already yellow here, giving more variation with flowers of other colors. I sowed this last year on 9 May 2021. I got the seeds from my mother-in-law.
For the next task, I decided to remove a scaffold ladder lying on the north side of the house. We got the Crab42 lying there for some time now, but it is inconvenient to have it among the sheep; I had preferred that we could put it near the sea container in a sheep-free area. For that, I had to reorganize our stack of pallets. I had gotten a bit untidy, so it was about time. There were scrap pieces of pallets left in a heap, and I put most of them into our tiny trailer to make a trip to the recycling center.
After that, you would think I started preparing to plant things on the west side of the container, but we went to a birthday and goodbye party. It was DWs sisters son that celebrated his birthday and at the same time had a goodbye party. Beginning next month, he moves to New York. It was great to see this part of the family and to wish the young man good luck on his adventure. Since he is not keeping a place in the Netherlands, he brought redundant stuff; to give away. I fell for the vast collection of ropes in various colors. For some people, it was the first time we could see each other since the pandemic started. It was great to see everybody again.
We passed by a hardware store on the way home and picked up a new handle for our garden fork. A garden fork is a valuable tool in the garden. We noticed that it was beneficial and bought a second fork. The handle of the second fork broke, so we were back at square one again. Now I have a new handle, but switching the handle is not that easy. I think I will need to drill out the rest of the old handle from the head of the fork. One thing at a time, now there is a replacement handle; I work on the replacement another day.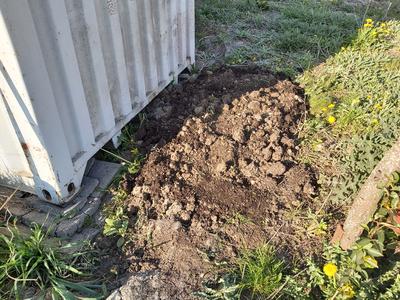 When we came back to our new house, I started preparing to plant pumpkins on the west side of the container. I used our old garden fork to clear the area of thistles and weeds in general. Last year I grew peas here. Apparently, you should not have peas in the same bed the subsequent year, so I thought I plant pumpkins here this year.
It was not really a bed last year, but now It has become a bed. Then I gave it a wheelbarrow of garden compost. I thought that perhaps I could also plant sweet corn here when I worked on preparing the ground. The pumpkins spread horizontally along the ground, and the corn grows vertically. In that case, I would like to pre germinate the corn seeds so that they get a better chance against the snails. So when I was done preparing the bed for the pumpkins and the sweet corn, I went inside and prepared 5 seeds.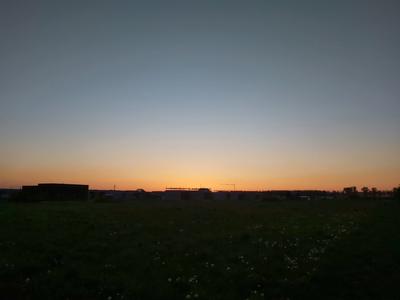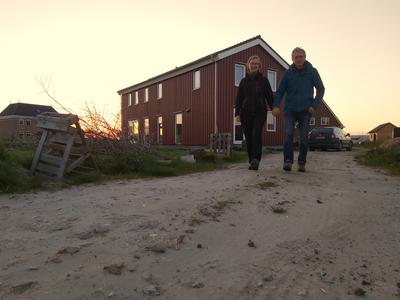 In the evening, we went for a walk in the neighborhood. It was a beautiful sunset tonight. It is lovely with the orange tone transitioning into dark blue without turning green in between, as it usually should if you paint the scene.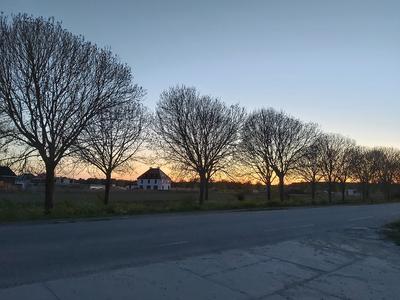 There were not so many people out at this time of the day. This week, I had pain in my right knee due to plastering activities (or cutting the acacia tree), so it felt right to come down from the scaffold for a while. I have been planning on the salad sow bed for a long time, so it is nice to see the plan come together.
Next week the selling of the old house will continue. Perhaps we will get more news on Wednesday next week, I don't know. One thing is clear, though: we need to get the hobby room finished to enable us to put things in it from the old house. "Chop, chop," Jens!
I try to say I will not feel stressed; that is still so, but there is a burden with the old house and the imminent move. It is not pleasant. Oh, well, just carry on. It is a compulsory holiday on Wednesday next week, so I will be standing on the scaffold and plaster again.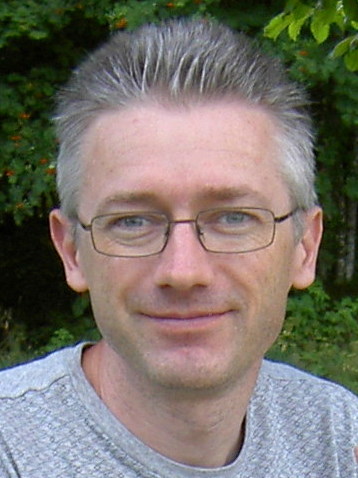 I was born 1967 in Stockholm, Sweden. I grew up in the small village Vågdalen in north Sweden. 1989 I moved to Umeå to study Computer Science at University of Umeå. 1995 I moved to the Netherlands where I live in Almere not far from Amsterdam.
Here on this site I let you see my creations.
I create, that is my hobby.
Copyright © 2015 - 2023, Jens Malmgren. Google Analytics is used on this site.