JENS MALMGREN
I create, that is my hobby.
Moving stuff
Monday 17 August
It was raining a baffling 32 millimeter since yesterday. The heavy precipitation has compacted the oats, but the tomatoes survive surprisingly well. Had I not started binding the plants to sticks, it had been another story. Now only two were lying down. There are some of the plants sending branches under the container, that is a bad idea.
In the evenings, I have been working on the CAD model, leaving very little time over for blogging. Lately, I tried to publish last week's blog on Monday evening, but that did not work out this week. I also had a section about the climate that I was not happy about in last week's blog. I tried to rewrite it, but it did not work. Tonight I decided to remove it entirely and publish the blog without it.
Today I talked to the person that came to us and said we had the same house as he got. He offered to sell his scaffold. He got a large scaffold that will be good for us. We met a deal that the coming weekend we will go and get it and transport it to our house. I am delighted for this because it will be challenging to work a little here and a little there if we don't have access to a more significant part of the workplace. Work will take longer with a ladder than a full scaffold. I will need a bigger trailer to transport the scaffold, so I reserved one to rent for Saturday and Sunday.
Tuesday 18 August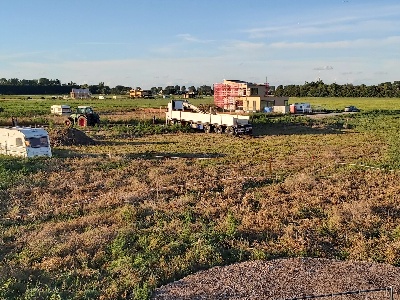 Tonight when we arrived at the house, there was a truck parked off-road, indeed a peculiar way of parking a truck. I know this is no real parking; this is a truck driver trying to turn his truck off-road. After my experience with the company Knipsheer B.V., there is a very sore feeling of stupid truck drivers driving off-road damaging the land. I do know that the truck driver could not know that one day earlier, there had fallen a baffling 32 millimeters of rain on this land. He did not ask me, did he? No, he just drove off-road like a stupid truck driver, and into the hell clay, he sank up to his knees. Or rather, he sank to the Cardan shaft. Then he could borrow a tractor, no idea how you get to borrow a tractor just like that? With that tractor, he could pull the truck so that it got out of the hole. Then he drove off, and a couple of moments later, he came back. He drove to the place where he just had been stuck, stepped out, and got his sunglasses. This time he was not so stupid to turn his truck in the clay. He backed out. So all this time, he actually could back out his truck. Truckdrivers that actually can back, but they refrain from doing it and instead opt for damaging someone else property and nature, they have a glowing place in my heart. I do sincerely hate these people.
Wednesday 19 August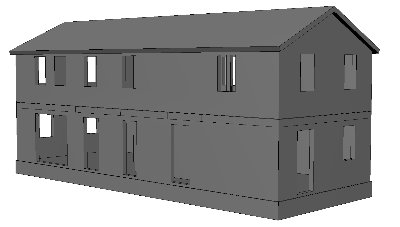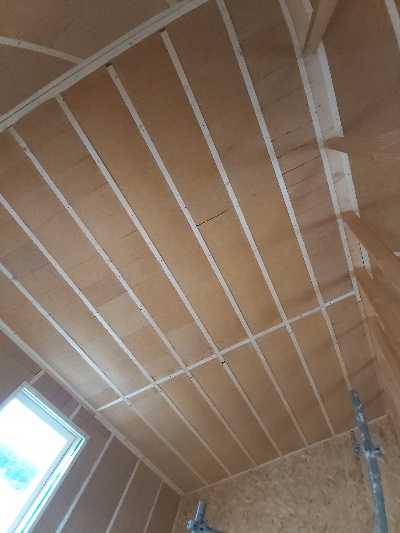 I changed my working hours! On Wednesdays from now on, I will be free in the afternoon. This afternoon we went to the new house, and we finished isolating the southeast bedroom. This room is also our future office and the room where we can receive guests if that is necessary.
Now and then, I get to work on the CAD drawing. The goal is to have a plan for the ventilation system before the electrician comes and decides where the cables will be. We had information from the energy company, and they will deliver the electricity to the house in week 37 or 38. For that, we will need to have a cupboard with doors on the front and OSB plates and the back.
Now during the Corona outbreak, especially hardware stores in this city have changed their opening hours. None of them are open in the evenings anymore. I had to get the OSB plates another day.
Thursday 20 August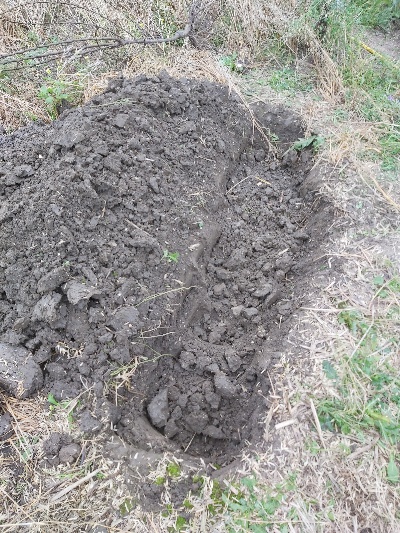 Can you imagine that you are just about to have a lunch break (at your work from your home office) when someone asks you if you would like to get five or ten pear trees? When you then answer five, and you get an immediate reply with an image and a hand pointing to the trees with the text, "they are lying here." It is a little quick action you could say, but that is what happened. The picture with the hand also revealed that the roots of the trees were exposed. We talked about our options, my wife and I, and we came to the conclusion that we had to use our lunch break to go to the new house and pick up the bundle of peer trees and give them proper handling. So we did! We decided on a temporary planting in the ground so that the roots can get used to our ground and that they are correctly moistured. Later in the autumn, we can move them to the final place.
The first thing we did was to start digging a trench for the trees near the rain gauge and not far away from the water well. That is convenient because these beauties need a lot of water. My first thought was that it would be good to place the pear trees near the apple trees, but that is further away from the well.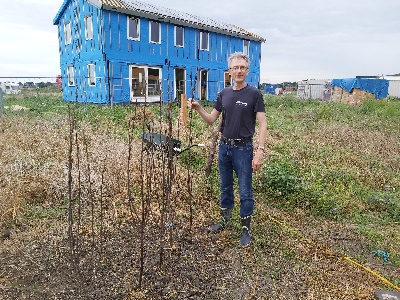 Then we watered the ground where the trees would be placed. I used the wheelbarrow for this. We put it under the pump and fill it with water. That way, I can move 150 liters of water in one go. I made 65 pump movements to fill the barrow. Then follow the tricky part to get the water to the location. If the wheel gets stuck, the barrow stops but not the water, and it is splashing over the edge. The ground is even here, so that went fine. Just to be sure, I added another barrow as well. Then we planted the trees and put the soil back around them. When that was done, another two barrows over the roots of the trees.
We worked swiftly and managed to get back to work before the lunch break was over.
Today I decided to publish the blog post of last week. I removed the section I was not happy with, and that was it. I set the publishing moment to last Sunday, so I am cheating a little bit.
I went to the hardware store just before closing hours after work. It turned out that the opening hours had recently changed and now they had more opening hours. I bought two plates. Then we went to the new house with the plates ready for the cupboard.
We went ahead and took down the scaffold that we had in the southeast bedroom. Then we figured out where to put it next. We will build it into the staircase. It will not have wheels this time. We decided to build it from the bottom of the staircase up to the ceiling. Then we went home, and there was a moment over to blog a little.
Friday 21 August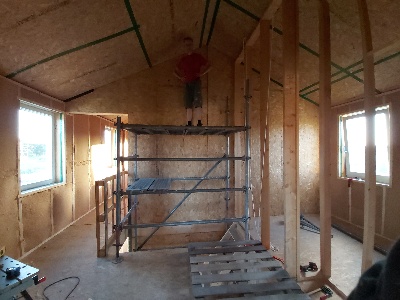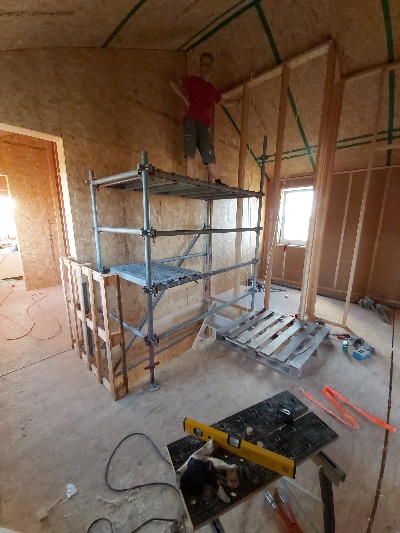 Today after work, we built the Crab 48 scaffold in the staircase. It is easy to build, but you can do things wrong. The poles got turned around, and we did not notice until it was time to place the long horizontal beams. The distance of junctions was different so that it would not be level. That gave us a moment of surprise.
We finished the platform so that it is ready to be worked on. I am delighted with how much it is possible to do after work on a Friday evening. Of course, it is still light in the evening, but later in the autumn, that will change. It will not be possible to work without light, and there is no electricity. In a couple of weeks, the electricity, water, and data will arrive in our cupboard in the utility room. That gives new possibilities to work in the house. It feels exciting to have two different timelines
Saturday 22 August
Today the main event would be to fetch another scaffold in the same area as we got our house. Perhaps you recall that wrote a couple of weeks ago, 5 July, about a car that stopped at our house, and a friendly man with his family stepped out, and one of the first things he said was, "We got the same house as you." It was a bit surprising because we have drawn the house ourselves. He did not mean it exactly like that, what he meant was that we got our houses from the same builder and very much is identical. We visited their house, and it is a fantastic house. It is much more playful than our house. They were done with their scaffold, and we could get it.
So today was the moment we would go and get it. Our own trailer is a little too tiny to carry parts of a scaffold. The most extensive parts are three meters long on this scaffold, and you cannot carry that on our little trailer. I had reserved a trailer with four wheels. It turned out I don't have a sufficient driving license for such a trailer. That had slipped my mind. I have been driving bigger trailers before and cannot recall any fuss about such things, but perhaps things have changed. It does not matter because we could get a two and a half meter trailer, and it did not matter if a little bit was sticking out.
We had planned the entire weekend for this task. It turned out to be possible to finish in one day.
| | |
| --- | --- |
| | We decide to put the scaffold parts on the north side of the house. No path in the grass. 11:00 |
| | The first trip. 12:00 |
| | Second trip. Now there is a path. 13:00 |
| | Third trip. We had a lunch break, and it rained for a while. Our electrician came to us. 16:00 |
| | 17:15, we started to have the feeling we might be able to fix this in one day. |
| | 18:00, done! |
The electrician came to inspect our house and talk about tasks to carry out. We got one misunderstanding cleared. He would not bring a cupboard for the utility room. That is what I thought before. We have to build that or buy one. That is fine, we will look into doing that. For the rest, everything was relaxed. We would be ready for the installation of the electricity when the mainline was ready for us, no problems there. I will need to continue designing the ventilation so that ventilation and electricity will be out of the way for each other. Our electrician also knew someone who was doing plumming, which is good because we had not found one not busy enough to work for us. It is not so that these people are out of any work right now. They have too much to do and usually cannot do any more work, just like that.
At the time we were done with the scaffold, we were a little tired. The kids of the couple are so sweet. The neighborhood they have their house looks so great. They have a beautiful garden! They gave us a present as well, we got two courgettes with us.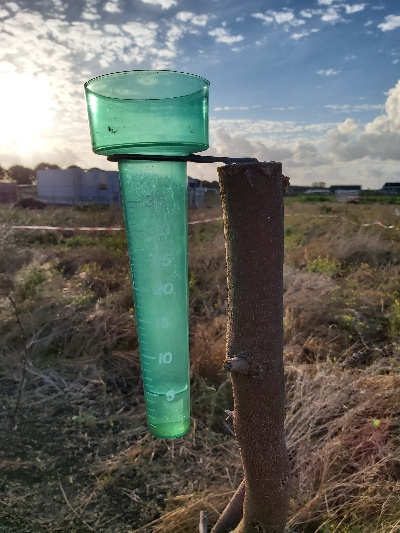 Today it had rained 5 millimeters. It was a lovely evening, and we were so happy that we finished the task in one day.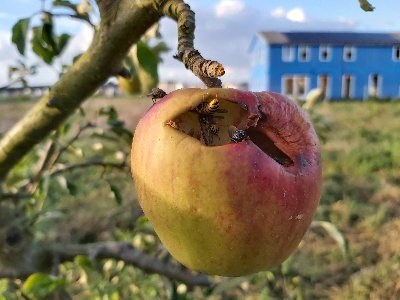 Everything was so fantastic this evening until I arrived at the apple trees. Yesterday we had lovely apples hanging in the trees ready to be picked. This evening I discovered we got guests that were munching on our apples! There were wasps. They had started eating on our apples. We could pick 7 apples, but the rest was already served to wasps. We let them hang on the tree so that they can finish their dinner. It is great they also have something to eat.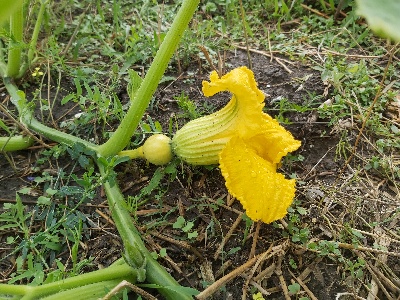 The pumpkins that my wife planted on 11 June are flowering now. They are so beautiful!
Then we went back with the trailer where we rented it, and there we got another surprise! When bringing back the trailer the same day, you get a discount at this place. Initially, we would pay 88 euro for two days and the four-wheel trailer. Now we had a two-wheel trailer for one day, and it cost us only 32 euros.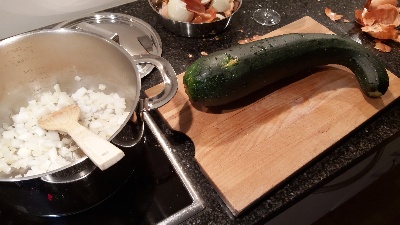 In the evening, when we came to our old home, we had courgette soup.
Sunday 23 August
Today we decided on taking on another big task: Move the rest of the isolation indoors.
| | |
| --- | --- |
| | 14:13 |
| | 14:21 |
| | 14:27 |
| | 14:30 |
| | 14:35 |
| | 14:55 |
| | 15:00 |
| | 15:30 |
| | 15:37 |
| | 15:47 |
| | 16:00 |
| | 16:03 |
| | 16:07 |
| | 16:11 |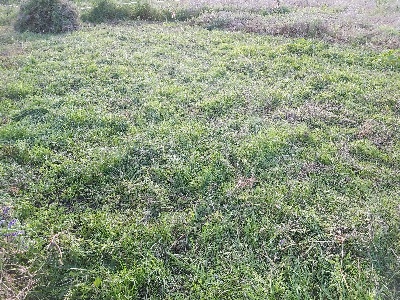 After this work, I was fatigued but not so tired I could not have a look in the garden of the new house. We got the scythe now, it is a little bit too short for me, but it is doing a better job than doing it with garden scissors. I decided to cut some of the stuff (you cannot call it any better) at the place where we had planted grass earlier.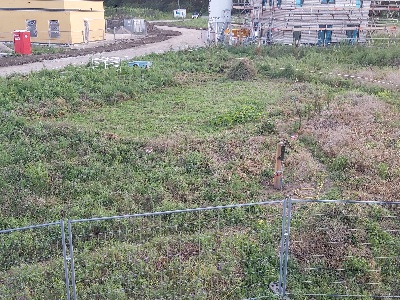 It was beautiful, the grass that became visible looked fantastic. It will cut more, but this was what I could manage to cut before it was time to go home to our old house.
Sometimes I wish we already lived at the house and that I had more non regulated spare time to spend in the garden or in the house for doing things. If that was true, I had already cut that stuff a long time ago. There is more to be cut.
This was the grand final of this week. It was a good week.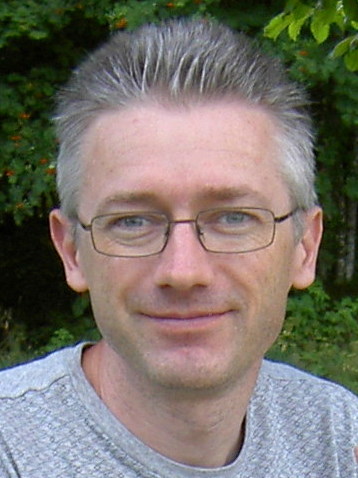 I was born 1967 in Stockholm, Sweden. I grew up in the small village Vågdalen in north Sweden. 1989 I moved to Umeå to study Computer Science at University of Umeå. 1995 I moved to the Netherlands where I live in Almere not far from Amsterdam.
Here on this site I let you see my creations.
I create, that is my hobby.
Copyright © 2015 - 2023, Jens Malmgren. Google Analytics is used on this site.