JENS MALMGREN
I create, that is my hobby.
The poles were delivered to the plot
Wednesday 13 May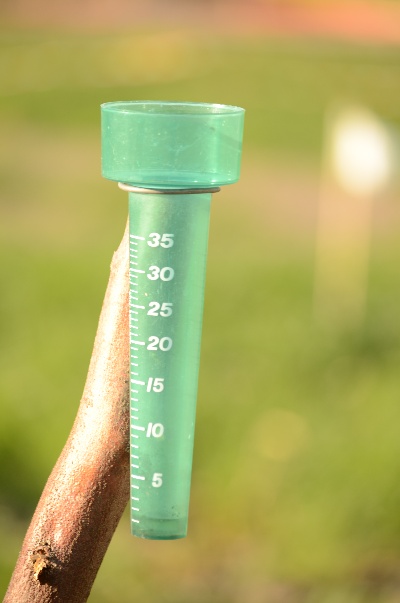 Tonight we went to the plot again to give the plants water. I brought with me a rubber mallet to work on some of the clay stones, making it difficult to reach the trees with my carriage. Indeed I was able to use the rake for the first time. Those clay stones are mighty hard.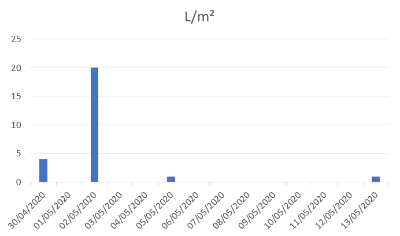 There had come 1 mm of rain since we went to the plot last time. I added that to my excel sheet. It does not look so wet when I look at it. I saw some statistics we are above 1976 in a drought this year. I hope it turns.
We also weeded some thistles at the site.
We had great news from the builder. They started manufacturing the house in their factory, and I may publish their photos here.
Actually, the pictures arrived last Friday, but it is not until now I could start blogging about them.
| | |
| --- | --- |
| | Material for our house. |
| | Here is the drawing for a side-panel of the house. |
| | These are the building elements already finished. |
| | Here are the finished building elements from above. |
| | Here someone is working on an element of the house. I recognize the hall. We visited this factory last year. |
The builder is called Eigenwijs Bouw in Dutch. It is a funny name. The proper translation of the words is Stubborn Builder. Of course, in Dutch, the word stubborn is combined by two other words, Own and Wisdom, and together they form the meaning Stubborn in Dutch. So thinking about it like that, it sounds as own wisdom builder. It can be that it is only me thinking about things like that because I am not a native Dutch.
Before I continue talking about the builder, I would like to tell you about another Dutch word that is also a combination of two other words. It is the word for Cheap in Dutch. That is Goedkoop, a concatenation of good and purchase. I find it amusing that they have the excellence part built into the word for cheap. Look if you really want to brainwash an entire nation into buying cheap shit, then force them to call it an excellent purchase. I have said this to several Dutch people, and they look at me baffled.
Now back to the name of the builder. They are great people. For a long time, I thought that the company name indicated that we were the people to be stubborn as if they were used to handle determined people. Sometimes we change roles. Then they are persistent, and I have to deal with it.
There was one time when the project got delayed. It was right before last summer, I was not happy about their stubbornness. It was a learning moment for us, I found out we have to communicate much better, and well on time, and the next time that the project went into a time-critical event we were much better in informing about our situation. Then they did everything to get things right. I was delighted with the result, quick and accurate.
Friday 15 May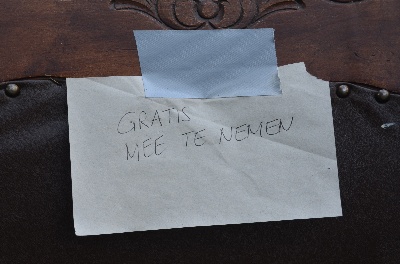 In the evening, we went to the plot to water our plants. We managed to water the plants regularly, and this is good for the plants, and we get to see the developments at our neighbors. On the way home, we came across three chairs. They had a sign "Free of charge, take away."
We had been discussing how to create a bench to sit on at the plot. One idea that we have seen in DIY programs is to take three chairs and connect them with each other. Due to corona, we have not been able to go to second-hand shops like we used to do. Here the chairs where standing, and I said to my wife that "cheaper than this, you cannot get them." With that, we decided to take the chairs home.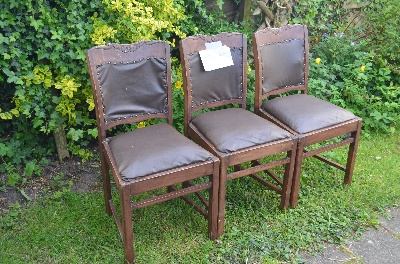 There will be some work to do to get this working, but it looks promising. We will remove the sittings. Then what is going on in the back, we will also need to have a look at. Since the chairs will be standing outside, it is better to remove the fabric and replace it with wood. One of the chairs had something bulky in the back, I joked that that was the tucked-away IBM shares obviously. It has become a bit bulgy when the paper gets old. For now, the chairs got parked in the old garden.
Saturday 16 May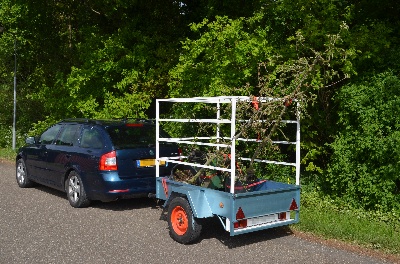 The main event of today was to pick up an apple tree. For this, we would use the trailer that we got last weekend. Before we started on this, I went to the plot to do maintenance on the barrier tape around the property. Some of the bamboo sticks got to endure much wind and broke. I replaced these. It looks like when there is too big a distance between them, they are breaking much quicker.
I also started marking up the red area where the builder is not allowed to come with their machines. In the previous post, I talk about the red zone. That work was not finished. I need to finalize that tomorrow. Then we went to the nursery to pick up the tree. This is an apple grower in Purmerend that we know about.
When we were there, they convinced us that we could as well take another tree, and we had space left on the carriage, so that was ok.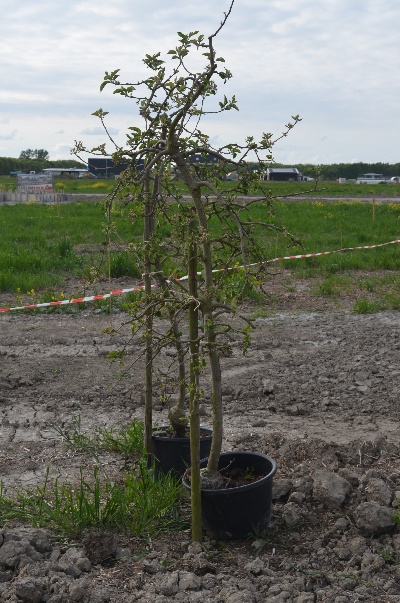 I could also borrow a stick welder machine (at another address). It has been a long time since I was stick welding, so this will be a bit to learn, but it will be great fun. These are the things I so much hoped to start doing when having a new home with more space for creativity. This stick welder I can borrow, and I can borrow it for a long time.
One of the tires of the carriage is not airtight. It is sipping out air. That is also something I will need to look into.
We brought the trees to the plot. The gardener had told us we should not get them out of the buckets right away. We had to stabilize the trees right away, though, so we did what he told us. He even gave us two poles for the stabilization. When the trees had got used to the new place, it was time to plant them in the ground.
This is Alkmene apple trees, also called Early Windsor. It is an early variety. Anything is fine right now. It feels so lovely to be able to start on these things here and now.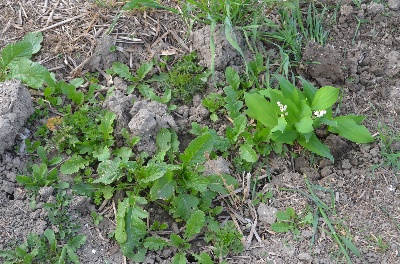 We got with us also a Lily of the valley, Convallaria majalis. Another reason for watering plants at the plot! This is a beautiful plant, but it is also poisonous. I don't see us eat it anytime soon, so that should be no big problem. Typically sheep know what they can and cannot eat, so I don't think that is a problem either. Besides, we don't want the sheep to enter areas where we got flowers. We will put a fence around those areas.
Sunday 17 May
Today it was beautiful weather as it usually is these days. No, I am not kidding, it has been to good weather lately. This is not good for our new garden at all.
The plan for today was to do a lot of things like replacing the tire of the trailer. Well, the tire shop was closed. I have to do that another day.
The road association of the area where we will build our house is planning to build benches. This is a project subsidized by an organization, NLdoet, that works for activating people so that they get out doing things. There was an event planned already in March, but that was canceled due to corona. The road association could return the subsidy or let the bench building event go ahead in a Corona safe way. My wife is part of the committee arranging this, and so we started the practical planning of a corona safe way of organizing this. There must be enough distance between people, but there is an enormous amount of space to use at the plots so that it can be solved.
We went to the hardware store and bought material to build 6 benches. First, of course, we picked up our carriage and had the leaking tire pumped up to the correct pressure, and then we went to the hardware store, but we came too early for the shop. It had information on the website when it was supposed to open, but at the door, it had a handwritten note with other opening hours.
We had to find out a way of spending the time, so we thought we would go back home with our carriages when we noticed that a garden center had free pallets. We grabbed six of those and loaded them into the cart, and then we took them to the plot. This is a totally new world that opens up for us. We can just take a couple of pallets big things and bring them to our place, and there is room for them.
When that was done, we went back to the store, and now it was opened. There was a line of people waiting to get into the shop. The shop is only allowed to have a certain amount of people in the shop at any time. I think that worked really well. It did not feel like there were too many people in the shop. We got the things for the benches that we brought home to our old house.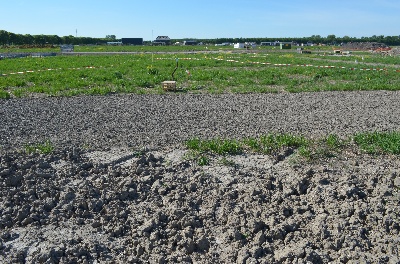 In the afternoon, we went to the plot again, and this time I finished the barrier tape of the red zone at the new property. That was the work I started on yesterday. We gave the new apple trees plenty of water and the other plants as well. I took off the faulty wheel of the carriage and had the carriage rest on four of the pallets that we found earlier today.
In the picture here, you can see our "first garden" on the new plot in the middle with the rain gauge. Here we planted mallow that then was partly run over by the road builder digging machine. It recovered and is still growing. It is not increasing that quick, though. Here we have small pallets that we sit on when we are taking a break in the work we are doing at the plot. In this garden, we added the Lily of the valley plant yesterday. If you click the image, it is opened in a separate window. The new apple trees are to the left, but they are not visible in this photo. You can see the new barrier tape in front of the flags marking the corners of the house.
You can also see far away in the distance on the left side of Mr. DdJ's house project, and behind the flags of our future house, you can see the house project of Mr. DvD.
And there is clay in the foreground. Loads of tough clay. This is what the road builder dugout when they built the road. Below this clay, there is proper soil. I tried mashing clay stones with a large rubber mallet, but it is more appropriate to use a giant metal sledgehammer.
The area between the clay and the future house that is where the road builder used a tiller machine to fluff the surface of the ground. We have tried to avoid walking around in this. I walked in it when it was fresh when I was spreading grass seeds. We do not see anything of the grass sprouting. What we do see is that there is very much of rape bloom that is growing. This is going to be interesting. It has been extremely dry, and we had no hopes for anything growing, so it is very encouraging that we got something.
The pile of thistle weed being the beginning of our compost can also be seen in the photo. Soon, other plot owners, thistles will enter their bloom stage, and they will produce seeds blowing around in the wind entering our plot. We will need to weed thistles for several years.
The last thing we did was to open up the barrier tape for the green zone. It is now one week until the builder will arrive with the pile driving machine. I am so excited.
Monday 18 May
This was regular working from home day. Next week this time, I suppose the pile driver has been doing a couple of poles.
I managed to get two of the wheels of the carriage to the tire center. They will need to order new tires for me. The old "new looking" tires were 11 and 12 years old. The man at the tire center regarded these as hazardous tires. I have no idea if he is correct on this, but I am willing to believe him and do this right, so there will be two new "new" tires. When I load this carriage, I do not want to experience that the tires are exploding. The consequences can be enormous, I can be driving, and heavy things can be spread along the road, and people can be dying. No, I take this serious, the price of new tires is not that high anyway. For many things in this house project, we can be bargaining, but when it comes to lives, then there are no compromises. He hoped to have the tires on Friday, I hope that works because then we can pick up more things next weekend. Besides, I have noticed that a fully functional tire should not leak. If a tire is leaking, it is giving away at some weak spot. Squealing tires are broken tires.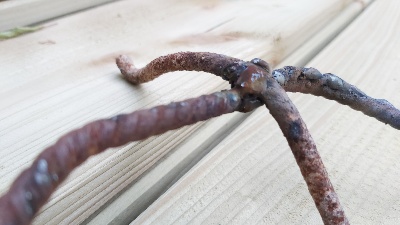 In the evening, I took out the stick welding machine to have a go at stick welding.
With the machine, I got to borrow a mask and 6013 sticks. On YouTube, they call these rods the all-around farm rods. I tried to weld two pieces of iron that I found along the dirt road at our new house.
I noticed that there are plenty of little pieces of scrap metal on the road. When I was searching for a rake with metal spikes, I came up with the idea that I could use these scrap pieces to make a rake for myself. Later I bought a rake for 12 euro and 60 cents, but hey, I have to try anyway!
So the plan is to learn how to weld these scrap pieces together that it looks nice and works nice. Then I will create a rake for myself. This was the first weld. It was not incredibly strong. This has to do with a lot of things that I need to learn. The outstanding achievement here is that I managed to create an arc at all and direct the heat into melting the rod between the two pieces of metal. I managed to do this without causing all fuses in the house to break, and I caused no fire.
Later on, I will make some sculpture as well of these metal pieces, but then I need to be much better in making beautiful welds. We are not there yet. For my wishlist, I have an electronic mask and a steel brush, and perhaps heatproof gloves would be nice. That is all costs to make things nicer but maybe not totally necessary. Some of these things I have in Sweden, but I am not allowed to go to Sweden right now, so I will continue on the equipment I have borrowed.
Tuesday 19 May
I expected that nothing would happen at the plot today, but I was wrong. Today the poles were delivered to the property.
| | |
| --- | --- |
| | Here the poles are unloaded. |
| | Each pole is 6 and a half meters long, weighing 739 kilos and was made 9 March. The crane is gently placing them on the ground. They must not break. |
| | Here are the poles neatly placed on a row with the registration stickers side up. |
| | They placed the poles neatly inside the red zone. |
| | At the house, they had been busy as well. They had marked out the position of each pole. On Monday afternoon, the pole driver machine will arrive. |
| | |
| | It took a couple of shots to get the posing right on this photo. At first I looked like an unhappy bag of potatoes with a bright red keycoord hanging out of my pocket. This is the final version with a big clay smudge on my left knee. |
In the afternoon, we gave the trees and plants water. While we were at the plot, I talked to Mr. AA if he had any scrap pieces of enforcement iron that he could spare. He had a bunch of that, and I could have it. He just made me so happy without knowing it.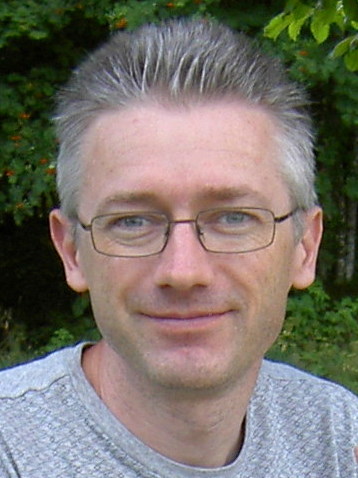 I was born 1967 in Stockholm, Sweden. I grew up in the small village Vågdalen in north Sweden. 1989 I moved to Umeå to study Computer Science at University of Umeå. 1995 I moved to the Netherlands where I live in Almere not far from Amsterdam.
Here on this site I let you see my creations.
I create, that is my hobby.
Copyright © 2015 - 2023, Jens Malmgren. Google Analytics is used on this site.