JENS MALMGREN
I create, that is my hobby.
Continued fixing the old house
This week, we painted in the old house and got another microwave oven.
Monday 21 February
This was a regular work-from-home day, the last week full-time from home. This will change from 1 March, then I will work from the office on Tuesdays and Wednesday mornings. Until then, I work from home, and I like that.
The wind had calmed down. It was raining very much. The water level in the pond was the highest ever. It was above the outlet of the drainage outlet from the roof, and that was no issue. The water level was also above the outlet of our sewer effluent. That was a little problematic, it never reached a critical height, but it was really close.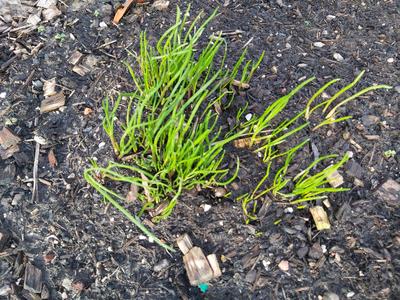 We had an afternoon break where we even had a walk in the neighborhood. We looked at our garden. The onions and the chive are coming up. That is nice to see.
After work, we went to our old house, and DW rolled out and taped protective paper along the street wall.
I am writing this on Wednesday evening, and it is actually a little blurry what we did and when. Instead of sleeping in the old house, we went to the new house.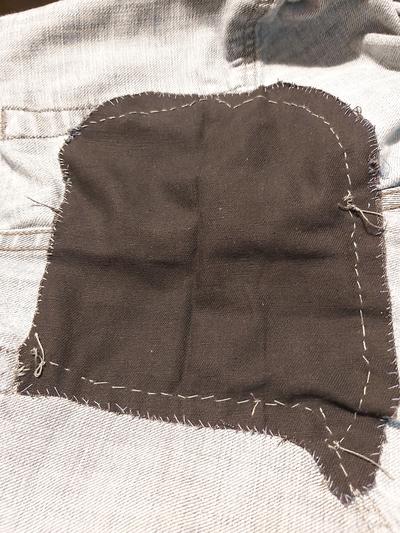 I practiced some needlework, repairing a pair of jeans. It will be great to have them repaired. This is the third pair I am working on. This need to repair came when I had to designate successively more jeans into work clothing every time I got too many holes, and at the same time, I also wanted to have nice clothing over. Repairing the jeans is the solution, then I can continue using the work jeans. I put a new piece of fabric on the inside and fastened it by hand on this latest pair. Actually, it is all hand sowing.
Today started the war in Ukraine. I remembered when the US invaded Iraq. It dominated the news, and I spent a lot of thought and emotional energy on that. Wars are absolutely disgusting, no doubt about that, but I am thinking about becoming cautious of what I am spending my energy on.
Tuesday 22 February
The rainwater subdued, the outlet pipes were visible again. The water level shrunk by a couple of decimeters. I am surprised it went so quickly.
We worked from the new house over the day, and in the evening, we went to the old house, had supper, and started scraping the old ugly paint from the wall we wanted to renovate at the roadside of the second floor.
In the evening, we stayed at the old house and slept over.
Rockets are fired, and tanks are rolling in over the border to Ukraine. I wonder how much carbon one tank is letting out? Here we are driving electric cars (not we just yet, personally), eating less meat, and what not to reduce our carbon footprint, and then Putin is letting out hundreds or perhaps thousands of tanks to drive around. It gives a feeling of meaninglessness. The world came together at COP26 just months ago to pretend to sit down to seriously discuss the matter of the climate. We are a couple of months later, and even a child can figure out that mankind is speeding in the wrong direction into an apocalyptic, run-away climate disaster.
Wednesday 23 February
Today I went to the new house myself while DW stayed at the old house and prepared the renovation of the wall further.
It was magnificent February weather!
I recorded a YouTube video about the progress of the house. It is unclear when I will have time to edit it and upload it to YouTube.
In the afternoon I went back to the old house. There DW and I started plastering the wall. We used Uniflott plaster this time. It has more glue content than regular plaster. It is essential not to leave any tools with Uniflott rests because it is really sticky and hard to remove.
Thursday 24 February
Today we had a full day of working from our new home. It feels sad that it is over with working from home. Next week on Tuesday I will go to work again. I will work in the office on Tuesdays and Wednesday mornings.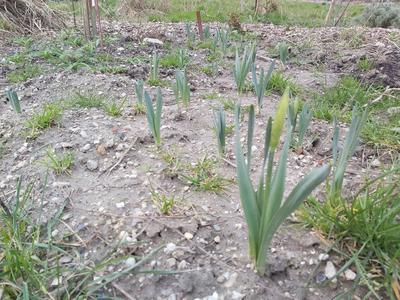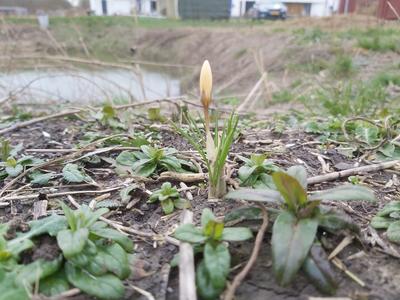 We had a walk in the garden. It is lovely to see things coming up through the soil.
In the evening we went to the old house and painted the wall towards the street. It was difficult. I used a lot of paint, so it will be necessary to dry before we paint another layer.
Today started Russia's full-scale invasion of Ukraine.
Friday 25 February
Today we had a regular work-from-home day. We did not work on the old house or do any DIY on our new house this evening.
Saturday 26 February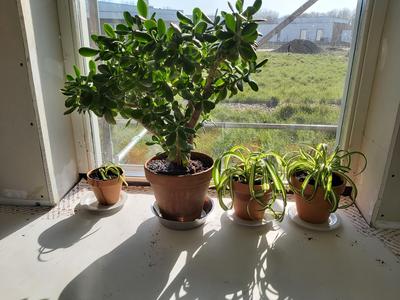 Today we first picked up boxes at family. There were so many boxes we had to bring our little trailer. We also got two plants and a microwave oven! When we returned to our new home, I first placed the newly received plants in new pots.
Then we went out in the beautiful weather and started planting the trees and bushes we ordered on 19 December 2021. Here is a table of the plants of the previous and current seasons.
| | | | | |
| --- | --- | --- | --- | --- |
| Latin Name | English Name | Dutch Name | Our Order 2020-2021, Comments | Our Order 2021-2022, Comments |
| Acer campestre | Field maple | Spaanse aak/Veldesdoorn | 25 | - |
| Amelanchier lamarckii | Juneberry/Serviceberry/Shadbush/Snowy Mespilus | Krent | 5 (but we got 3) | 5 |
| Betula pendula | | Ruwe Berk | - | - |
| Betula pubescens | Downy birch | Zachte berk | 25 | - |
| Fraxinus excelsior | Ash | Es | The top of the branch is called "goats feet" at this stage. | - |
| Carpinus betulus | | Haagbeuk | - | - |
| Castanea sativa | Sweet chestnut | Tamme kastanje | 25 | - |
| Cornus mas | | Gele kornoelje | - | - |
| Cornus sanguinea | | Rode kornoelje | - | - |
| Corylus avellana | Common hazel | Hazelaar | 25 | 5 |
| Crataegus laevigata | | Tweestijlige meidoorn | - | - |
| Crataegus monogyna | Single-seeded hawthorn | Eenstijlige meidoorn | - | 25 |
| Cytisus scoparius | | Brem | - | - |
| Euonymus europaeus | | Kardinaalsmuts | - | - |
| Fagus sylvatica | | Beuk | - | - |
| Fraxinus excelsior | | Gewone es | - | - |
| Hippophae rhamnoides | Sea-buckthorn | Duindoorn | 25 | - |
| Ilex aquifolium | Holly | Hulst | | - |
| Ligustrum vulgare | Wild privet | Wilde liguster | From mother in law | - |
| Lonicera xylosteum | Fly honeysuckle | Rode kamperfoelie | 25 | - |
| Malus sylvestris | European crab apple | Wilde appel | - | 5 |
| Mespifusgermanica | | Wilde mispel | - | - |
| Populus alba | White poplar | | | - |
| Populus nigra | | Zwarte populier | - | - |
| Prunus avium | Wild cherry | Zoete kers / Boskriek | From neighbors | - |
| Prunus padus | | Inheemse vogelkers | - | - |
| Prunus spinosa | Blackthorn | Sleedoorn | - | 10 |
| Quercus petraea | Sessile oak/Cornish oak/Irish oak/Durmast oak | Wintereik | 25 | - |
| Quercus robur | | Zomereik | - | - |
| Rhamnus catharticus | | Wegedoorn | - | - |
| Rhamnus frangula | | Sporkehout/Vuilboom | - | - |
| Ribes nigrum | Blackcurrant/Cassis | Zwarte bes | 10 | 4 |
| Ribes rubrum | Redcurrant | Aalbes | 10 | - |
| Ribes uva-crispa | Gooseberry | Kruisbes | 10 | - |
| Rosa canina | Dog rose | Hondsroos | 5 | - |
| Rosa rubiginosa | Sweetbriar | Egelantier | 5, the tag of this is missing. Just guessing. Later on, the leaves will smell like sour apples. | - |
| Salix alba | | Schietwilg | - | - |
| Salix aurita | | Geoorde wilg | - | - |
| Salix caprea | | Boswilg | - | - |
| Salix cinerea | | Grauwe wilg | - | - |
| Salix fragilis | | Kraakwilg | - | - |
| Salix triandra | | Amandelwilg | - | - |
| Salix viminalis | | Katwilg | - | - |
| Sambucus nigra | Elderberry | Gewone Vlier | 25 + Branches we planted 2020. | - |
| Sorbus aucuparia | Rowan/Mountain-ash | Lijsterbes | 25 | - |
| Tilia cordata | | Winterlinde | - | - |
| Tilia platyphyllos | | Zomerlinde | - | - |
| Ulex europeus | | Gaspeldoorn | - | - |
| Ulmus laevis | | Steel-/Fladderiep | - | - |
| Viburnum opulus | Guelder rose | Gelderse Roos | 25 | - |
We already planted Crataegus monogyna bushes earlier. This time we had only to plant the rest. I wanted to better understand what we planted this time, so I made name tags for each plant. It is questionable how long we will keep those name tags, but I forget what the different sorts look like.
I am looking forward to taking portrait photos of the trees and the bushes to show how they develop.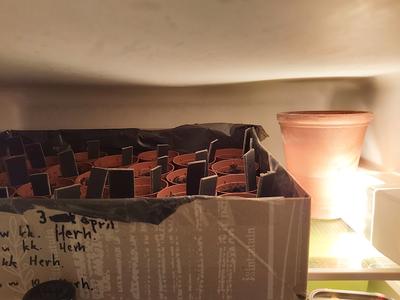 In the evening, I placed the pre-potted seeds in the fridge. I prepared them on 5 and 6 February, and now it was time to put them in the fridge. The pot will stay in the fridge until 19 March, and the small buckets want to be in the fridge until 3 April. I suppose it will be challenging not to forget to give them water in the fridge. I have to think about that.
We worked a lot this week; as you might notice, I have not had time to write much on the blog.
Sunday 27 February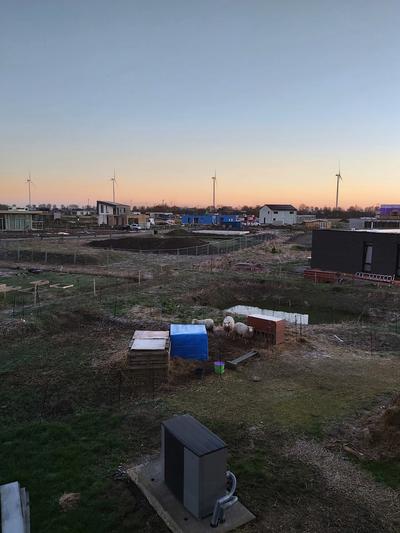 It was a crisp, beautiful morning. The sheep looked at me when I took the photo out of the bedroom window. It is as if they are thinking, "What is Jens doing?" You can see in the photo that the building fence towards the northeast neighbors is closed again because they will start the activities for building their house next week. Since the storm Eunice, their fence is still lying on the ground along the road. That part of the fence will be restored next week as well.
It has been great to have our sheep grazing on their plot. You can see a green box at the neighbor, the construction site electricity box if you look carefully. The sheep could grace beyond that all the way to the east border of the plot.
I hope to have the sheep grazing the areas between the borders of the plots in the future. We will see how that goes. It is much easier to have the sheep grazing than trimming the weed with a brush cutter. That is for sure.
We made a to-do list while eating breakfast:
Make sure the trees and bushes we planted yesterday had enough soil and that the soil was orderly compacted.
Move the boxes we got yesterday from the trailer to the new house.
Plant onions
Moved in the microwave oven and the toolbox.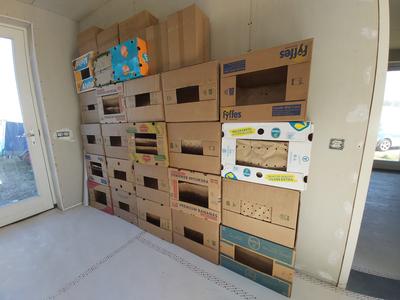 I placed the boxes along the east wall of the hall between the workshop and the washing room. When we need them to move things from the old house, we will bring them there and pack them with stuff. It would have been nice to put the boxes in the old house right away, but we need to use our space carefully in the old house.
DW planted onions in a bed in our vegetable garden. We had so many onions that she planted them among our shrubs on the dyke at the north side of the house. Later I discovered she had put a chunk of grass on the sheep net. It was crackling, which is a little annoying when you want to sleep.
The microwave had a regular oven feature as well. No idea how that was going to work, but it was promising. Perhaps we could have pizza this evening?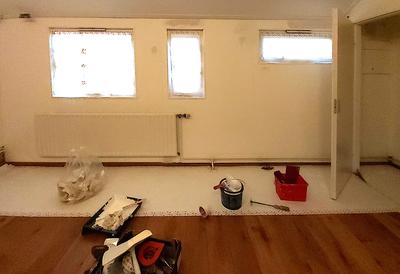 Then we went to the new house to see how the painting had dried. It was not pretty because I had used so much paint at some problematic places that it cracked and curled up. I had to scratch it from the wall again on those places and then redo everything. I plastered only the problem places again. When the plaster is dry, we can come back and paint again. This time it will be a thin layer of paint, I promise!
In the evening we tried the new but old microwave oven. We had pizza for dinner! The microwave oven has a heating element so that the pizza is getting regular heating and microwaves. I was skeptical that it should work, but the pizzas came out from the oven in eatable form. That was great!
This concludes this week's blog. It was a little thin, but somehow my energy went into other things than writing the blog. We started fixing things in the old house, so that was new. We are also comfortable sleeping in the new house. So much so I wondered if the old house was still our home, emotionally speaking. DW still thinks so.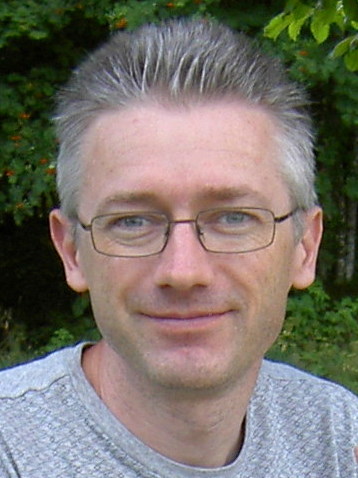 I was born 1967 in Stockholm, Sweden. I grew up in the small village Vågdalen in north Sweden. 1989 I moved to Umeå to study Computer Science at University of Umeå. 1995 I moved to the Netherlands where I live in Almere not far from Amsterdam.
Here on this site I let you see my creations.
I create, that is my hobby.
Copyright © 2015 - 2023, Jens Malmgren. Google Analytics is used on this site.