JENS MALMGREN
I create, that is my hobby.
Plastered the southeast bedroom
My wife plastered the southeast bedroom this week. We had a winter storm, and I started germinating seeds for our garden season.
Monday 31 January
We had decided to continue on working from the new house. My goal is to start working at 8 in the morning, but we were a little late actually. That stressed me that I decided to do something about it, get out of bed earlier.
Today we had the storm, Corrie. It emerged on the west side of the British islands, passing north Ireland going north Scotland on Sunday evening and night. Then it bowed down towards the Netherlands and arrived on Monday.
Here I looked up the storm in Earth Nullschool. I find it interesting to see where the storm was and how strong the wind was.
Here is a slideshow with the wind speed at the surface. It is easier to find the storm's core slightly higher altitude.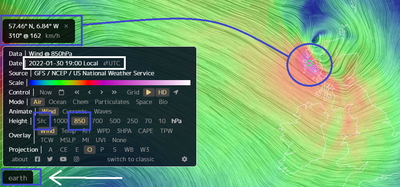 Press the earth button to get the menu and info panel. The row height has several options. The default is surface "Sfc." Switch to 850 hPa, approximately 1.5 kilometers above MSL, to make the storm's core more "visible."
Here at 19:00 UTC, right outside the west coast of Scotland at 1500 meters (850 hPa), the wind speed was 162 km/h. At the surface, it was more than 100 km/h, which is also really vile.
You can press arrows to go forward or backward in time in the row control. Below, I walked over the storm's path until it reached the Netherlands.
| | |
| --- | --- |
| | Outside the west coast of Scotland, the storm had a wind speed of 95 km/h. This was 30 January 14:00 UTC. |
| | Closer to the coast, the storm increased the wind speed. Here it was over 100 km/h at 17:00 UTC. This is Beaufort 10, with extreme winds. I think there is a tiny island called Saint Kilda; I might be wrong. |
| | At 20:00 UTC, the eye of the storm was over the northern tip of Scotland. |
| | At midnight 00:00 UTC, the strong winds were on the east side of Scotland. |
| | At 06:00, Monday morning, the eye was between Denmark and the Netherlands. It was pretty hard winds over the dogger bank in the Atlantic. |
| | Between 8:00 and 11:00 UTC, the wind speed was 55 Km/h, corresponding to Beaufort 7, where I live. |
It was the first time we spent time in the new house during a storm. It was interesting. I was doing office work from our new house.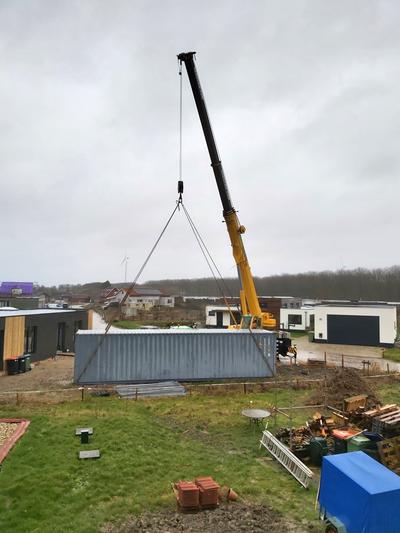 Today the builder at our neighbors decided to remove their sea container. I thought it was terrible timing to use a crane during a storm, but this was in the afternoon, so the storm was already subsiding.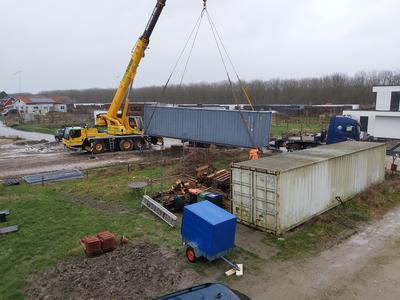 We got used to the sight of the gray container next to our container. Now we got the horizon back again. It was nice.
Some neighbors can have the same feeling about our sea container. We still use it very much and will continue to do so for a while. At some point, we will sell it. That has no big priority right now.
This was the first day of my wife's home improvement week. She plastered in the southeast bedroom.
Tuesday 1 February
Today we got out of bed much earlier. That worked well; we arrived on time. My wife continued plastering, and I did my office work from home.
It was raining a lot today. It was the trail of the storm corrie that brought the rain with it.

We had decided to eat leftovers at the new house and spend the evening and sleepover to Wednesday. We still got no real kitchen, we got an electric stove, but we usually heat leftovers with a microwave oven. I used pans with some water and warmed the dish slowly without burning. It was not easy.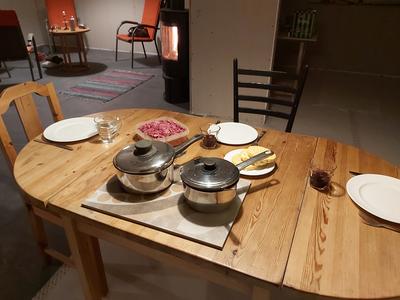 Eventually, we could eat our first simple leftover meal at the new house. I had lit the woodstove to make it more enjoyable. It was great!
I wish we had a microwave oven because we had a little more freedom to prepare the dish. It would be even better if we had an oven with a grill, but a simple microwave would also be better than pans.
Wednesday 2 February 2022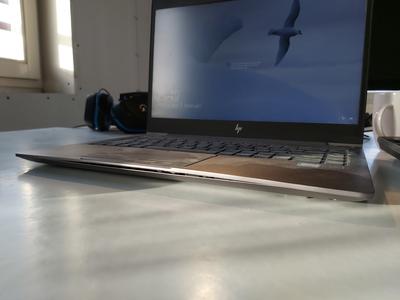 Today I first had work from the new home before noon and then DYI in the afternoon. Usually, I don't talk about anything happening at work because I keep work and private life separate. Today I make a minor exception for this. I was happily programming for my employer as I usually do. I noticed that my work laptop was bulging a little. I sent a note to our IT person, but he was busy and did not pay much attention to me.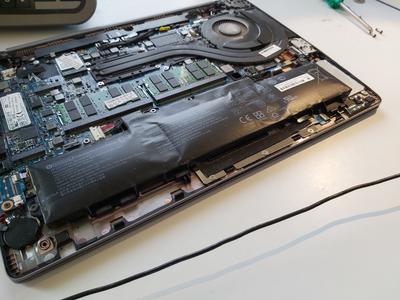 I prepared a cup of coffee and thought it was annoying, but no big deal. When my coffee was finished, IT still had not responded. I thought that IT might notice if I dramatized my message a little more. "If you never hear from me again, I died due to an exploding HP laptop." This time I got quick attention; He called me, "Jens, turn off the laptop immediately." Then I actually got a little regret for my dramatization, on the one hand. On the other hand, it perhaps is that bad after all?
I turned off the laptop and opened it, and indeed the batteries were swollen. The motherboard liked to get rid of the pressure already. That was a win.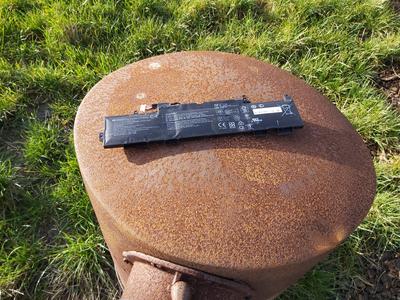 Then I could remove the battery from the laptop. It had tiny Torx screws that held the battery in place, but I had that, so that was no big deal. With the battery removed, it was easy to see what the spare part should be ordered, and the now loose battery could be placed in a safe place in the outdoor fireplace. We will bring it to the recycling center when we go there next time.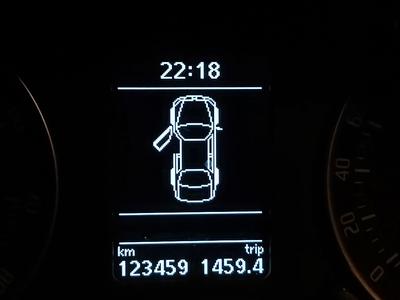 You have days with unique numbers; this is one such day. Today our car has been driven 123456 kilometers. I missed it with 300 meters. Bummer.
We received the paint from Duller and Co today! This is a new bucket of Auro paint. I do hope there are no flakes in it.
Thursday 3 February
Today it was raining a lot the whole day. I have not let out our rain gauge yet, so I don't know how much it rained. The list part of Jens is saying it is a pity that the winter part of the rain measurement list is missing. The garden part of Jens says that it is wet enough, and you don't need that list during the winter anyway. Our rain gauge is made of plastic and is perhaps 30 years old. It cannot handle any frost temperatures, so it has to stay in our sea container until the time is right.
After a storm, I noticed that there is usually a trail of rain following. It rained and rained throughout the day.
Today the staircase builder came to us to discuss how we would like to have the stairs. We got a local staircase builder in this city, which is nice. We decided on rustic style oak steps and bumper plates. The stair stringer would be pine tree lumber painted white. I requested pillars for the southeast and northeast corners of the stairs enabling a future scaffold to be built on top of these stairs if I so wish.
It turned out that the people we bought the scaffold from also hired this staircase building company. We are walking in their footsteps. They came to us on 5 July 2020, 578 days ago, or one year, 6 months, and 29 days. You might figure I like the date difference calculator. After that, we bought their scaffold, and it is still decorating our house. When the weather is right, I will go out and finish the things around the windows to prepare for taking down the scaffold. We will need to build it on the back of the house because we need to get to the roof.
It was an excellent constructive talk to the staircase builder. It sounds as if this will be beautiful.
My wife worked on plastering the southeast bedroom. It is tiring, she is not happy about it.
Today arrived the replacement battery for my work laptop. I will install that tomorrow.
This evening we went to our old house.
Friday 4 February
This morning it was not that windy. We were leaving our house well on time. Outside our old house, there was a blackbird singing.
I recorded the bird with my mobile phone. Here I filtered out the noise with Audacity. The blackbird was common around our old house for many years. Then it disappeared. I am glad to hear that it is coming back. I would bring a blackbird and our hedgehog to the new house if possible.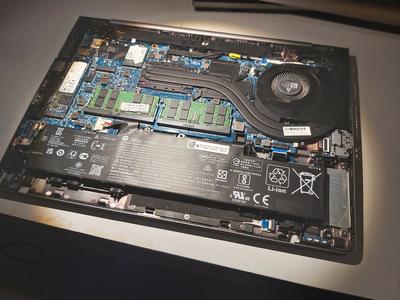 We went to the new house, and the first thing I did was install the new battery on the laptop. It was easy. Then I worked the rest of the day with that computer, and it is its own usual self again.
My wife plastered the southeast bedroom. She has now come to apply the finishing touch layer. When I worked on the northeast bedroom, it felt tiring. I recognize her feelings.
We decided to sleep in the new house. My wife made a salad, and I went to the local french fries restaurant and bought a family bag of french fries.
Perhaps my writing on this blog has not been that inspiring lately. It does not feel like so. On the one hand, it feels I could improve my writing, but I also have the feeling that it is what it is. It is also so that plastering is not that inspiring work. Especially not when being a bystander.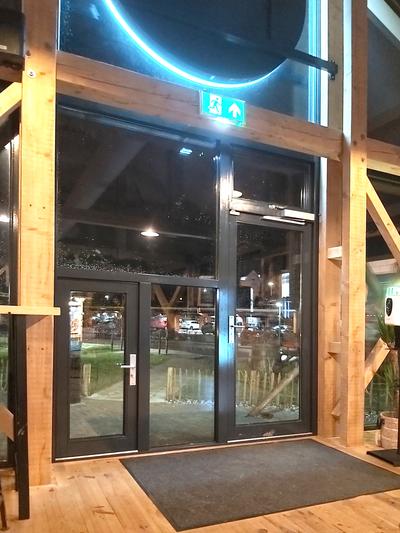 In the evening we stayed at the new house. We had soup with us, but that was for Saturday. While I sat waiting for my order at the french fries restaurant, I noticed a door for small people who liked it a lot. They had errands to carry out involving using the small door.
Tomorrow is my wife's birthday.
Saturday 5 February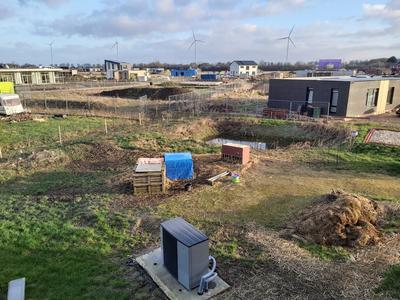 It was great to wake up in the new house. It was a somewhat sunny morning, but it got windier and wetter as the day progressed. My wife wanted to finish another layer of plaster the first part of the day, and during the second part, we had decided to go to second-hand shops in Eemness and Huizen. I had a third part of the day that perhaps could be arranged, that friends came over on a snack.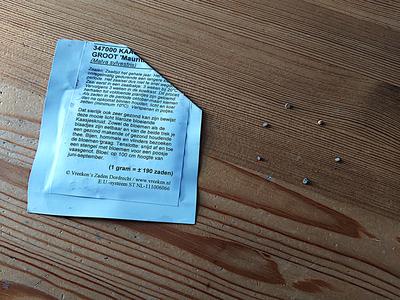 But first, my wife plastered. While she was doing that, I had a look at our seeds, especially Malva Sylvestris. This sort has elaborate instructions on how to germinate the seeds. First, plant the seed in the soil. Let this stay at 20°C for three weeks, then three weeks in the fridge and then 20°C again, and so on. I decided on trying this with six of the Sylvestra seeds.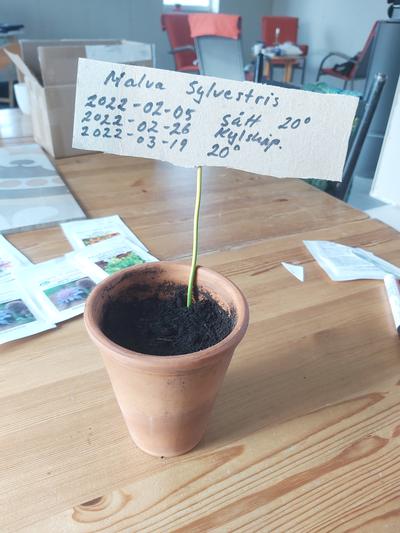 I want to try it. It is something new for me (and us) to follow seed instructions rigorously, but it could be nice to have some plants of this, so if you don't try, you will not know how it works. I made a sign so that I could follow the scheme.
The seeds will germinate at different times. I will try to migrate germinated seeds to another bucket so that this pot can continue cycling back and forth between the fridge and the window niche.
Then we went on our second-hand shop tour. Especially oudebouwmaterialen.nl was exciting. I had measured our doors to be 93 x 233 centimeters, and I wanted to see if they had any doors of that size.
There were good candidates. I am wondering about the thickness of the doors how that will work. That is something I will need to figure out later.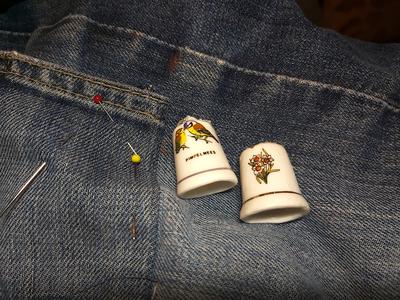 On our second-hand shopping spree, we found two ceramic thimbles. One with a bluetit and the other with daffodils named Flower Record. The ladies at the shop did not believe that I was the person who would use them. The thimbles even had a little stripe with gold. The top of the thimbles had indents for getting a grip of the needle, but I added a bit of silver ducktape to improve this a little. Silver ducktape is helpful for so many things.
I started repairing the jeans I had while we were building the house. The needle is incredibly sharp, so I need to have something to protect my fingers, especially when the needle needs to go through Jeans' fabric seams.
I have been interested in the environment for a while, and one of the worst environmental villains is the textile and fashion industry. If I put on a couple of patches, I can use the jeans another year. I made the patches from a back pocket.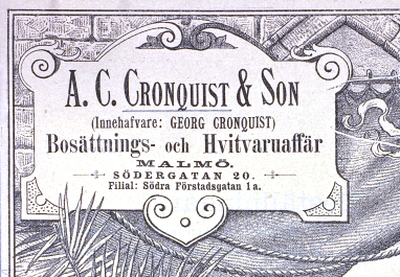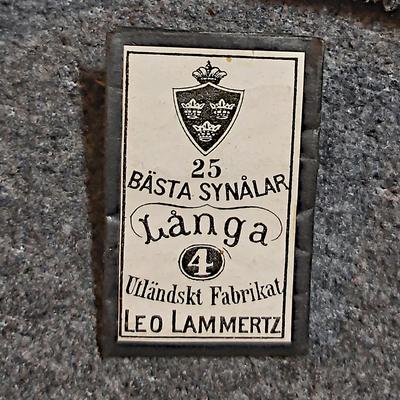 The needle package is Swedish, and I find that really funny: Leo Lammertz bästa synålar. So the needle itself comes from Leo Lammertz in Germany, but the packaging is Swedish. It looks like it comes from A. C Cronquist and Son in Malmö.

My wife got these needles from her grandmother. That makes them perhaps one hundred years old. When I searched for this needle brand, I found a forgotten server of the Royal Swedish Library in Stockholm with a pamphlet from a shop in Malmö that had these needles 5 Öre for 25 needles. The server has no TLS certificate (HTTPS), so you cannot download the PDF with Chrome. You have to use a less secure browser.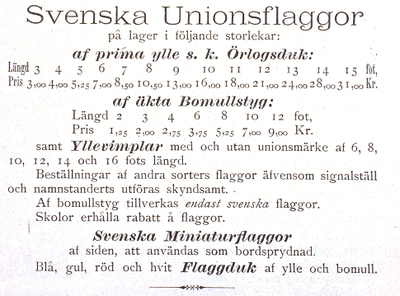 The pamphlet is written with old Swedish spelling, and the pamphlet also sells the union flag. I can not find a date in the text, but this indicates a time well before the union was resolved. The flag became increasingly less popular during the 1870s, so the pamphlet is from before 1870.
A.C Conquist and Son were founded by Anna Christina Cronquist. She managed to build the company without the necessary rights as a woman to own and run a business. Sweden was late in giving women the right to vote. That came in 1921.
I find it fascinating that I come across stories and places on the Internet I would otherwise not have discovered if I had not started to repair my Jeans.
The mystery remains why my wife's grandmother has German needles in Swedish packaging from around 1860 until 1900. A journey to Sweden?
We stayed over in the new house.
Sunday 6 February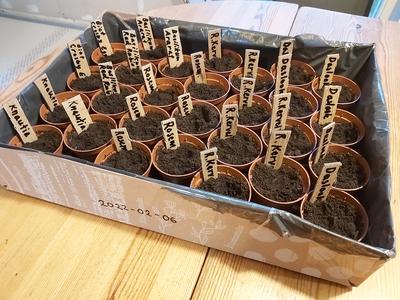 Today my wife started painting the primer.
I went to the garden center and picked up planting cups to germinate more seeds.
The seeds we got now were ordered from Vreeken last year on 29 October.
We had more sorts of seeds with elaborate germination schemas:
Wood Garlic, Ramsons, Daslook.
Sweet Cicely, Roomse Kervel
Rosemary, Rosemarijn
Field Scabious 'Blue', Knautia
From the previous season, we had leftovers:
Biet "(Early) Crosby's Egyptian"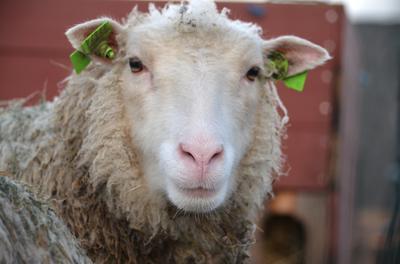 I could not figure out when the two sorts of basil were ordered. They come from Vreeken, but I don't have them on my list. Now I have them in my pots, that is not bad. We will see how they develop.
All other sorts in the pots are germinating with a sequence of warmth, followed by cold, then warm again. We will see how I manage to handle this schema. Will the fridge handle the plants that have to be cold?
For a brief moment in the afternoon, there was a golden light.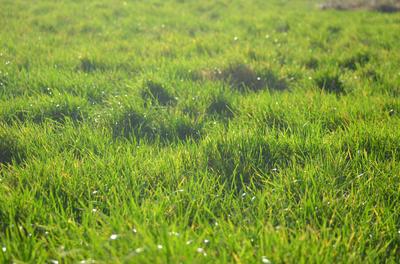 I went out and took a couple of photos; there was a nice moment when I could take a photo of Bea through the opening of the fence. She looked at me with her usual honesty. The moment came and went within milliseconds. She turned around and did other things, so I could not take a new photo of her slightly more in the center. Then I took a photo of the grass in front of our house. This photo can work as a background when we meet with colleagues online.
Then I helped my wife with priming the walls of the southeast bedroom.
In the evening we went to our old house to eat and sleep.
This concludes this week where my wife worked in the southeast bedroom. I worked for my employer, from the new house. I started the planting season.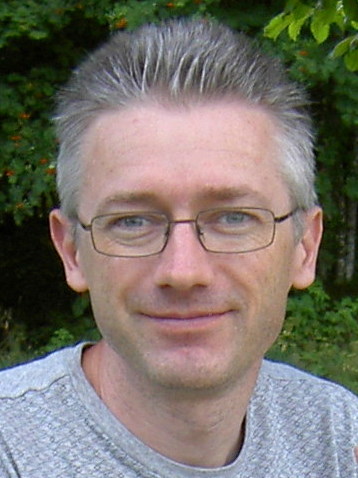 I was born 1967 in Stockholm, Sweden. I grew up in the small village Vågdalen in north Sweden. 1989 I moved to Umeå to study Computer Science at University of Umeå. 1995 I moved to the Netherlands where I live in Almere not far from Amsterdam.
Here on this site I let you see my creations.
I create, that is my hobby.
Copyright © 2015 - 2023, Jens Malmgren. Google Analytics is used on this site.