JENS MALMGREN
I create, that is my hobby.
The second week of working from the new house
This week we had to address the issues with working from the new house. Finished the temporary kitchen sink.
Monday 24 January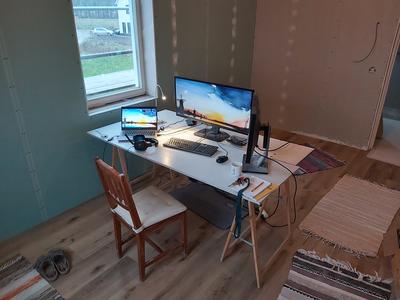 On Monday I brought with me my bigger monitor. I had to have more room for the monitor, which could be arranged by adding a second plate on the trestles.
Our daughter and son came with us today. We worked in the house, and they enjoyed their time. More people were using the Internet, which was not working flawlessly, especially when my wife was teleconferencing with her colleagues.
Our daughter got her driving license, so she wanted to practice driving our car; she drove to a local supermarket at lunch. In the evening, she drove to our old home as well. We did not do anything in the new house in the evening. Instead, we played "Rummikub" and enjoyed each other's company at the old house.
We decided that my wife would work from the living room tomorrow because that is closer to the router. Perhaps that would work.
Tuesday 25 January
As if lousy wi-fi has a life of its own. The situation with the wi-fi got worse on Tuesday. My wife sat in the living room, and her colleagues could barely understand her. There is something with a voice on laptop speakers that I dislike really much; the sound is not pleasant. Now I got more of it, and it did not even work correctly.
There are two issues:
The wi-fi is not stable enough. This is unfortunate because we have a 200 Mbps glass fiber connection, but my wife usually gets 20 Mbps or less.
The echo in the rooms is detrimental to sound processing, such as the voice being less understandable.
We decided to buy a headset to overcome the echo of the rooms. Then I decided to get the wired UTP network of the house up and running. I ordered UTP cables, a Jabra Evolve 20 ii headset for my wife, and a switch with 48 ports. I also ordered a network tester. Theoretically, everything except the switch would arrive tomorrow. How is it possible that things can be delivered the day after?
In the evening, I worked on the kitchen sink. I gave the bench a support beam so that the bench was sturdy. I also lowered the bench to a better working height.
We stayed into the evening because our son's mattress was delivered late. It arrived late indeed. Then we went to our old house to sleep. This evening we had prepared the stay with a lentils stew. It was delicious. I really liked working into the evening.
I made the entire bench lower to make it easier to work with the new bench. I had to cut the lowest plank all the way around. It worked out pretty well!
Wednesday 26 January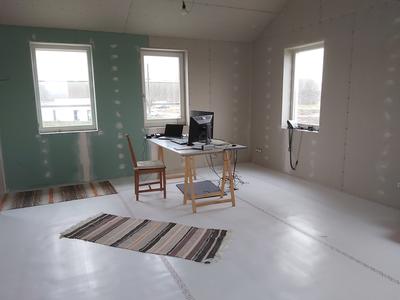 Today I worked in the morning for my employer. In the afternoon, we moved my desk to the hobby room. That way, the southeast bedroom is empty and can be worked on for tasks such as plastering and painting. My wife started working on that while I worked on the kitchen sink.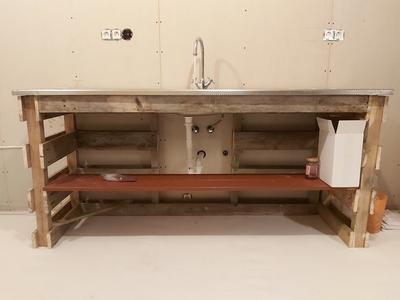 In the evening, I got the sink working! Now that was a great feeling! We had the option to call in our plumber, and he would come and fix this in 30 seconds, I am sure, but here it was the challenge to get this working just by our own means.
It is not so that I am thrifty and don't want to award our plumber with the job, but he is busy with more profitable commissions, and I really had pleasure in figuring out how this was supposed to work. I had bought a standard siphon, and sure enough, it could be screwed onto the basin.
The fitting was fitting!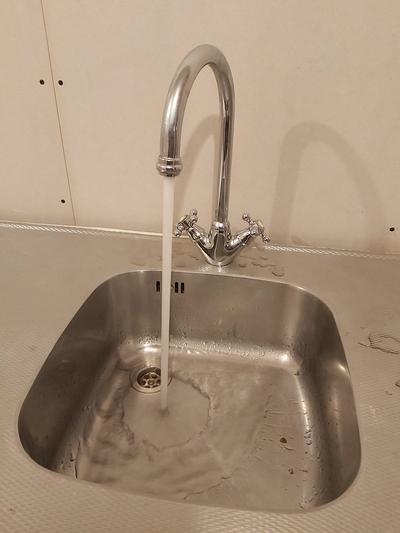 Then, there was a sleeve in the wall to fit a 40-millimeter pipe in the other end. I said to my wife, this is a puzzle someone shuffled for us. Now we need to fit the pieces together. I held the siphon in the air ("air-fitting") and figured we needed a 40 millimeters white pipe, a double-sided 40 millimeters sleeve, and PVC glue to get this puzzle together.
My wife was not convinced. "Should there not be a plug and play connection at the wall as well?" We juggled the issue back and forth, googled for answers, and in the end, I made the conclusion that a one-meter white 40-millimeter pipe and a double-sided sleeve were all the stuff we needed. My wife was still not convinced. Look, I am not a plumber. I am a software engineer. A senior full-stack software engineer. I might have designed this house in Fusion 360, but I am not a plumber just yet. There was the apparent option we put this plumber project on ice and call in the professionals. Like three or four weeks later, they might appear and fix this 3 minutes task, or we do it ourselves.
We did it. The temporary sink works with a 40-millimeter pipe and a double-sided sleeve. I went to buy these items, and when I came home and viewed the receipt, I noticed that the cashier had not charged for the 40 millimeters white pipe! I placed it on the conveyor belt, and I recall her picking it up and trying to enter the code into her register. It was not on my receipt!!! The sleave was on the receipt, though.
That means that the entire temporary sink project has the following cost:
Sink €35
Crane €30
White PVC pipe 40 millimeters in diameter one meter long, 0€!!!
White PVC double sleave 40 millimeters €1.09
PVC glue bought for another purpose €?
White siphon set €5.86
Stop cranes 2 times 9 euro.
We used screws and Teflon thread tape, but that was bought for other projects, so it does not really count for this project.
With all considered, the temporary sink project total is 90€. Not bad at all!
We will not be as cheap with all our inventory for the new house. It was a challenge for this project, but next time we might buy gold plated doorknobs; who knows. Especially if the cashier forgets to register the item on the conveyor belt!!!
The evening packages arrived with internet things, cables, a network tester, and a headset for my wife. I really wanted it to be possible to work from the new house. It has been evident that echo is not handled favorably on mobile phones. We had nothing to eat with us, so we were hungry and tired when we got to our old home.
One package had not arrived. It was a bag of 50 RJ45 contacts for montage on the UTP/FTP cables. Instead of waiting out our hunger even longer, we decided to go home and let the package be delivered somehow. No idea how. They delivered the package to our mailbox.
I really wanted to control our sleep deficit better this week; we went to bed in a timely fashion this Wednesday.
Thursday 27 January
That said, Thursday morning, it was tough to get out of bed anyway! This was regular work from the new home day. It was overcast, and it rained; I do think it was the first time it rained for a long time. We had a minimal amount of sun this month.
Today the network switch arrived! I told the person in the package van that soon we would know each other, he wished me a good afternoon.
It is a 48 port switch. I noticed right away that the box was bigger than I had anticipated. I checked the switch's size and concluded that it probably would not fit in the utility cupboard. I held up the switch in front of the cupboard and realized it would not fit at all. I had no idea it would be that big. But how much is 25 centimeters anyway? My research was not done correctly; the cupboard was narrower than I had thought. The three first letters in assumption were me.
Now I had a great managed switch but nowhere to put it. I started pondering about solutions to this. I figured I could make an extra cupboard extension on top of the utility cupboard. It will look a bit strange, but it will work. Now I wonder how this will work with our electrician?
Friday 28 January
This was regular work from our new home day. To my surprise, the electrician called me! That is way better than trying to get his attention, which usually works a couple of days later. He wanted to borrow my tiny trailer. While at it, I could talk about the network switch with him. He understood what I was saying but wanted to see the situation in real life.
Moments later, he came to us to discuss the network switch. He agreed to my plan and said he could reroute the cables to the switch when it was in its new place. I thought I had to do that myself; this was much better. He has something about having people change his cables; he doesn't like that. That is fine; I want the network cables to arrive in a switch; that is pretty much all I need; if he insists on doing that, then fine by me. But that was for another day. Today he came to borrow the tiny trailer. It worked pretty well; he connected the trailer to his enormous bus and drove off with our trailer. Later in the afternoon, he brought it back in the same condition.
After work, my wife cut my hair. I had to look decent for tomorrow, we were going to a funeral.
Saturday 29 January
The weather today was drizzly. Total overcast and thin horizontal rain. We went to the funeral of my wife's mother's brother. I picked out my portable keyboard to blog on the train, and it was a long time ago that I did that.
Joop was an extraordinary person. My wife called him uncle Joop. He had a medal of the Dutch queen, making him a real knight, awarded for his work within breast cancer surgery. He was renowned for this work nationally and internationally; besides, he was a very kind person.
The ceremony was held in the middle of Amsterdam along the Keizersgracht. It was a former church now used for ceremonies of various kinds. This is still amid a pandemic; one must wear masks when walking, and when sitting down at the table, it could be taken off. It worked fine; everyone obliged to this rule.
When we arrived, it was all gray. The sun came through the clouds during a piano concerto and filled the space with golden light. Joop was passionate about cultures, such as classical music, art, and museums. He studied old greek literature and traveled to cultural sites around the world. I found it really beautiful that the sun came through and lit up the room while the music played.
When we came home, we were tired. I planted 20 bulbs of oxalis adenophylla. It is also known as Chilean oxalis. It is pretty good at handling frost, but it can quickly rot in the winter, so we will see how it works in our conditions.
It felt strange to have been to a funeral and then stand here planting bulbs.
In the evening, we decided to stay over at the new house for the first time in more than a year. This was a different experience. Back then, the isolation fell down from the ceilings, and we had water in a bottle, cooking at a camping stove. We slept on isolation material that later would be used in our walls and ceilings.
This time we had a real bed. We ordered pizza to be delivered to the new house, and we lit a fire in the woodstove. This was a pleasant moment. I do want more of these moments. We cannot order pizza once per week, well we could probably do that as well, but we would not like to do that. I have been longing for this moment for a long time. It is essential to have these rewards to fuel the energy to finish building the house. We still have a tremendous amount of work to do before moving into the house, so we really need to continue going.
It would be good to cook simple meals on our electrical furnace to spend the evening at the new house and then sleepover at the house. We will see how this unfolds.
Sunday 30 January
Sunday morning, I woke up very well. I missed my "own" pillow and forgot my shaving machine, so I looked unshaved today. Fortunately, I had a new haircut; otherwise, my appearance would have been worse.
We got a visit from neighbors that wanted to borrow our ground drill. That was nice.
It was pleasant weather today. Not that windy, and the sun could be seen, although it was a little shy at times. No wonder it is shy after being absent for almost a month.
My wife plastered in the southeast bedroom, which will be my office and somehow a guest bedroom. The room is also called the daughter's room, but she is living elsewhere, so that will only happen occasionally, and if I am going to use it as an office, it will not be convenient to have our daughter live there for a longer time. I have a possible escape in the hall upstairs where I could work if our daughter came for a more extended time.
I had tasks outside: I moved two shrubs to better places. I pruned half of our willows. Two of the branches I gave away to neighbors and two I planted again.
Do you recall the paint issue we had with the Auro paint? We got a really professional answer from the company. We are doing business with Duller & Co, and they are the people we are talking to. They sound like great people! They offered a solution that we are happy with. That means we will order more paint from this company. We still have the flakes on the ceiling and the east wall of the northeast bedroom, but we will not feel sore about that. This time we will also order the primer. That is a primer made for the paint, and it will be so much better to paint without a white primer.
In the afternoon, we had a go at trimming hoves of Bea and Hannah. It was the fourth time I put a sheep on the rump. Bea fenced with her legs, and that was annoying. Hannah was sweet and calm. Selma still limped a little, so we got more work with her, but we decided to do that tomorrow. After their treatment, I gave them food supplements directly from my hand. That was highly appreciated. I had to renew the ladies' confidence in me. Especially Selma has a better memory than Bea and Hannah; Selma is skeptical of me after being put on the rump for the second time. This is all something we have to learn. This time I decided to roam around the girls after the treatment and give them their candy, and it was feeling good for me. They calmed down, I calmed down, and we were all happy when we left them on their own.
Here ends this week's blog post. We had our second-week work-from-the-new-house mode. It was not as great as the first week because the WIFI speed was not equally good throughout the house. Not only that, we learned that echo is challenging for VoIP systems. I decided to use the data cables we installed in the walls and get decent headsets. This was the solution; headsets with noise reduction microphones work the best in rooms with echo. This is not to be confused with active noise cancellation, a system where a speaker plays the anti sound to cancel surrounding sounds. The network speed jumped to the promised 200 Mbps so that both my wife and I could work and talk to our colleagues.
The best part of this wee was that we slept in the new house for the first time in a year!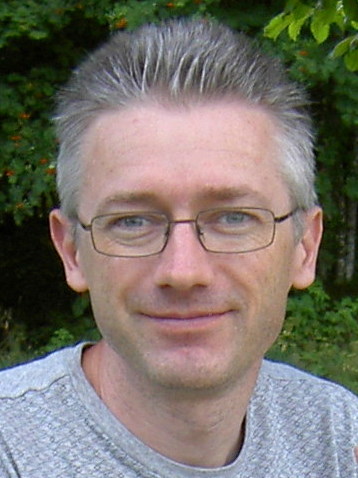 I was born 1967 in Stockholm, Sweden. I grew up in the small village Vågdalen in north Sweden. 1989 I moved to Umeå to study Computer Science at University of Umeå. 1995 I moved to the Netherlands where I live in Almere not far from Amsterdam.
Here on this site I let you see my creations.
I create, that is my hobby.
Copyright © 2015 - 2022, Jens Malmgren. Google Analytics is used on this site.