JENS MALMGREN
I create, that is my hobby.
Started plastering the bedroom hall
This week I started to plaster the bedroom hall.
Monday 13 February, Week 7
Today I worked from the office as I usually do. In the evening, I worked on my song "Build that house." I decided to publish the song. You can go on tweaking forever, but at some point, you have to decide that now it is done. That decision came this evening.
Tuesday 14 February
In the morning, I discovered that the song was available on music.youtube.com. It was not available on other platforms.
Wednesday 15 February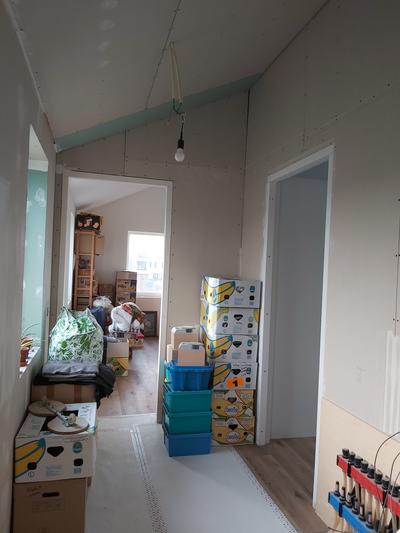 Today DW went to a conference. I had my regular half-day of work and half-day off. After work, I started on the next plastering project: The small hall on the first floor. When I designed this house, the hall on the first floor would be L shaped, and it is. But the builder constructed the ceiling as if there was a big door opening. In my design, the ceiling continued between the two spaces. We will not put a door in this opening, but it does not look like a continuous space, which is a pity. So this minor part of the hall on the south side of the house is the place for the next plastering project. I will call it the bedroom hall because it is adjacent to the bedroom.
The boxes from the bedroom hall were moved to the hobby room. That was mainly DDs boxes. I have no idea when she will come and pick them up. For now, we will move them around the house. There will be a moment when I start to sort through DDs boxes and bring unwanted things to the recycling center, but we are not there just yet.
Here in this hall is also a utility corner. On the wall, we got the distribution unit for the first-floor heating. The transformer for the solar panels is also mounted here. Later on, I will build a cupboard around these things.
When DDs boxes were out of the way, I moved the ladder, lamp, and small scaffold to this room. Then the real work began: Put metal corner strips on all outer corners.
My work ended when I had to go and get DW from the train station.
This afternoon my song came out on Spotify!
Thursday 16 February
I worked from the office today. No DIY. I told about the song at work, and my colleagues got enthusiastic about it. Playing the song on a smartphone is like eating Michelin-star restaurant food from a paper bag on a street corner. Nevertheless, it got heard and gathered streams. Also, people without a Spotify account and the app installed can rather play it on youtube because the Spotify user interface is so confusing when playing a song from a link.
Friday 17 February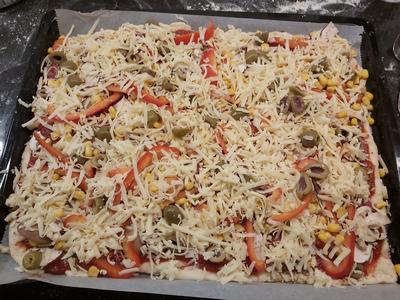 Office work again. After work, I baked homemade pizza! I tried a recipe with baking soda instead of yeast. It turned out perfect! I managed to make this pizza in less than an hour:
Put the oven at 250 degrees Celcius or 10% less if it has a fan.
Mix dry ingredients in a bucket: 6 deciliters of flour with
2 tablespoons of baking soda and
A half teaspoon of salt.
Prepare the topping of the pizza. For example, corn, sliced mushrooms, sliced paprika, red onion rings, olives without the pit, and shredded cheese that melts nicely.
Add half a deciliter of olive oil
and a half deciliter of milk (or Oatly) to the bucket of dry ingredients. Work to a nice dough.
Make the pizza base: Roll the dough to form a plate that fits the oven. Put baking paper on the plate, then the rolled pizza dough base.
Put pizza sauce on top of the pizza base.
Add the toppings and finish with the cheese.
Put in the oven for 15 minutes.
Serve.
It was surprisingly delicious!
Saturday 18 February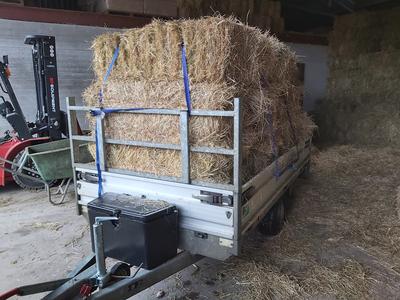 The first task for the day was to get more hay for our sheep. They are good eaters. This time we bought 17 bales. We still had 4 bales over from the previous load we fetched on 17 December last year. The grass is already growing, but not that quick. We cannot have our sheep grazing just yet. We loaded 10 in the small shed and 7 in the sea container. I recall we had three left when we fetched the previous load. That means 3 plus 15 bales are consumed in 63 days. That means they eat one-third of a bale per day, or 0,2857142857142857 to be precise. Haha.
Today DW got a visit from her friends in the afternoon: The girl club. We tidied up the house. The girls came, they are no girls anymore, but we should not nitpick on the small details. They had a couple of snacks and a cup of tea. Then they went to a restaurant, and I made chili cin carne with rice.
Sunday 19 February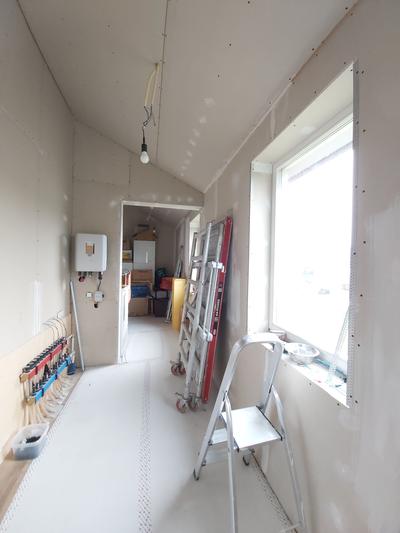 It was a grey morning. I made a cup of tea for both of us and sat blogging in bed, but DW kept sleeping beside me. Eventually, she woke up, but then her tea was cold.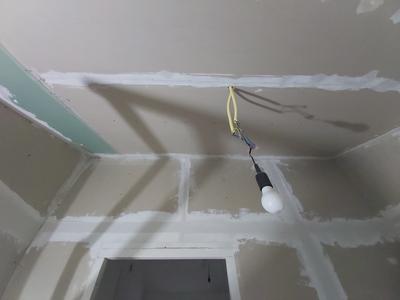 Today I plastered the bedroom hall. Something strange happened; I had forgotten the recipe for the course mud. I thought I knew how to make it, but I must have made a mistake because the mud became dry. I had to add a lot of water, and with some freehand mixing, I got the mix to look like it should. Luckily I know what the mud is supposed to look like. On 15 December last year, I wrote about the stick to help me mix the course mud. I am saying that I do not have a convenient bucket for MP75, and I still do not have that. That was the reason it went wrong.
First, I filled in more significant gaps. That is so that I can later cover it up with scrim tape. That is also what I did; I covered all seams with scrim tape. That was it for today. Next time I must refresh my memory of the course mud recipe.
Here is the end of this week's blog post. I am working on the next plaster project, and that feels good.
Following two weeks, I will celebrate that I have had 200 consecutive and contiguous weeks of writing blog posts. I will take a little break from posting a blog. Don't worry, I will be back, and most importantly, I will continue to plaster even though I am not writing about it.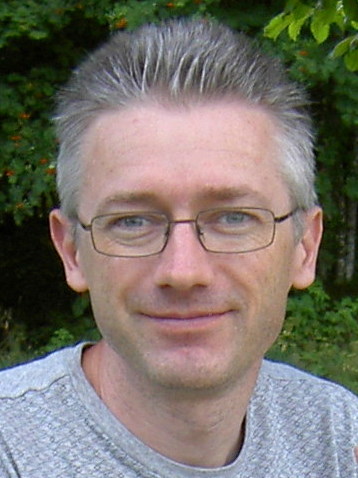 I was born 1967 in Stockholm, Sweden. I grew up in the small village Vågdalen in north Sweden. 1989 I moved to Umeå to study Computer Science at University of Umeå. 1995 I moved to the Netherlands where I live in Almere not far from Amsterdam.
Here on this site I let you see my creations.
I create, that is my hobby.
Copyright © 2015 - 2023, Jens Malmgren. Google Analytics is used on this site.