JENS MALMGREN
I create, that is my hobby.
Took down the scaffold
This week the ventilation specialist started working on balancing the ventilation system. I took down the scaffold we had for the woodstove specialist. I tried out making a six-edge structure with the scaffold parts.
Monday 12 September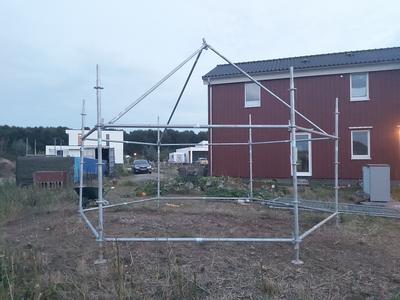 Today we worked from home. After work, I felt like I wanted to have time off and do something fun. What did I do? Play with the scaffold, and make a six-sided shape. I tried an idea I had for a long time. Since 15 September 2020, to be precise. That was almost exactly two years ago! I remember I got the idea right before bed; falling asleep was impossible. I kept thinking about my idea and, in my mind working out the geometry of the scaffold, trying to figure out if it would work to make a six-sided shape with a cone-formed roof.
It was late when I was done with my experiment. While working on this, I fantasized I would make the tent parts from cheap tarpaulin. Sewing tarpaulin is a project of extended longevity compared to putting a couple of scaffold parts together on an evening after work. I doubt I have the time and energy to finish a sewing project like that. Besides, we need to produce progress on the house in one way or another. We cannot just continue to live in a house with walls that still need to be plastered; we will need to progress.
Tuesday 13 September
Today I worked from the office, and there was no play with scaffolds or plastering in the evening. We started to practice better discipline for going to bed. That is necessary to keep up with a busy life at work, stay healthy, and progress in the house. All at the same time.
Wednesday 14 September
This morning DW went to Belgium for work. I brought her to the train station early in the morning, then went to the office and worked there.
At lunch, I went home for an appointment with the ventilation specialist. He would come and finish the ventilation system. The pipes were still sticking out of the walls, so he would cut the pipes and put caps on them with adjustable lids. Cutting the pipes went according to plan, but our caps were problematic. They were all made for wider pipes and pipes without bends. That did not work; he had to order other caps.
The caps had to be put in place to create balance in the system. So balancing was not going to work without the caps.
Our specialist had another challenge: The exhaust inlet on the first floor was too small for all the outlets. Creating another one or two inlets on the first floor would be necessary. That was possible, luckily, since we had not plastered that part of the wall in the staircase.
He also needs to order air quality sensors to install in various rooms. The sensors are connected to the ventilation system to help regulate where the fresh air is directed in the house.
I had been plastering unless we had the specialist working in the house, so what would I do while he was busy? I decided to take down the scaffold on the north side of the house. It is not needed anymore since the chimney has been fixed.
I was so tired when I was done with the scaffold. DS and I had supper, and then I went to the train station to pick up DW coming back from Belgium.
Thursday 15 September
This morning my back was feeling tired. I was not broken and had no backache, but my back was tired. I wondered how this was going to pan out. "Luckily," I had a long meeting at work today. At the end of the meeting, I had forgotten about my back, and all was good.
Friday 16 September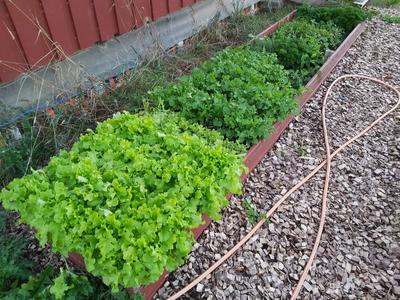 I worked from home today. It was an intense working day. In the evening, work stuff still tumbled around in my head. We had deep fry pizza and salad that I harvested from our salad bed. It is the loose-leaf salad and arugula that is ready for harvest.
Previously I washed every leave individually. That took a lot of time. This time, I try to wash the salad leaves in a bucket of water and take out bunches of leaves from the bucket. So far, that has worked out very well. The fear is there will be some animal or sand left on the leaves, but nothing of that has happened so far.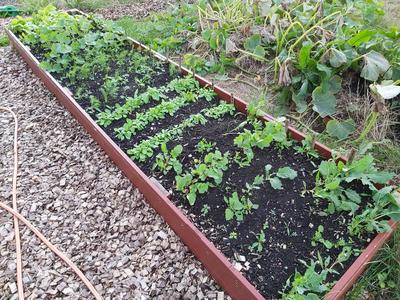 The other bed is also doing fine. The radish is ready to be harvested entirely. We had it so warm until today that the vegetables have developed nicely. I see if I had some cover over the bed, that would extend the season even further. Right now, I am not ready to do such a thing. We will see how that develops later.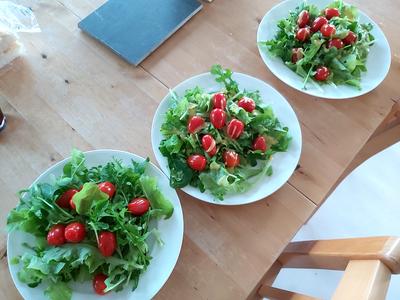 Here is our pizza salad, ready to be served. The tomatoes are from the grocery store. It had been nice to try to grow tomatoes, but I failed that project two years ago, so we bought tomatoes. The tomatoes grew nicely, but they developed a sickness right before harvest. There is advice to find how to do it better. One piece of advice is to grow tomatoes in a glass house, but we don't have that. We will see if there are compromises to be found because it would be cool to harvest our tomatoes.
Throughout Friday, I developed a sore throat. To begin with, that is annoying. It crossed my mind that perhaps this was the beginning of a tough time. I was thinking about where I got it from. I went to a company outing, and I sat in a meeting. The chimney specialist and the ventilation specialist all came. I realized I met many people last week. I could not figure out where it came from and hoped it would not be so bad.
Saturday 17 September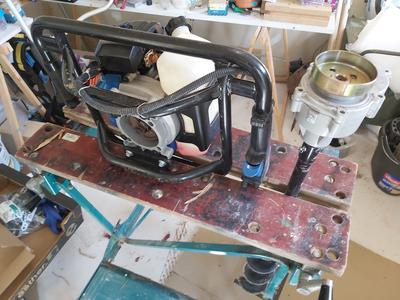 This morning I decided to have a look at the ground drill. The last time I used the drill, it began to turn the drill while in stationery. Not very much, but ever so slightly. Enough to annoy me.
The machine is also called an earth auger. First, I searched for the book that came with the machine, but it was useless. I had to go by intuition on this. I wanted to get to the thing that makes it possible for the machine to run on stationery without having the drill spin. See, I don't even know what that is called.
It is called a clutch. Just by telling of the shapes, I guessed the bottom house was the gears, and the clutch was on top of the gear house. I did not want to open the gear house, but four screws held the gears and clutch house to the motor part. I unscrewed these and hoped to find the clutch, and I was lucky; there it was, and it was in mint condition. I cleaned it for almost no reason other than I had this open, so I could just as well clean it. It also got a thin layer of oil.
Then I put it back together and tried the drill again. It had the same annoying operation. Now that I knew the state of the clutch, I even dared to hold it back.
On other machines, there are little screws to fine-tune how intense the stationery is running. If I could find such a screw on this machine, I could make it less intense, and the clutch would not engage while in stationery.
There was a plastic cup with a large screw that I unscrewed. It was stuck behind the handlebars, though. How do they make a machine where you cannot clean the filter without unscrewing the handlebars? Oh, well, I unscrewed the handlebars. It was enough to loosen it but still let it hang on the motor. The air filter was also in fine condition. When pulling the trigger, a little cable was connected to a wheel, and sure enough, the start position of that wheel was adjustable with a screw.
But was not a regular screw. It had one little hole in it on one side. That was all, no Philips, Torx, Allan key, nothing. A round head with a hole on one side. I took a plier and turned the screw that way. The screw had threads, and I guessed they were regular. I turned the screw so the stationery start point would receive less gas.
It worked! I was feeling excellent that I could solve this by guessing.
This task did not take much time, but it was enough to have it start and stop the rain a couple of times.
Then we went to the train station to pick up DD. We bought a couple of sandwiches and drove to the PILs. While driving, I ate my sandwich and chewed on my left cheek two times. I had a sore throat, and my left cheek was severely bruised. Nevertheless, we had a good visit.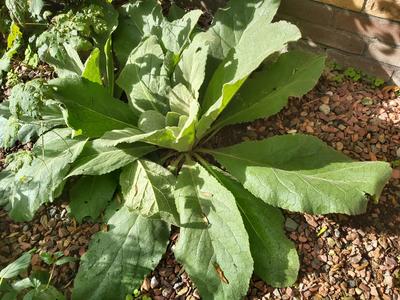 MIL had plants: Verbascum thapsus, the great mullein, greater mullein, or common mullein. The plant has traditionally been used as a torch. It was dipped in fat substance and then set on fire. (It seems that) in some languages, "mullein" is almost synonymous with a torch. The plant is also used in tea. I am curious how that tastes. She had five mullein plants in front of her office and complained that next year it would be dark in the office because of the mullein unless we wanted them.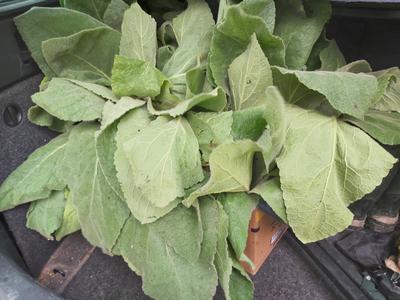 The mullein plant is biannual, and I got five first-year plants from MIL. The torch will develop in the second year. When we came home, I planted the mulleins near the road because we got more sandy soil there.
When I planted the mulleins, the neighbor worked in the rain in his garden. I chatted with him, and he wondered about the scaffold building behind our house. I told him it was an idea for a party tent.
Sunday 18 September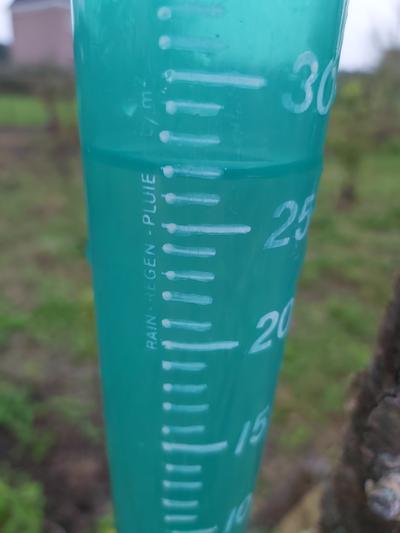 It rained this morning. It started to feel like autumn in a blink of an eye, and I had not expected that. On the other hand, September is not a summer month, so what was I thinking? A friend picked DS up, and we went to our friends and brought back the steam juice machine we had been borrowing. We had a look in their garden while it started raining.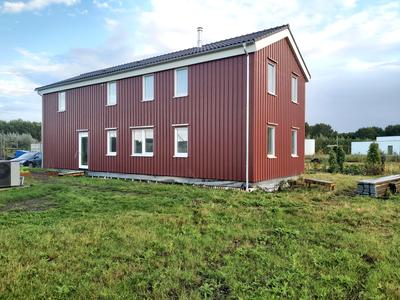 When we came home from that, we had lunch. It felt like I could not make any good use of this day.
One thing that worried me was the scaffold material lying on the grass. The grass cannot have that very long, so I decided to move the scaffold things to the driveway. It rained heavily from time to time while I worked on that. There is still some scaffold material left on the west side of the house, but I left that as an exercise for another time.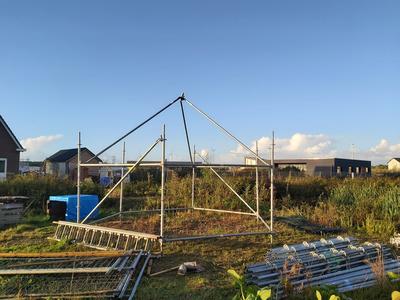 The scaffold pipes are heavy. I think my hands might hurt tomorrow, but it is worth it.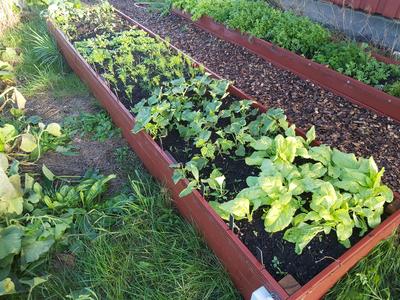 When done moving the scaffold, I started making a salad for supper.
Here ends this week's blog.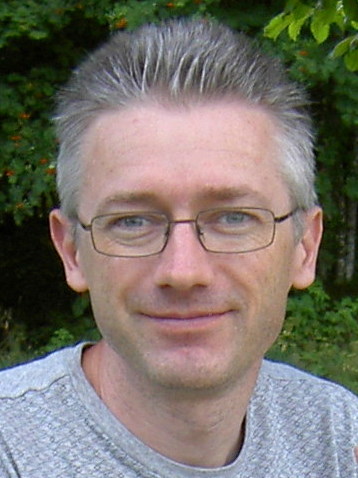 I was born 1967 in Stockholm, Sweden. I grew up in the small village Vågdalen in north Sweden. 1989 I moved to Umeå to study Computer Science at University of Umeå. 1995 I moved to the Netherlands where I live in Almere not far from Amsterdam.
Here on this site I let you see my creations.
I create, that is my hobby.
Copyright © 2015 - 2023, Jens Malmgren. Google Analytics is used on this site.