JENS MALMGREN
I create, that is my hobby.
Finished the northeast bedroom and the bathroom
This week we painted the northeast bedroom and the bathroom.
Monday 17 January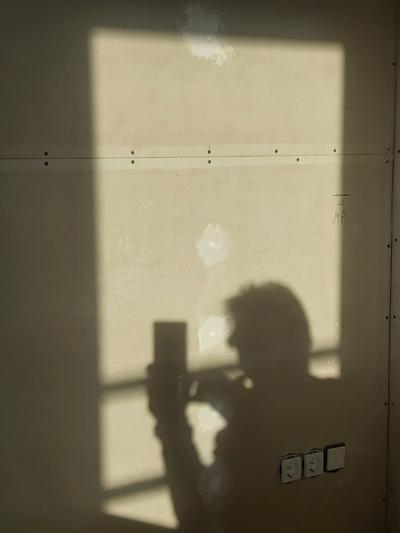 This Monday morning we started on our new "mode" where we decided to do our office work from the new house. Yesterday we arranged a table for me in the form of a plate on two trestles in the southeast bedroom. Now it was just a question of connecting things and getting going.
There was a brief moment of sun today. I took a selfie of my shadow on the wall that still needs to be plastered.
We got a visit from neighbors, and I showed them around, but my wife was in a meeting, so she could not join.
Later came another neighbor that had helped us look after the sheep. That was also nice. Also, this time my wife was in a meeting. Incredible.
My wife uses a lot of video conferencing, and our Internet connection was not fast enough for that. I upgraded to a higher speed today; it makes sense now when we will work from the new house.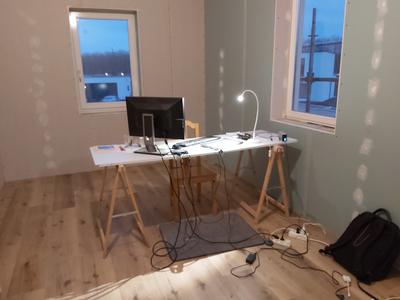 This week we both work for our employers, but we both have plenty of saved holidays, so we will need to use some before they expire. This is for later to be figured out.
From here on, the long-running theme will be plastering followed by painting. Earlier, I concluded that building a house can be a monotone story, but that is what it is.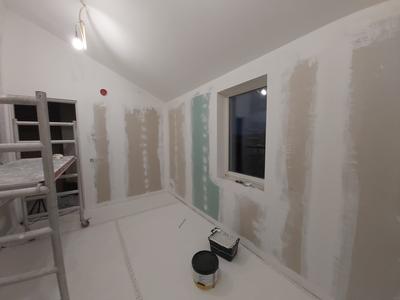 After our regular work, we changed to painting gear and started working on the house. My wife worked on the ceiling in the bathroom, and I worked on the walls of the northeast bedroom. This primer has a white pigment in it. That is convenient because it makes it easy to see where one has worked. Later, I found it highly inconvenient to paint white on top of the white primer.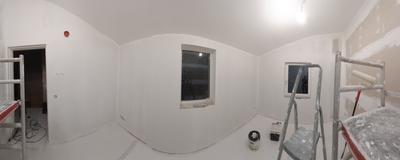 The plan for today was the west and north wall. I did a little bit of the east wall as well. It will be fantastic when the room has been painted.
Tuesday 18 January
Today we had a new regular working day from the new house. In the afternoon, we received a package of the new paint we will use in the northeast bedroom. It is Auro, an ecological paint, and it is breathable paint. We got a wood house, isolation of wood, hence it is essential that damp can escape from the walls. Moisture can always get in. It is also essential that it can get out as well. Painting with paint that seals the house is not a good idea. This is what this Auro ecological paint is doing. That the paint is ecological speaks well with us.
We had the same paint for the bedroom except it was porcelain white. We were happy with the paint quality, but this time we got a bucket in RAL 9010 white. It has a slight tint of yellow, and it is also a little grayer than regular white. This bucket was more expensive than the white porcelain bucket, but that does not matter because this is the color we want. I don't know how it became so that we used a primer from another brand. Eventually, we will switch to the RAL 9010 tint of the ecological and breathable Auro paint and the corresponding primer.
In a break from work, my wife and I went out to the sheep for a special mission; clean the hoves of Selma. She has been walking around in the clay and collecting stuff making it difficult to walk. We discussed the options and concluded we needed to put her on her rump to access her feet and pick the clay from the hoves.
We had watched YouTube videos of how to pick up sheep and put them on their rump. It had been good if a skilled person came and showed us how to do this, but we had no time for that. Selmas feet needed checking now and not in three weeks. I volunteered to pick up Selma and put her on her rump. I am a little stronger than my wife, so I thought that could come in handy when handling the sheep.
We had decided to do this when they usually got their food supplement, so we had their full attention when we came with the bucket. The sheep flocked around me, and I just did as on the YouTube movie and picket up Selma and put her on her rump. Her legs were in the air, and when that happened, she got calm. My wife then removed the accumulated clay from her hoves. It was over in less than a minute. Then she was released, and soon after, she looked like a really happy and calm sheep. I was enormously proud of this achievement!

I painted more "old" primer on the wall of the brand Renoulac; this primer is also breathable. I could not finish a bit on the south wall because the paint was finished. My wife had used some for the ceiling in the bathroom. I could have finished the south wall if she had not done that, but this was okay; we will buy more tomorrow. It feels a little dumb to buy more of the paint we will stop using, but this is how it is.
Wednesday 19 January
I was really sleepy this morning. That we had been in full-on working mode for two days in a row was evident this morning. This morning, I worked for my employer, so I just had to wake up and get going; no excuses possible. If we are going to keep this mode, we need to get to bed a little earlier.
After lunch, we went to the new house via the hardware store. We bought a smaller bucket of "old" primer type: Renaulac. It is not ecological, but it is breathing.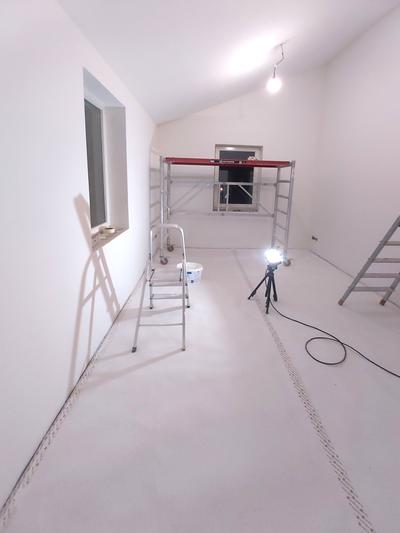 I finished the south wall. My wife painted and plastered the bathroom, and I painted the corners, doorpost, and north window sides with the new ecological Auro paint. The new paint is more yellow than the primer, so the corners were "shining" something yellowish.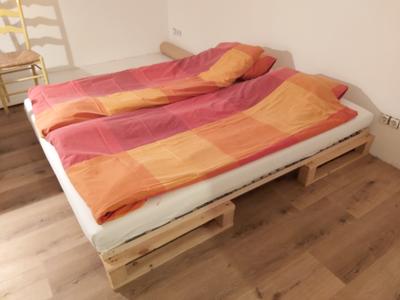 My wife also made our bed ready. Slowly, we are getting to a point where we will stay in the house. The bed is actually a mattress on top of two slatted bases. These two are lying on four pallets. It is incredible what you can do with pallets. This is a perfect solution for a temporary bed. This way, we can have a bed in our old home and here.
Our son will need to be able to sleep here as well. We will arrange that when the northeast bedroom is painted. That can perhaps be next week. Who knows?
It has been misty weather for a week now, except for that moment when the sun shined earlier this week.
Thursday 20 January
Somehow when we work hard on the house in the evening and then drive to our old home, the evening is compressed. We have to eat, so my wife has cooked dinner; I did not do that. After dinner, we don't instantly crash into bed; we instead extend the evening just a little with as a result that the day after, we are even more tired. It is like a sleep deficit that progresses throughout the week. No doubt we have done a great job this week, but we have not had complete control over the sleep deficit situation.
Thursday morning, it was hard to wake up. We came to the new house well on time, but it was close. We worked for our employees the entire day, and after work, we started again with the painting activities.
I don't know what I had expected. I thought I would manage somehow to see a difference between the primer and the painted RAL 9010 color. The difference is subtle, to say it mildly. It is hardly possible to see the difference between the painted and primed surfaces. With a colder light, it is almost visible. The primer comes out more cold than the RAL 9010 surface. It was an arduous struggle to paint the already primed areas. This evening I managed to paint the ceiling and the west wall. I used the roller that my wife had used for the bedroom, and it emitted chunks of dried paint. This annoyed me intensely. I removed the chunks with my fingers. My wife asked me if I was using fingerpaint to paint the walls, haha. Not funny.
The roller had an issue, or the bucket came preloaded with chunks of dried paint flakes. It is difficult to notice these defects, but I know because I did this paint job.
I found that the primer was not preventing the suction effect so much. When I painted with the RAL 9010 paint, I had thought it would stay wet for a little longer. The paint is instantly sucked into the surface, going from wet to matt finish within a minute.
We will finish the room with this method. We will use the ecological primer, the companion to the RAL 9010 paint, in the next room. It is not a primer with white pigment, so it will be much easier to paint and see where one has been painting before. I will love it!
My wife almost finished the ceiling of the bathroom. There are two tiny spots left to be painted.
I made no photos displaying the difference between white and almost white. You would not be able to see it anyway.
This afternoon we went out to the sheep and had another go at trimming and looking after the feet of Selma. She did not like to be put on her rump a second time. This time my wife trimmed her hoves with a scissor, and she more carefully removed the clay and stuff in her hoves. Afterward, she was calm and happy, but she did not like the treatment. You noticed that she was much more afraid of us. That is fine as long as she does not have visible pain while walking; that is not good. Now I put her on her rump two times the same week. I cannot say I have it entirely under control just yet. I was very excited about doing it, actually. The first time I had her under control much quicker. She was much more prepared this time, but I was stronger and more determined than her. When she got in a proper position on her rump, she calmed down and accepted her fate that my wife had to work on her hoves.
Her sister Hannah even came to me to give me a kiss. As she wanted to ask me to be kind to her sister, we were kind to Selma. My wife discovered sticks in the clay stuck under her hoves and removed these. She also trimmed the hoves a little with her scissors.
Friday 21 January
Can you imagine we went to bed too late yesterday evening so that our sleep deficit increased, even more, making waking up especially difficult this morning? I had a slight difficulty with my back; I thought this would be an awful day.
When I get backache, I usually treat myself with curl-up exercises. I lie on the floor on a thin carpet and do curl-ups. I repeat these from time to time throughout the day. The result is that the back is exercising, and the belly muscles are getting stronger. At the end of the day, I was fine in the back. I think it was perhaps putting Selma on her rump that gave my back a little too much strain.
My daytime work was surprisingly efficient. I started on a new project and had the flow, producing an excellent result.
After work, we got a visit from friends, and after that, we went to do our weekly shopping on the way to our old home. There was no work on the new house this evening.
This evening we did not go to bed too late!
Saturday 22 January
We had a slow morning, with a cup of tea in bed, and I sat with my laptop trying to sort out a problem with the blog system. A couple of weeks ago, I published a blog post about folk music. The blog post had errors, so I removed it from the Internet just a few minutes after it was published. So I thought, but that was not true. I continued working on the failed blog post while Google started indexing the failed blogpost. Two or three weeks later, I discovered that the blog system published inactive posts via the category page. This was how Google found the faulty page.
While I worked on the blog system, Google indexed the erroneous page. At the end of the programming session, I changed the blog post's name. There were two versions: the original blog post that Google had indexed with link errors and the new flawless blog post. I searched for the original, first name, and Google had that page in their search result. The new flawless page is nowhere to be found. When clicking on the link Google had, I got to an empty page.
The best solution for a situation like this is a redirect from the incorrect page to the flawless page. I had problems programming the redirection in the Apache server. It turned out to be so that it all boiled down to a bit of a mistake in the configuration file. When that was removed, the search result in Google went to the webserver, and it redirected to the correct new page. Wonderful!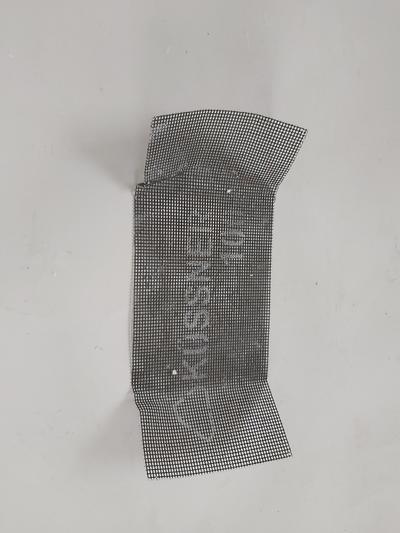 Today we were going to paint the last part of the ceiling in the bathroom and finish painting the northeast bedroom. My wife was going to improve two spots in the bathroom ceiling. Her task was done quickly. Mine was a bit more elaborate.
I had noticed that the newly opened Auro paint had junk in it. In the beginning, I thought that perhaps I had not cleaned the roller well enough. The problem was that it just got worse. I stirred the pot thoroughly and started painting, and immediately I got flakes on the wall together with the paint.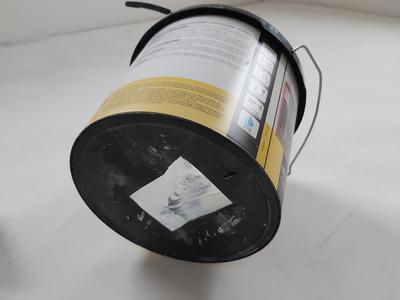 I realized I had to filter this paint. If there were no flakes to be filtered out of the paint, the flakes come from the roller. But how should I filter the paint? I figured I could use the sanding mesh we bought for sanding plaster. I took one new clean sanding mesh rinsed it in water.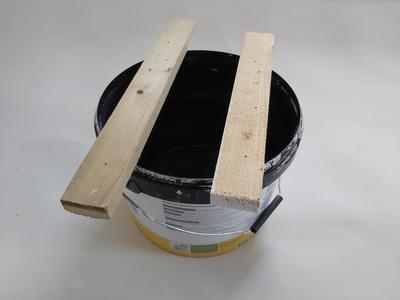 Then I found an old paint bucket, and in that bucket, I cut a hole in the bottom. Then I placed the mesh over the hole in the bottom. Now I had my filter. But how would I be able to pour the paint through the filter bucket? For that, I took another used bucket. I cleaned it so that it was not having any paint rests, and then I placed two wood beams over it so that the filter bucket could be standing on top.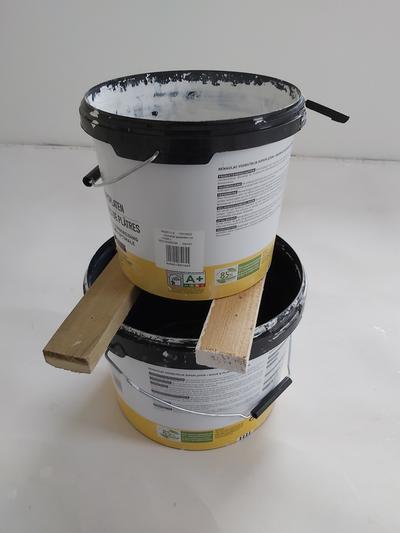 Here the filtering gadget is ready for filtering the Auro paint. I was inquisitive if this were going to work.
And what was the result?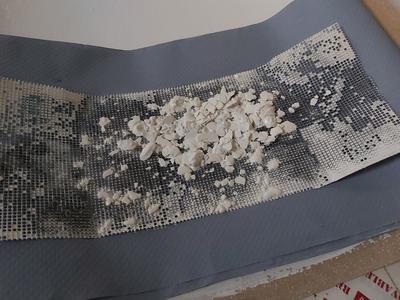 Plenty of junk. I was so angry I almost started tweeting about it. We decided that my wife would complain about the product instead. We will see how that goes.
With the filtered Auro paint, I continued to paint the room. I painted the north, east and south walls. I also painted the sides of the windows. Sure enough, there are flakes on the west wall and ceiling.
The filtered paint also had mini flakes, but I can accept that.
Here is the finished room.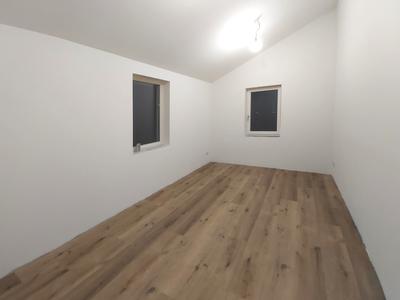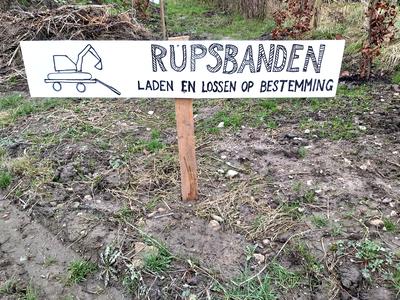 We did more today besides painting the room. Do you recall I made a sign for the dirt road on 14 January? It turned out to be not welcome with a sign "forbidding things." I made a new sign that is only recommending proper behavior.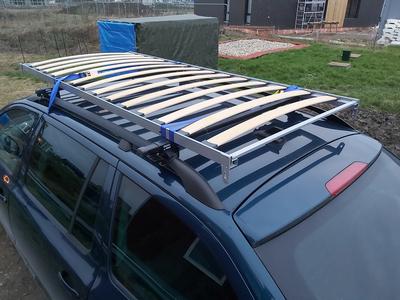 Now, with a finished room, we can get furniture in here. We are still in a two-house situation, so it is not just a question of moving a bed here, and all is fine. This will be our son's room. He needs a new mattress anyway, so we opted to buy a second-hand slatted base. Then he ordered a new mattress to use on top of that. The slatted base was 20 euros, and the rest was 250. It will be delivered on Tuesday evening.
I made temporary feet under the base, and that was easy because the base was made of metal, and I could just fasten it to two wood beams with four screws.
Also, this evening we did not go to bed too late. My back is doing fine. I can still feel it, but it is not that bad.
Sunday 23 January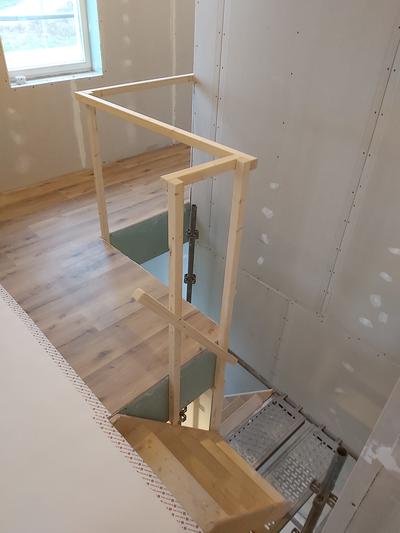 This morning we had a slow morning. Blogging and a cup of tea in bed, delicious. My first task in the new house was to build a temporary stair railing. I had beams for a minimalistic sort of railing. At least there is something; this feels much better than having an open hole to the staircase. If I had one more beam, I could add a second horizontal layer; that would have been fantastic. Perhaps I buy another beam at some moment.
My wife planted onions of various sorts in our vegetable garden. She removed the rest of the vegetables and weeds and prepared for a new fresh season. She also planted onions around the water pond. We got onions here and there when she is finished.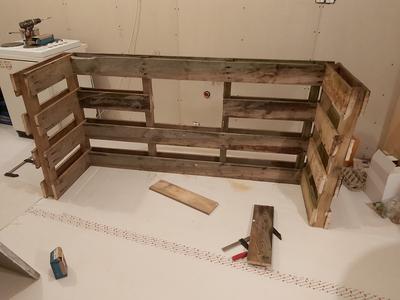 The next task for me was to build the temporary bench for the kitchen sink. I made it out of pallets. With the bench finished, we started trying to get the kitchen sink fit on top of this bench. The water will work without any problems. The challenge is the drain. We will need to get more parts to install the drain. It is a pity because we made this project very cheap; the current price is 71 euros.
We need PVC glue, a PVC pipe 40 mm in diameter, and an extension sleeve. Perhaps we already bought PVC glue; I will have to look around in the container before buying a redundant bucket of glue.
I think the bench will need a beam at the top and front so that the sink can receive plenty of weight. I know that we already got one candidate for that in the container. It became a bench of 93 centimeters high. That is a little too high, but that was the height of the pallets. It will be possible to have a midsection plank to store things. The crane fit very well, but that was just pure luck.
There are a few things to get sorted with the sink. We will fix those next week. It will be great to have running water in the kitchen and a bench to do things.
Our son's mattress will arrive next week as well. We will start emptying the southeast bedroom and prepare for plastering and painting that room.
Exciting!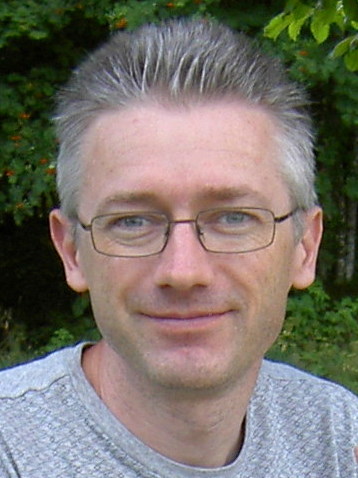 I was born 1967 in Stockholm, Sweden. I grew up in the small village Vågdalen in north Sweden. 1989 I moved to Umeå to study Computer Science at University of Umeå. 1995 I moved to the Netherlands where I live in Almere not far from Amsterdam.
Here on this site I let you see my creations.
I create, that is my hobby.
Copyright © 2015 - 2022, Jens Malmgren. Google Analytics is used on this site.